Hi there !
So a friend asked me if I'd be willing to make a couple of DC17 blasters for a friend of his. Sure, no problem. There's nice near-screen-accurate DC17 stuff to be found on Thingiverse, so why not I thought, quick print for a nice guy like that, no effort at all.
Turns out, he did prefer the "not so boring, not so screen accurate" versions made by several fans in foam/wood/styreen better than the original ones, so the question became "can you mimic that in 3D too". So I took a look at the fan-build ones, and combined several of the elements seen there into a new, "less boring" version.
It also explains the "remixed" nature of it : there's about 4 different design elements mixed into this one, so I credit every single one of the previous handcrafted models and builders for this one. I just "recreated them and put them together into one new model".
The results came out pretty nice, so here they are, available for everyone -of course-.
He also asked "if a small version as keepsake could be made". So sure, why not :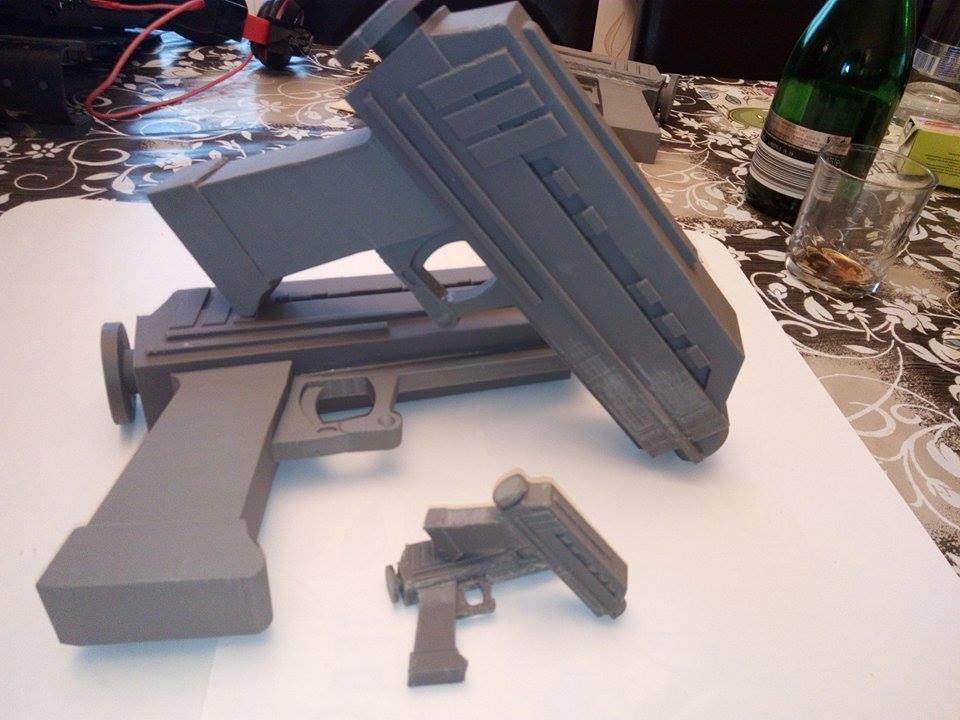 If anyone wants to use these to do a Cmdr Rex or whatever, I've included the files here.
The print is done in ABS+, 0,15 layer height, 3 wall shell, 20% infill. Length is the typical 245mm length. The "rear disc" is a sepperate part and should be already be correctly pre-scaled to allow a nice and tight fit, making painting and cleaning up the model somewhat easier. The gun itself consists of only 2 parts, the gun body and the lower grip part. Both are connected using ABS welding and pretty much behave as a single-part print after hardening.
Good luck hunting down separatist scum, commander !
Last edited: