I've been looking at the fantastic pep weapons that everyone's knocking out, and I'm pretty impressed.
But I was thinking - could we use various materials after we construct the pep?
For instance, the main body of the AR looks to me like a 2x4.
I also think that gun barrels could be made of PVC pipe. Metal pipes too, but PVC is lighter and easier to paint.
As for the other parts of the AR, the cardstock pieces could be glassed and attached to the wood.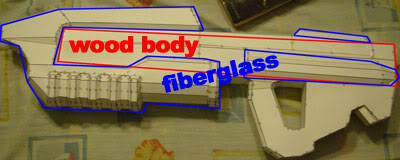 The Blue parts could be easily glassed. You could take those parts, add a little reinforcement, and glass them like the helmets.
This is probably more suited to the guys just making one weapon, but could easily be adapted to make molds. But you'd probably need to use silicon, like ADAM did for his AR.