This is a simple explanation of the Rondo process.
Resin your pieces first just as you would when doing fiberglass reinforcement.
This tutorial was made using my Reach Grenadier helmet and UA attachment but it can be applied to any helmet/armor piece.
Planning ahead:
When considering Rondo you must take into account a few factors.
-Is the piece enclosed or open?
-How do I mix Rondo and at what ratio of resin to body filler?
-Are there any hard to reach areas?
-How thick should the layers be?
-What other information should I know?
Open pieces can be strengthened with Rondo using the basic slush casting technique.
Enclosed pieces take a bit more planning and preparation.
To begin, you should find an area of your piece that is flat and that won't be visible when finished.
I chose the underside of my UA Attachment which is hidden from view when on the helmet.
I then took the cap to a plastic bottle and traced a circle onto the piece before pepping.
Removal of the piece not only made the pep work a bit easier but created a pouring hole.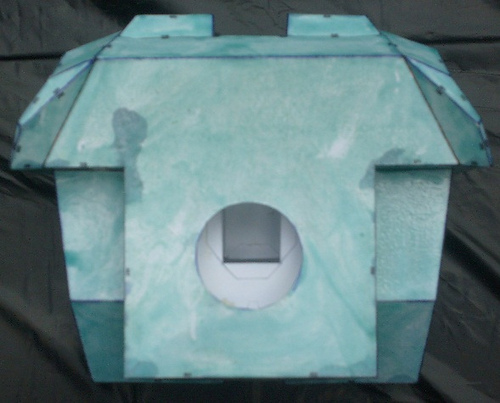 After pouring the Rondo mix I then sealed the hole with masking tape to prevent leaks.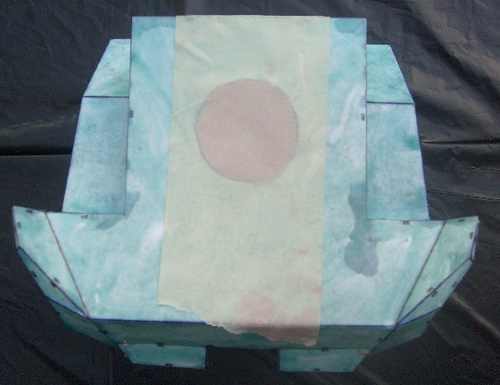 Then it is as simple as slushing the mix around inside the piece.
For the first layer of Rondo, I pour the entire cup in at once and then slush it around. All consecutive layers are poured in smaller portions where the Rondo needs to be thickened.
It may be a good idea to place fiberglass cloth or matting within the Rondo layer for added strength though I find it plenty strong without.
For my mixtures I begin with filling a cup about half way with body filler and then topping it off with a near equal amount of resin.
This occasionally varies with more body filler for a paste-like mixture or more resin for a runnier mixture.
Be sure to scrape the sides as you are mixing to prevent wasted materials.
When mixed it will have the consistency of a runny milkshake.
Some people may say to use both the cream hardener and the liquid, I find that only the liquid hardener is needed as I buy my body filler and resin by Bondo brand and both are polyester resin based which both accept the liquid hardener.
It will take about twice the amount of liquid hardener you would use for a regular batch of resin as it is taking the place of the Bondo hardener as well as the resin hardener.
If you are going to add coloring like I do it is best to do it after mixing the resin and body filler but prior to adding the hardener.
Hard to reach areas need to be noted prior to pouring the mix and often serve as a good starting point.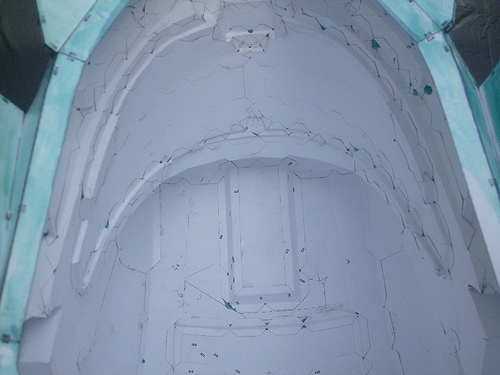 The Brim on my helmet proved to be an area that would be hard to get to if I had poured my mixture elsewhere so I began there and worked my way to the rest of the helm.
There may be some areas where there are small recesses on the outside which lead to difficult spaces within the helmet. Take extra care to ensure that these areas are filled with Rondo.
When it comes to thickness you should always judge based on two thing: the light test and the "knock" test.
If you can see light coming through the mixture then you may need to add a bit more to that area.
When the piece is hardened you can knock a knuckle across the surface and if it is solid and sounds similar to a bicycle helmet you have a decent thickness that is suitable for most purposes.
Other information of note:
Do not panic if some seams of your pieces leak, simply smooth out the mess and be thankful that you will have a little bit less Bondo work to do.
As the mixture cures it causes an exothermic reaction so be wary of the heat given off. This does prove to be a good sign of when the piece can be placed on a table or work area.
Always wear clothing that is easily replaceable. I use white T-shirts that come in packs of multiples for cheap.
Gloves are a must, I use Nitrile(blue) as they seem to last a bit longer than latex.
ALWAYS wear a respirator, body filler and fiberglass resin both put off quite hazardous smells(chemicals) alone but when combined it seems to grow exponentially.
Bristled paint brushes are a good item to have so that you can push the Rondo where it needs to be that may be otherwise inaccessible, foam brushes also work but not as well.
I have had excess Rondo melt through the mixing container when it cures so make sure to have a drop cloth or other material protecting your work area.
The plastic cup that is over the lid of your Bondo will be your best friend. It easily keeps rounded pieces from rolling away and comes with one of the major components of Rondo as a bonus.