This thread will detail the process for how I built my Mark V (ish) helmet, using a novel 'all paper and glue' method. This build also features laser cut parts, but no 3D printing, fiberglass, or resin cast elements.
Album link without commentary i
ncludes many more photos not posted in this thread.
Youtube video of the build- abbreviated.
I put this together for my school/students, so it speeds past details that are more relevant to this community.
Materials used:
250gsm Cardstock
150gsm Cardstock
Green Stuff Epoxy Putty
Visor
Titebond 2 Wood Glue
Some 1mm and 2mm card for filling vents
A small amount of super glue
A small amount of extra strength hot glue (visor install)
Tools:
Hobby knives
Triangle rule (very useful for applying pressure during initial construction)
Sculpting Tools (great beyond just sculpting such as tape application/removal, scraping)
Scoring tool
Steel rule
Laser cutter (a big Thunder Laser Nova35- overkill by a lot)
Adobe Illustrator
Paints:
AV Vallejo Acrylics
Citadel Stormhost Silver
AV Vallejo Matt Varnish (and a little satin)
Chinese brand cheap spray paint
Chinese brand automotive spray paint
Vaseline for masking
Commentary:
A few months ago I wasn't planning to make a Spartan helmet. I'd been brainstorming ideas for projects I could film and share with my students, and had actually been thinking about making a custom Catan set. I also had to produce a small takeaway craft and needed to test some laser-cut yardstick ideas. A few simple tests later I really wanted to test using the laser cutter for a prop. I poked around a bit before stumbling across a 'Halo Reach helmet' file.
A bit of background- in
September-October 2010 I built a set of Mark V armor
(
images dead)
and have always been partial to this style of Halo armor. Back then the helmet was created following the standard method- cardstock > resin > fiberglass mat > bondo. The armor was made with EVA foam floor mats, and was one of, and possibly the first of it's kind. At the time foam floor mats were just beginning to get some notice for costume armor, and I'd seen a cool set of Mass Effect armor and wanted to try the material for Halo. With Halo Infinite's launch I checked out the state of Halo costuming and toed with the idea of making armor again, but hadn't really thought about a few months after finishing the game. I'd been looking for a much simpler project to laser cut back in February but figured I'd give the helmet a try.
Using Illustrator I modified the Pepakura output for laser cutting, and I wanted to try using 1mm card. I assembled the cut pieces with hot glue, and my rough draft was pretty messy- but useful. 1mm card was not a good material for this project, being too chunky for flaps to work properly, and also not very flexible without creasing or kinking. My laser cutter is awesome for cardstock, but not great for scoring the material. I could use the machine to cut the outlines of pieces, but it would have been a pain to score each piece without printed lines. Because of this I chose to print the pattern onto 250gsm cardstock and cut and score it by hand.
Very early into assembly things were coming together very cleanly, and I think that experience is what motivated me to dive all the way into this project. I used thinned Titebond 2 wood glue for assembly, and began adding extra glue to joints and the backside of flaps for strength. As the helmet came together I began considering whether I could avoid using fiberglass or other unpleasant materials entirely. I began painting thinned glue throughout the interior of the helmet, and as construction wrapped up I did the same to the exterior. This helped to make the helmet much more rigid, though it was clear it would still need to be much stronger.
Unfortunately I didn't take any photos of the assembly until it was nearly complete. The first photo of this project shows a gap at the top of the visor, but other than that everything is in place. The process was mostly smooth, though The details around the visor were a pain, and as you'll see later- a waste of time. I began documenting the helmet while adding layers of cardstock to the interior for reinforcement. At some point during this process it became clear that my idea of avoiding fiberglass would be possible, as the helmet became rigid enough that I felt sure it could hold a visor.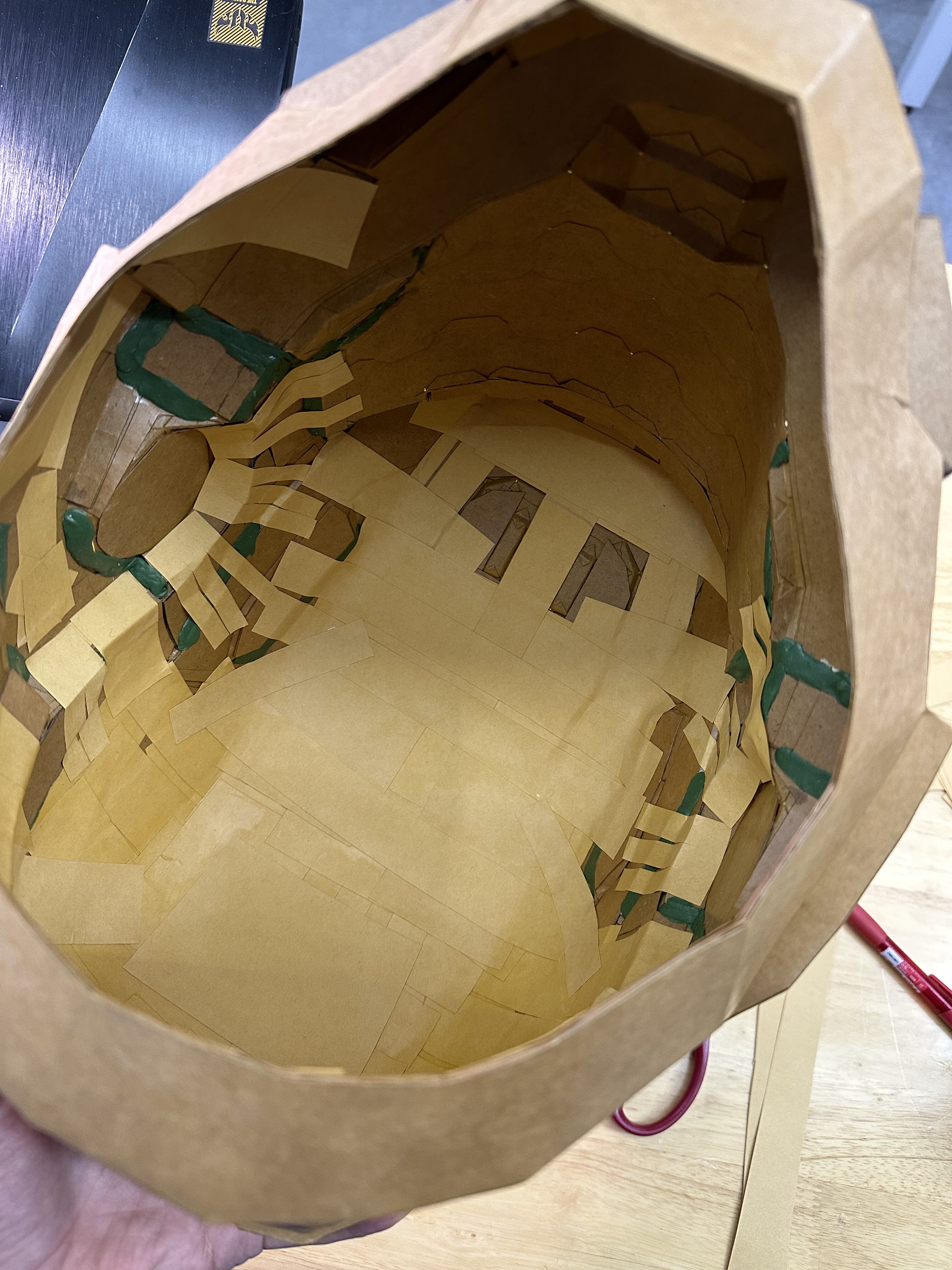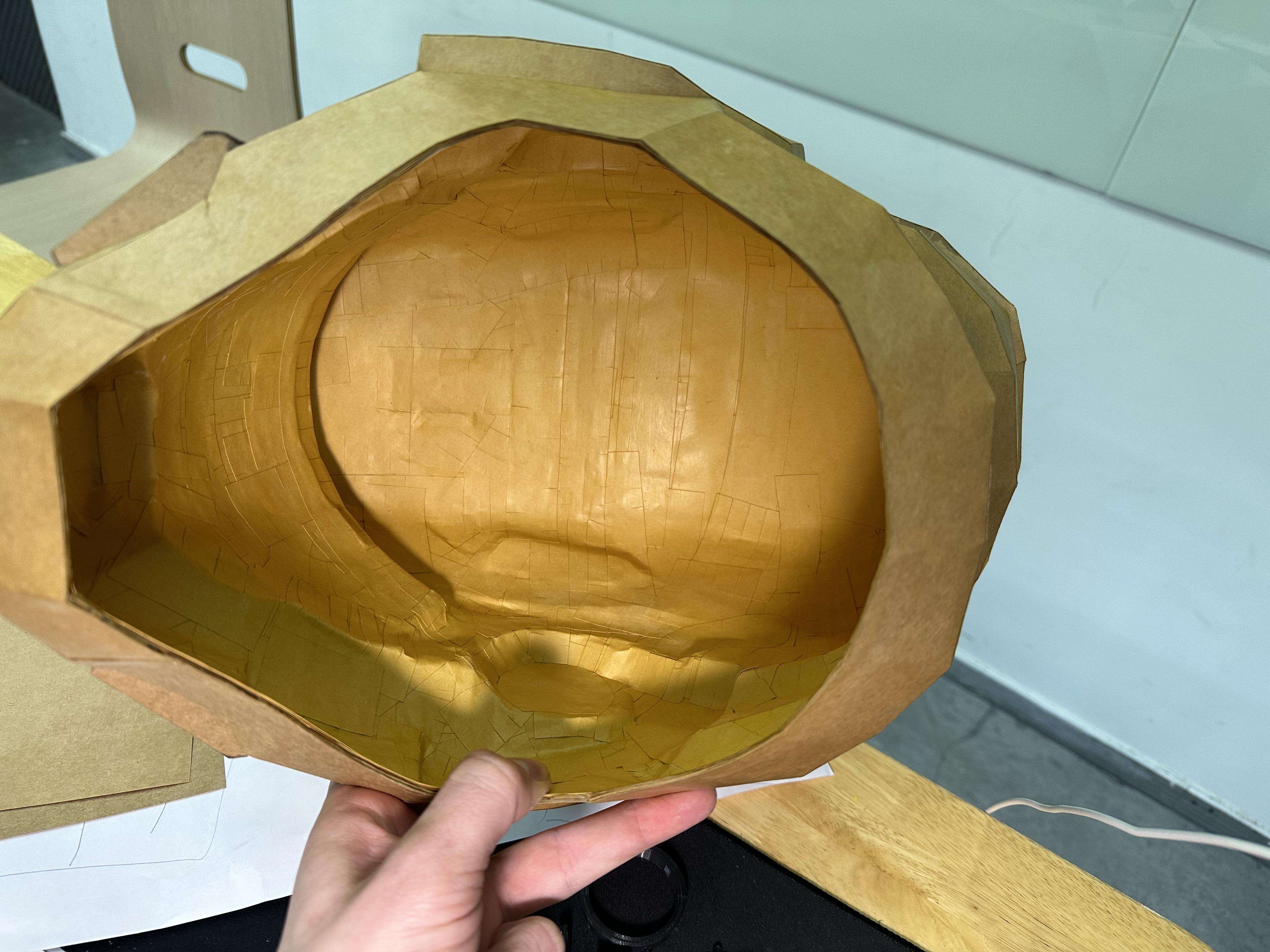 The extra layers I added thickened up the shell, though there was still a bit of flexing. To counter this I added some green epoxy putty to areas in need of support. After this I wanted to clean up the interior while also adding a further strength element, and opted to overlap layers of thinner cardstock. This took some time, but resulted in a smoother interior that also added strength. The entire process of reinforcing the interior was made much longer as I worked to make the weak components around the visor strong enough to accommodate a visor. As noted before, this ended up being a waste of time, but at least I didn't have a deadline.
I'm not sure how long threads can get here, so I'm going to break this post into pieces.
Last edited: