Went to a flea market today, becasue they were going out of business and I wanted some cheap armoring stuffs.
Turns out everything was free, and they just happened to have some plexiglass. :rolleyes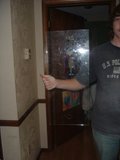 There a little short and scratched up, but hey! They were free!
Sword here I come!
I'll use this thread to update my progress. I'm printing the blade in pep and tracing it on there.