Hello everyone! First ever build post, this is going to be fun as there is a TON of details going into this suit.
Alright, so a tiny bit about my history in cosplay for context.
Estimated project cost: 2,000-3,000 USD
Status: Broke
Project Ambition: Very high
Experience: One EVA Mater Chief suit for myself and a WIP comission.
Knowledge: Wiring, foam-smithing, and a high attention to detail.
With that out of the way, my 3rd ever suit I plan on building will also be my first 3D printed suit of armor. The recluse armor that made it into Halo 5 I found to be lacking some details when compared to the original concept armor. Part way due to normal mapping and part way due to changes in the design.
This is the concept are that I am basing this project off of.
This is the 3D rip that was in-game.
Yikes, this is going to be a lot of work!
After realizing the amount of detail missing, I imported the armor and it's textures into Unity and started to get a better idea of what needed to be fixed and added.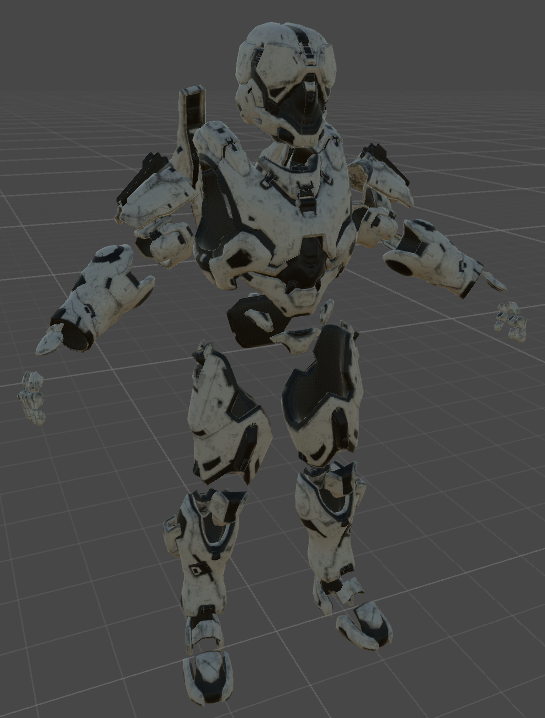 With Medibang open on my left-hand monitor, Unity on the central, and the concept art on the right. My set-up look like this, except with unity and not crappy programs on the center.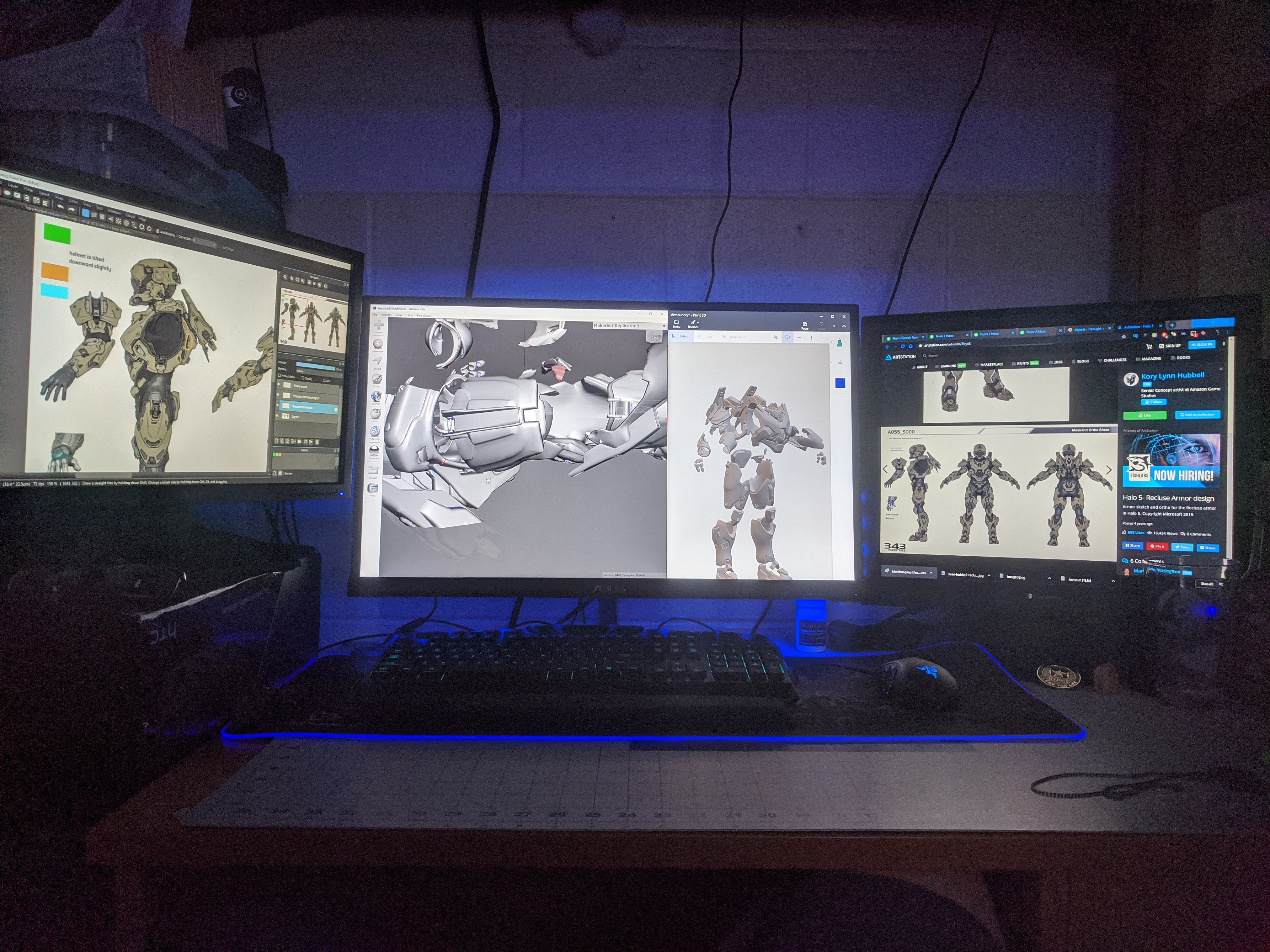 Yes, this is a dorm-room build.
While marking the noticeable details, I ended up color coding what needs to be done where, with a fixed concept sheet noting these changes here.
Key
Green: Rise
Orange: Recess
Blue: Sharpen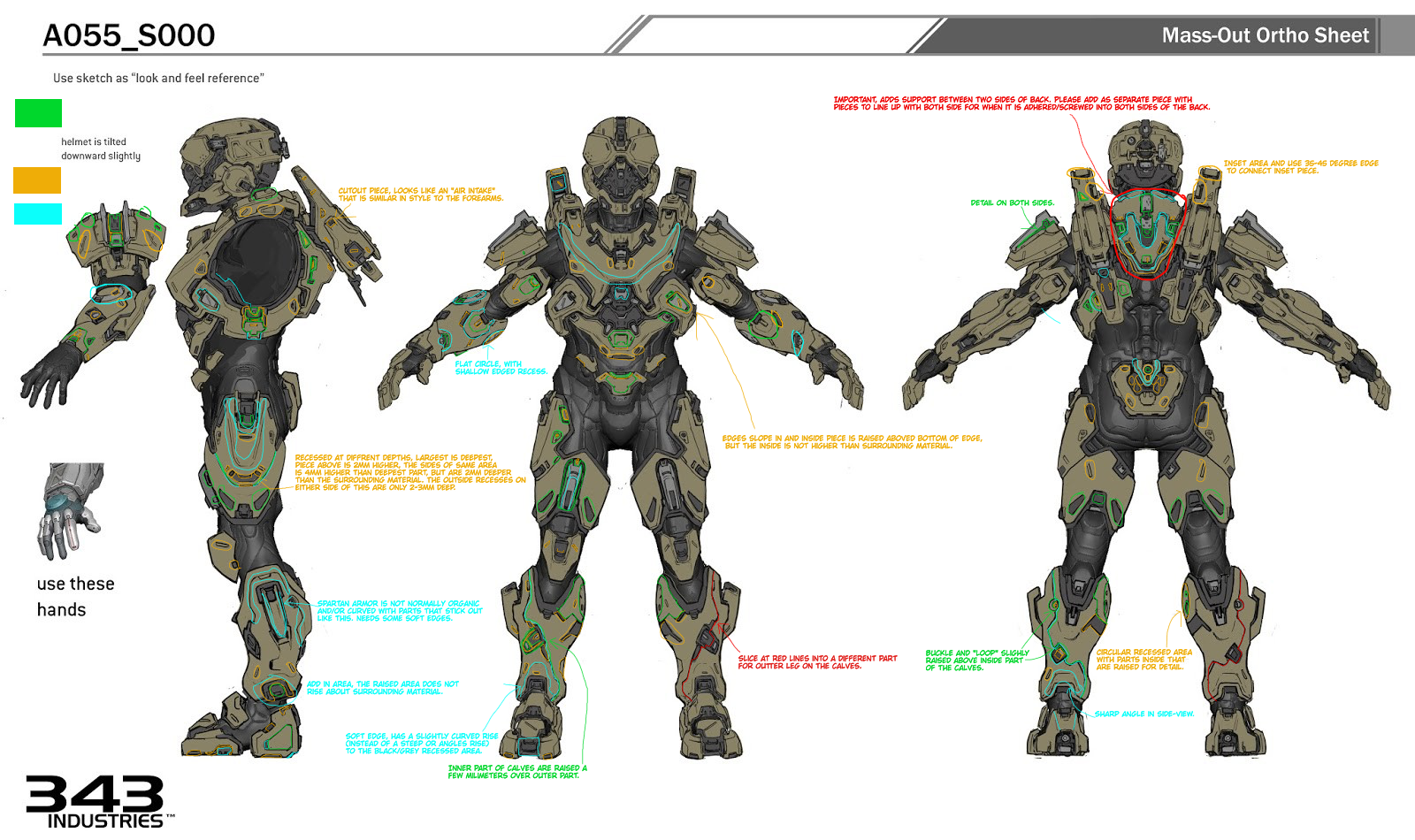 After getting this out of the way. I then headed onto Fiverr and found a guy to commission for a reasonable price and we began doing fixes of the suit's in-game model. He did a quick job to get the brief fixes out of the way before we moved onto more detailed work.
After that outline work was done, I started helping and pulling some of my own weight and (much to the appreciation of the 3d modeler) I marked out all the parts of what needed to go where. Color coding (yet again) with the grease pencil. This process isn't 100% complete and it will be a while longer until it is. But it looks fairly messy from afar. Due to how it X-rays.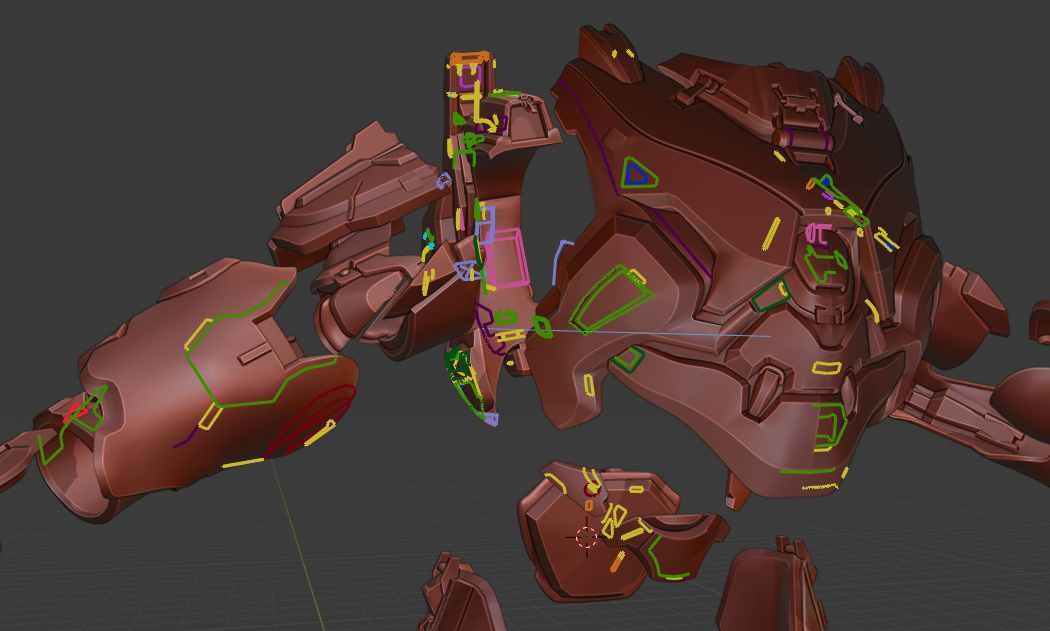 The back is also missing an entire piece that was in the concept, but didn't make it in-game. Which will be designed and integrated into the suit. The thrusters will be detachable for transport and will have red glowing "vents."
----------------------------------------------------------------------------------------------------------------------------------------------------------
Okay, enough with the stuff already done, now it's time for the juicy stuff! What I hope to add to the armor.
This is where it gets fun, time-consuming, and expensive, very expensive.
Alright, where to even begin... The features in this suit of armor are going to be rather complicated, and ambitious, to say the least.
Helmet and vision
With additions to the suit I have plans to make the helmet open and close like a clam shell, using hinges or buckles to secure the helmet and make it all contained. I want to try and make it so that the helmet will not have any wires that run down the length of the suit and can keep the batteries within it'self. The helmet with also have magnets to seal with the under-suit, to prevent skin from showing. The blue-cyan dot is where I'm thinking about putting the hinge. The orange sketch is the preferred slicing spot to be used to open and close, seamlessly. however, I may need to cut on the green line as that one circular part may be in the way.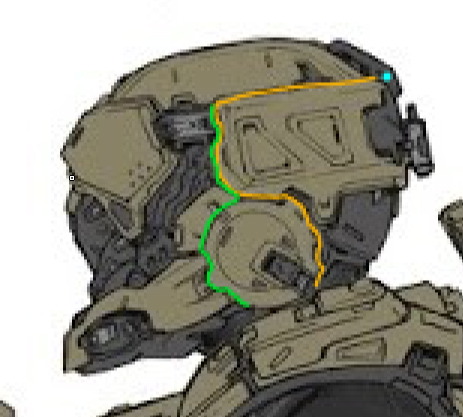 Now, you may be asking yourself "how the hell is he going to see out of that thing?" Welp, I got an experimental answer that is going to (hopefully) work once I do some testing with a group of people who, guess it, fly drones.
The idea of this helmet is to see through it, using a micro camera used for drone racing, with a low-profile FPV goggle hard-wired directly to the camera for lower response times and to save space.
Im currently looking at the RunCam Split 3 Micro.
The camera will be inside the helmet, with the tiny lens popping through this area marked in blue.
For referencing, I marked the approx size of my head inside of the helmet.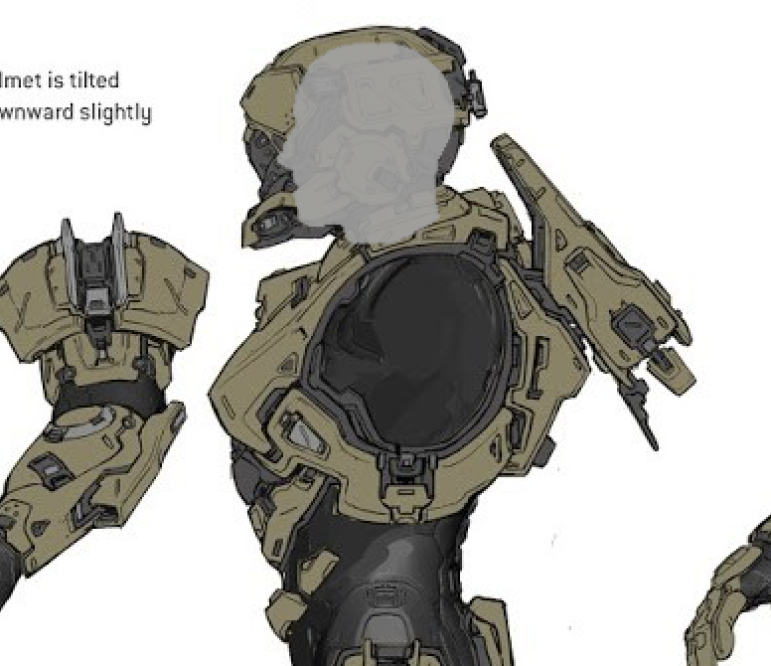 This design also allows enough extra space for making a breathing slot to be place directly out the front underside of the helmet without it being obvious to people looking at the suit. and plenty of space for the electronics (it is to be determined whether or not batteries can comfortably fit with some small fans).
Part Mounting and Magnets
This beast alone is going to be complicated, in which I will eventually explain the plans for the crazy undersuit in another post. However, to sum it up. I will be doing some silicone casting of the suit for hard details, and there is some mounting points that will be using purely friction fitted details that clamp onto the suit itself, and another quick release system. This will be discussed in a separate post. But for magnets, I will be integrating magnets into the thighs for props holstering.
Character Design
Okay, I think to begin with the rest I need to explain a little bit about myself and the character more before continuing. This character, as seen in the armor, has a lot of the human aspect removed from the element. Normally you can get an idea of where the face is at by looking into a visor, while this camera should be discrete and not very noticeable, some people will likely see it. While I, myself, love hugs and being a welcoming and kind person. This character will be the more "bad ass soldier type," but not the type you may be thinking of. I am still trying to come up with a name, and I think Akeno-647 may be a bit too light of a name. However, with this character they will be having a tall and commanding presence, almost threatening in nature. Over looking the area constantly on guard. This is not a difficult transition for me to act upon as I do have a more professional, almost sentry-like, part of my personality. However there are parts of myself that I cant really do on my own to enforce this aura of experience in the character. This is where the next few things come into place, sound design and height adjustment.
Height Adjustment
Alright, this is going to be seemingly pretty straight-forward to explain. Basically, I'm about 6 feet tall, or about 182cm for our friends who haven't landed on the moon. Spartans, are inherently tall. Stilts suck for proportions and are uncomfortable. So, boots have thick soles, and there is an internal wedge to give me another 2-4 inch (5-10cm) boost, not including how much the helmet adds. I'm trying to make this a noticeably increase in height, while not hurting or stressing my feet out too much. I already naturally rest and balance on the balls of my feet, so boosting that up just a bit shouldnt cause issues, but I will be testing this out to make sure for good.
Voice Recording and Sound Design
Finally, the cherry-on-top. This will most likely prove to myself to be the most difficult part, as trying to perfect a voice that you imagine in your head, and putting it into reality, are two topics of different genres. The plan with this is to use what is called the MiCom Sound Rig, which basically has 8 buttons that are placed on your hand and can be worn under a glove (two buttons per finger, minus the thumb), and each button can have up to ten different sounds programmed into them. This means you can have a button for different responses, but not make the responses the exact same each and every time. This is awesome for a few things, dialogue, lore, the sound effects of some props that you plan to use (if they cant fit a speaker inside), and even for meme potential. Basically use this and have a speaker under the chest plate.
The voice itself I'm looking at to sound like
the voice of Locus from RvB
, minus sounding like chronically being inside of a toilet. However, I aim for the voice to be a little more tense and almost have that straight-to-the-point-dead-inside-I've-seen-some-****-I-want-to-unsee voice. With perhaps an AI sounding something along the lines of
Freckles from RvB.
As well as a few sound effects for the props I plan to make, which will likely be either (most likely) the M99 Sanction Rifle or (less likely) the ARC920, and without a doubt I'll eventually be making an SRS99-AM Sniper Rifle.
Anyways, that's pretty much all there is for now. Thanks for reading this far if you haven't lost your mind from the logic plague, that is my writing.
See ya on the other side,
TheTAB01 (aka Akeno)
Last edited: