New Member
Pacific Regiment
Three weeks before Halloween, my 6-year-old son announced he wanted to be Master Chief. I looked at the awful costumes available and said that I wasn't going to pay $50 for a crappy costume; I'd spend two weeks and four times the money to make one myself. I'd never made anything out of foam but I'd seen a ton of foam builds on the RPF. I started gathering pictures and decided that I'd go with the original Master Chief from Halo: CE because he had the least-compicated armor. I started reading about Halo foam builds and watching videos. Some builds made me feel confident and others made me wonder what I'd gotten myself into. (RoxyRoo's were inspiring.) I also joined the 405th.
I started planning the project about three weeks out, but the actual build I did over about four long days (yes, the four days before Halloween). We started with a duct tape dummy.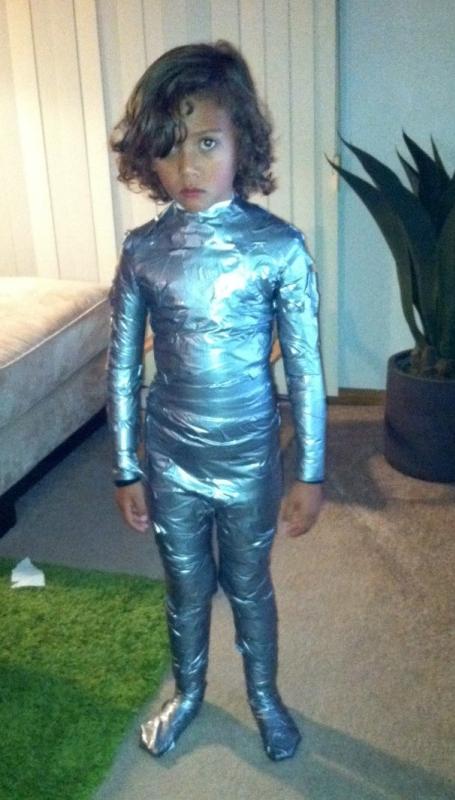 I went to Harbor Freight and picked up EVA foam mats on sale, plus a new hobby knife (hot knife). I got a new hot glue gun (my wife's little craft gun wasn't going to cut it) and several types of cement, which I didn't end up using. My first piece was the handplate. The first version was very rough, but it was a start.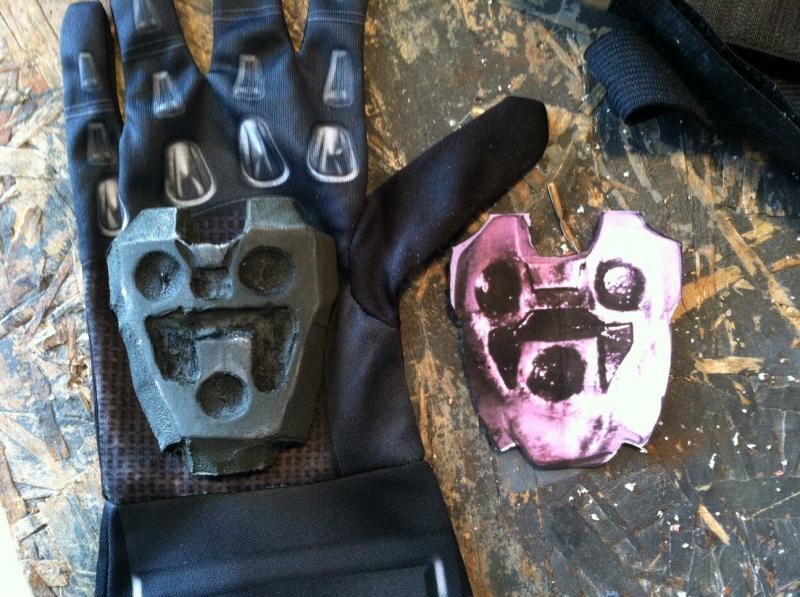 The next version was better.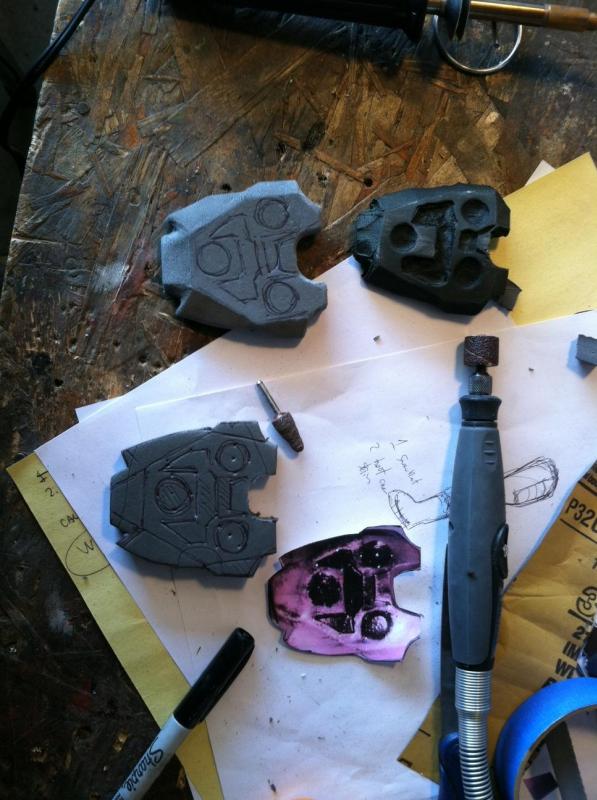 This was about the most planning I did for the whole thing. Then I got busy with other things and ended up with a week to finish, so, I just started bending and gluing foam. (I didn't take a lot of build pictures because it's not like you don't already know what a foam build looks like.)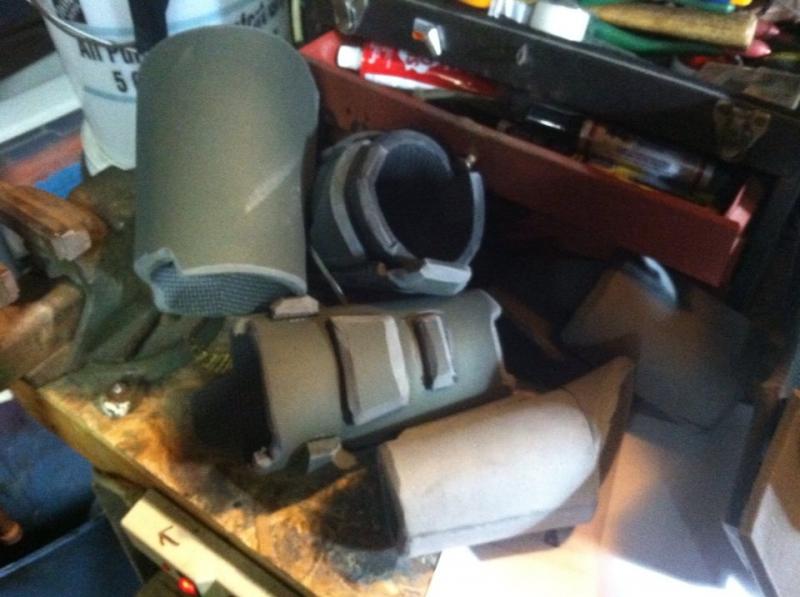 I hot-glued the pieces, sanded the edges with a Dremel, burned in details with the hot knife, coated with Mod Podge, spray painted, and dry brushed. I think the Mod Podge shrunk, because the joins on some of the pieces (like the back boxes) pulled apart.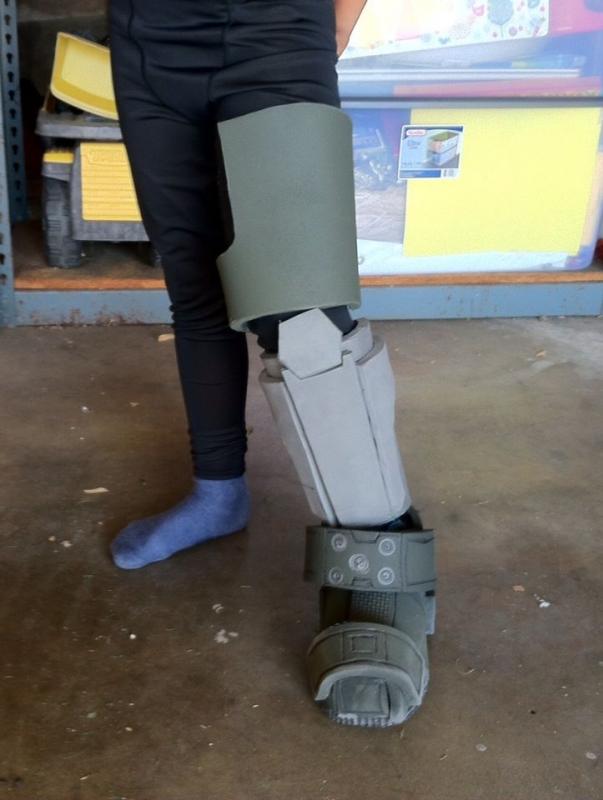 All told I probably spent less than $20 on foam. I spent about $10 for GI Joe gloves, $25 for the Starter sports two-piece "undersuit," and $27 for the cheapie helmet. I had Velcro and 1" elastic on hand already. (I do post-apocalyptic costuming as well.)
I cheated a bit and bought a cheap (adult size) helmet. I intended to use it as a model for a better, appropriately sized helmet, but ran out of time. He will outgrow the armor in a couple of weeks, but the helmet should last at least another couple of months before it falls apart. (It barely made it through one afternoon without cracking. Then again, it was dropped numerous times.)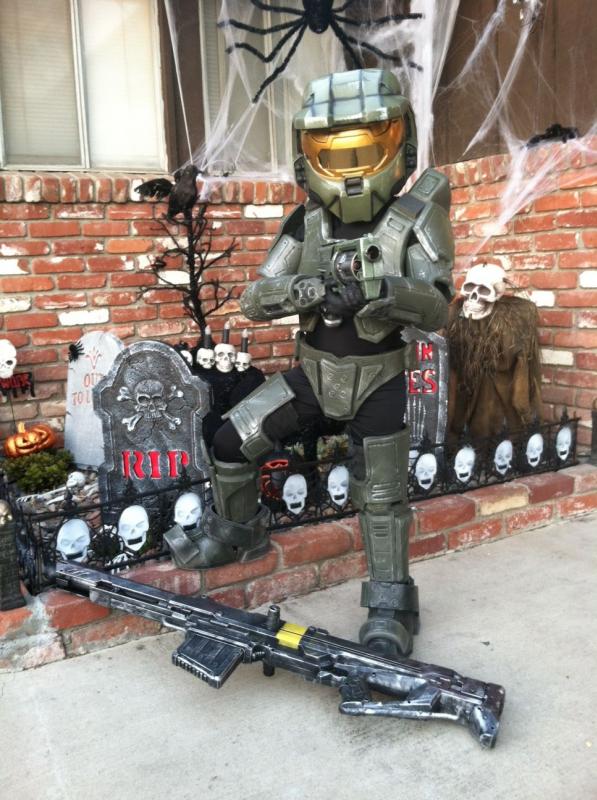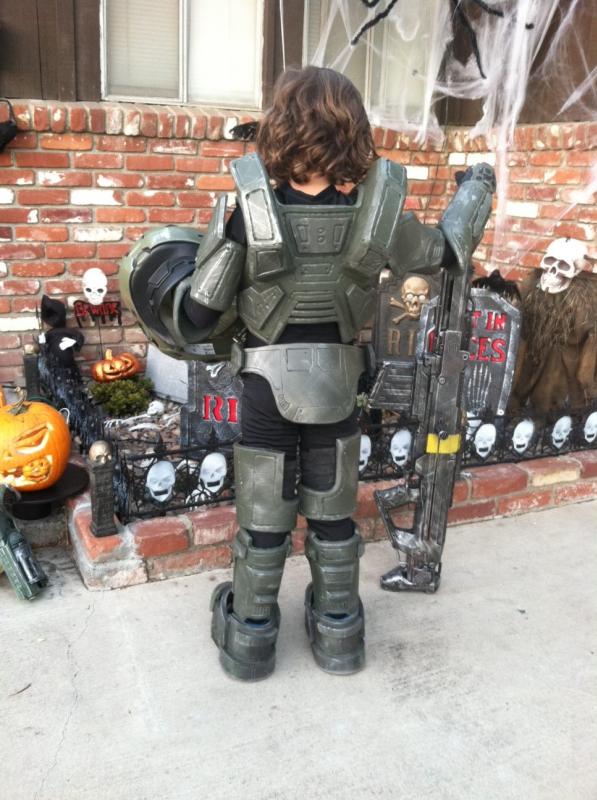 I had a lot of trouble capturing the Halo design aesthetic (I built it from the feet up, and you can see it start to look more Halo-ish in the chest), but CostumeJunkie's build at the RPF (
http://www.therpf.com/f24/11-year-ol...ersary-195772/
) was extremely helpful. (As well as encouraging and discouraging in turn.) Overall, though, I'm happy with how it turned out. I learned a lot, but I'm not yet sure whether this is just the first foam build, or the first and last.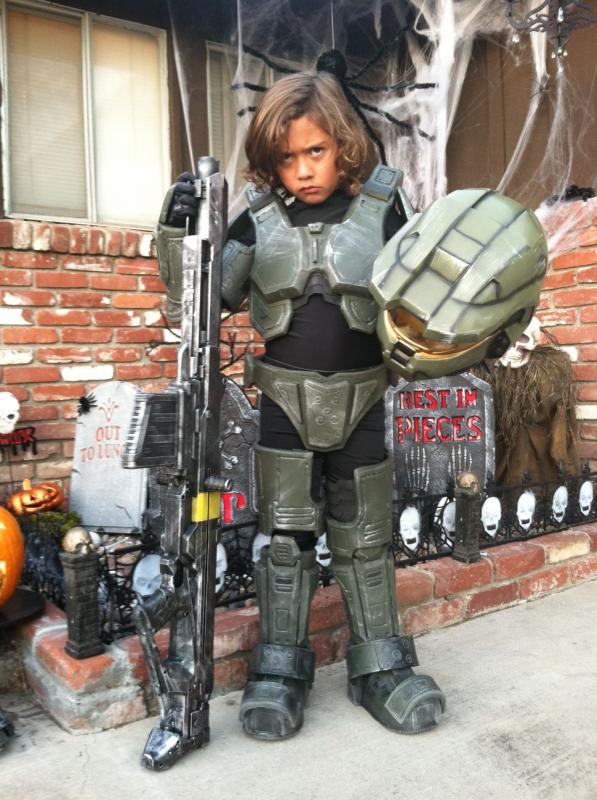 He wore the armor for Halloween and then couldn't wait to put it on again after school on Friday. I took him to Comikaze Expo 2013 on Saturday (the first convention for both of us), and in the weapons check line we ran into another Spartan. (Below pic, far right. —Dude, I'm sorry, I forgot your name
again
!) He said there would be a meet-up at 2pm; as we walked the floor, my son kept asking what time it was. Shortly after 2, we found several members of the 405th, who immediately made him part of the group. Thanks for making his day unforgettable. (For my part, I enjoyed talking with Adam and examining Lil Tyrant's armor in minute detail. Her craftsmanship is astonishing.)
I'm still basking in the afterglow, so I'm already thinking about father-and-son armor. We'll see how that goes.
That said, we both had an amazing time and we're looking forward to attending more cons. Hope to see you there.