RXO
Midwest Regiment
405th Regiment Officer
As part of the Extra Life stream I offered to send some prints to one of the winners.
Wayward Flood
was the lucky winner and selected the
Spike Grenade
that
CollinMcCaf
put together. This model is fantastically accurate. However, it is not setup to easily 3D print. Massive shout out to
MoeSizzlac
for helping me break it down for printing.
After I got it fully printed out and sent out I decided to challenge myself and see if I could design one that would be easy to 3D print and a little more durable. (Thinking a great booth prop as carrying it around might be a pain)
After a few nights of messing around and some help in Discord from
TurboCharizard
and others I was able to design this:
The model has a bunch of internal supports to hopefully make it quite sturdy in the end. The blades all split in half and also have channels for support rods.
(edit: just realized that this says 1/2" PVC - it is actually 1")
Materials if you are interested in printing one.
Non Printed Supports:
Main Body

1" PVC x 830 mm
4 - 5 mm Rod X 320 mm

Big Spikes
Medium Spikes
Small Spikes
Filament:
882.41 Grams
Time to Print:
75 Hours 11 Minutes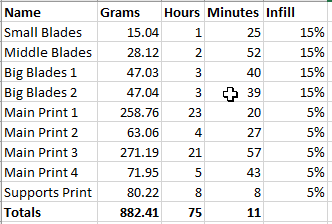 The whole model is sliced up to be able to print on my Prusa (21x21x25 build volume) and there is only one part (grenade shaft lower) that I needed to print with supports! (I printed everything at 0.2 mm layer height)
Please respect the Creative Commons licensing stamped inside, I designed these files for the 405th folks to have fun with and make cool things.
Let me know if you have any questions or run into any issues working with the model! (now time to decide what my next project will be)
Last edited: