This is my first ever attempt and start of making any kind of armor. Everything I have learned from Pep, scoring, resin, fiberglass, molding & much more has come from this site & all of the great tutorials so I figured I would share my first project. Also wanted to thank everyone here who contributes & shares all of their information with the rest of us who are new
I used Slyfo's version with 110lb cardstock for all of my pep work. I have 2 MKVI Helms because I was not happy with the result of the first 1 so I tried it all over again. I used an x-acto knife to cut out every piece my first time, this turned out to be a mistake for me so I used scissors on the second, for me they are much quicker and more accurate. I used hot glue to hold the paper together & it worked great.
Here are the pics of my pep work finished, currently the resin is drying, I have fiberglass inside 1 of the helm's and I'm about to start cutting the torso out. I will be finishing off these helms with glaze or bondo, Double layer HJC gold visor and paint. (I got the visors after I put the first coat of resin so I didn't get to make any adjustments but I think it will fit just fine) Eventually I want to make a full suit & a bunch of extras. Another project I have for the near future is making a battle rifle airsoft gun, I will be making the gun with pep & hopefully am able to fit a metal gearbox in it to have a functional airsoft rifle (I play & collect airsoft on the side)
The first helm is on the right & the second is on the left. As you can see I had some technical difficulties with the visor on my first try
The Helm on the right was Slyfo's at the original scale of 26cm, the left was upscaled to 27.5cm incase anyone was wondering why its bigger.
Side Views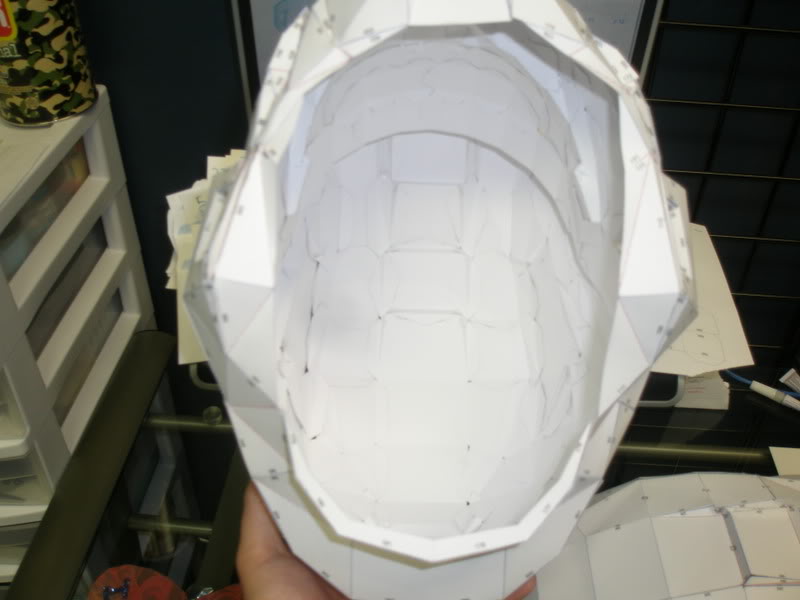 Wish I had more pics to post, but I will soon!
Thank you again from everyone on this site & for all the very helpful & much needed advice!
-Tyler