Ok well too many of you have no idea what to do for a visor. well thats why im here.
Materials:
Your helmet
Balloon
Craft resin spray (
Get it here
)
1.
blow up a balloon in your helmet like this.

2.
Applie the spray to the balloon. make sure its thick enough.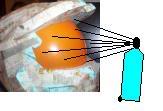 3. let the resin dry while playing some halo.
4.
pop the ballon
5. Go to a local rv shop and ask for gold privacy tint. they should have it.
6. applie tint and walla!! you master chief!!!

EXTRAS:
the ONLY reason theres no pics is because my camera is broke. YES i have done this with my helmet. the only prob is like you said with the tint. its hard to get in in exactly right. the resin i showed is a high gloss resin and dries pefectly clear. i made my visor permanently pert of my helm. but i suppose you could cut it out with a sharp exacto.