The airbrush technique:
The airbrush is an immensely versatile tool, but it just that, a tool.
A good brush, set up correctly and with good paint of the correct viscosity can easily paint a line as thin as a pencil, or as thick as your arm. It can be used to give very light, subtle shades or heavy full coverage base coats.
But it can't paint a hard edge, so stencils will be needed if you need to do that. I tend to mix and match techniques as required to minimise the need for anything complicated. I'm a simple soul.
The
advantages
of the airbrush are that it is quick. I painted the following panel in 10 minutes from start to finish. There is virtually no drying time since the atomised particles of paint are virtually dry as they hit the panel. It uses very little paint in comparison to the other two methods and it is capable of very gentle feathering and blending that are almost impossible to achieve with any other method.
The
disadvantages
of the airbrush are that getting set up can be very expensive, and you need to learn how to use it. The only way to do this is to get one and
practice
. The paint also needs to be of the correct viscosity, this invariably means that you will need to learn to thin the paint.
Finally, the airbrush needs to be cleaned between each colour and periodically stripped down and cleaned thoroughly to keep it operating correctly.
It's an investment in tender loving care folks.
I do not intend to give you a tutorial on airbrushing, but this is an easy project to learn on.
Because we can feather the edges of the paint we don't need to put in shadow edges as with the other methods so we have already saved ourselves an entire step.
Using the black primer panel, spray your basic green colour into the panels, but don't go right to the edges. We want a bit of the feathered black to show through.
Now drybrush the 50% green 50% white with a blusher brush as before
Drybrush the silver for the grill with a blusher brush as before
Add our stencil, but this time we will spray it using some white in the airbrush.
Now instead of using artists pastel chalks we can use the airbrush for our basic weathering. I've used a little black around the grill and panels and some brown on the vents and whatnot.
Here are all three panels done using the three different methods. Very little difference which shows that you don't need an airbrush to get cool results. It's just a quicker tool (especially if you have an entire suit to paint!).
I would now spend some time adding small scratches in the paint using gunmetal or silver. Possibly some rust streaks or whatever you like.
You now have all the basic techniques to recreate anything you like really.
I find it helps if you have some reference pictures (especially game shots or concept art) to work from.
You should be able to copy anything!
Here are a couple of images of stuff I have painted using various bits of all three techniques:
My Grenadier helm: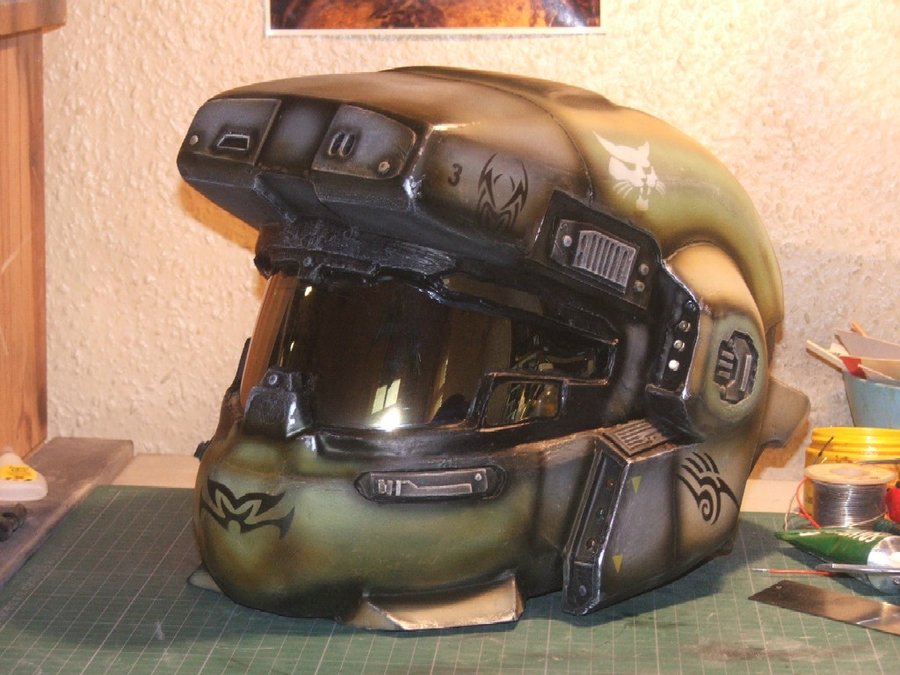 My MA37 Reach AR:
As you should be able to see from the tut, it's easier than you think to get realistic results.