I've noticed lately that I have been having horrible lag with a lot of new games I've been trying out. Yet for some reason WoW runs just fine with only a little lag here and there. I thought is was weird but I just ignored it. But when I tried to play Team Fortress 2 on my 360 yesterday it wouldnt let me join any games, and if it did I lagged BADLY. I tried the same with CoD4 and it was very difficult to join any game at all. So I went online and took a Speed test and....well.....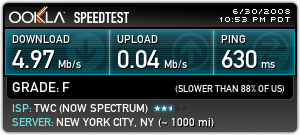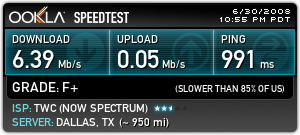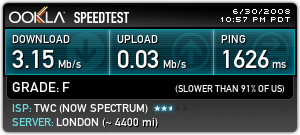 I looked at these results and pretty much woke my father up screaming "WTF". My ping is off the chart, and my upload speed is horrendous. Though it seems my Download speed is a little above average. Does anyone know what I need to do? Do I need to get my father to call up my ISP and curse up a storm?
Help please, I really want to be able to play 2142 and Guild Wars without walking forward 2 steps and lagging back 4 steps.
EDIT!!!:
Well ill be damned. Well it turns out my problem was really that difficult to solve. I looked at all my programs currently in use and I got to thinking. Turns out that my problem was BITTORRENT! Turns out all my pirating and stealing was the downfall of my $#!Tty connection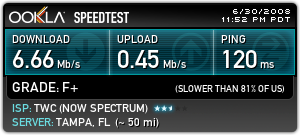 Go ahead and lock this mods, I solved my own problem