Division PR, RXO and BCO
Division Staff
Canadian Regiment
405th Regiment Officer
Delta
The 405th's birthday is rapidly approaching us and you all know what that means, that's right, streams, games and so much sharing of our favourite parts of our 405th identity that make this an awesome community! Much like in previous years we're going to be taking a broad look at some of our favourite activities that we can do together and let others join in so we'll be having multiple game nights, multiple crafting sessions and of course sharing knowledge, jokes and community spirit.
Our schedule of events kicks of on Tuesday April 5th (4/05) and has a variety of events that you can either join us on Twitch for (in chat or on stream for Full Type C Members) if there's a spot available in that events RSVP!
Open Channels - Tuesday April 5th - 7:00PM CT
If you haven't seen, the 405th was able to participate in the red carpet premiere of the Halo The Series. We have a few members on the chatcast to share their stories of the whirlwind week and talk new costumes!​
Game Night Infinite Big Team - Wednesday April 6th - 7:00PM CT
Everyone has been playing a lot of Infinite and finding lots of interesting ways to break things, have fun and (hopefully) play the objective. Join us for a bunch of games, 405th vs the World!​
​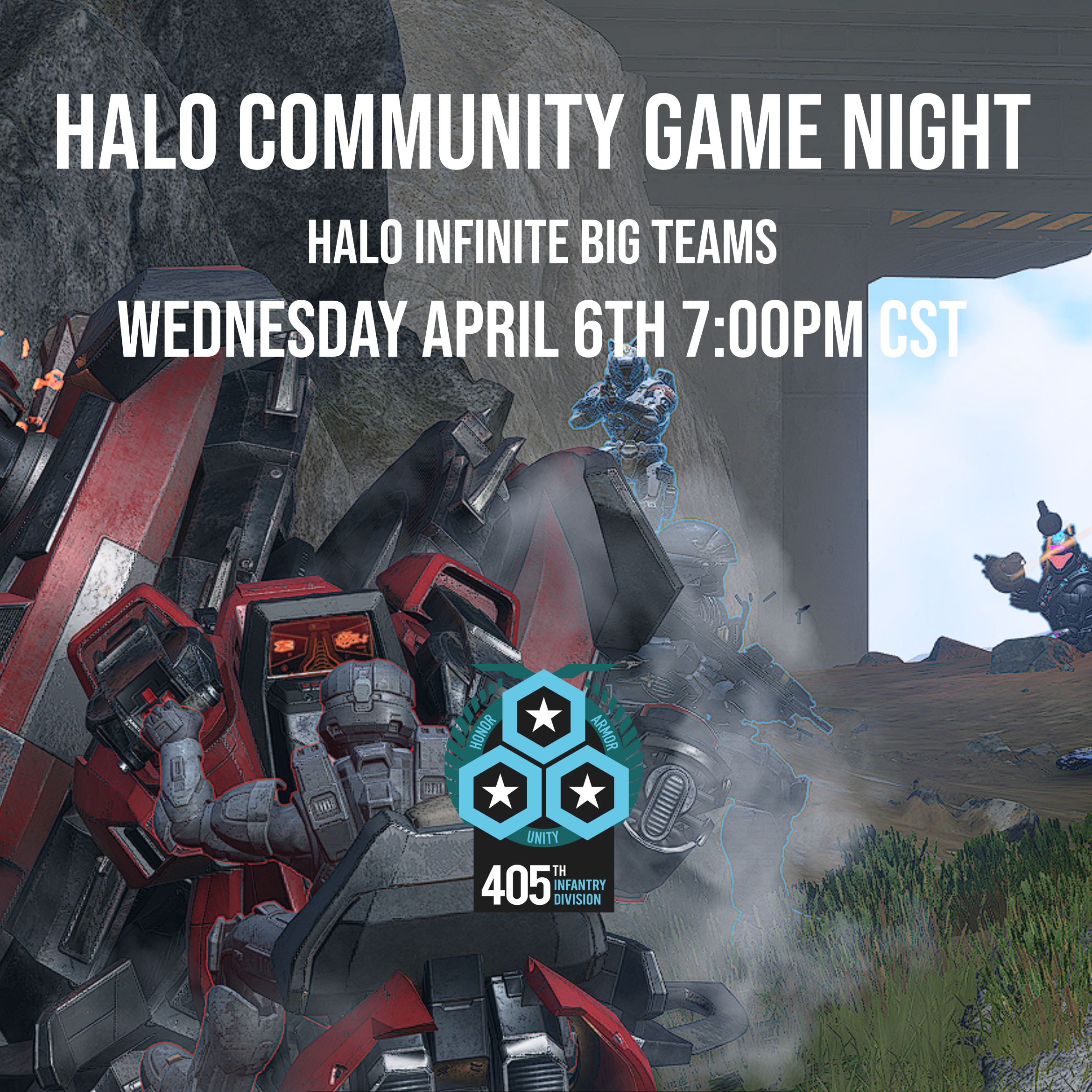 Crafting Cast - Thursday April 7th - 7:00PM CT
If there's one thing that we do best, it's crafting! Builders from around the globe join us to work on a variety of projects and share tips and tricks while doing so.​
​
Game Night MCC Customs - Friday April 8th - 7:00PM CT
The title says it all, we've got a big file share of maps and modes to play. We've got 16 players to throw at them!​
​
Mayhem 3: Worse - Saturday April 9th - 12:00PM CT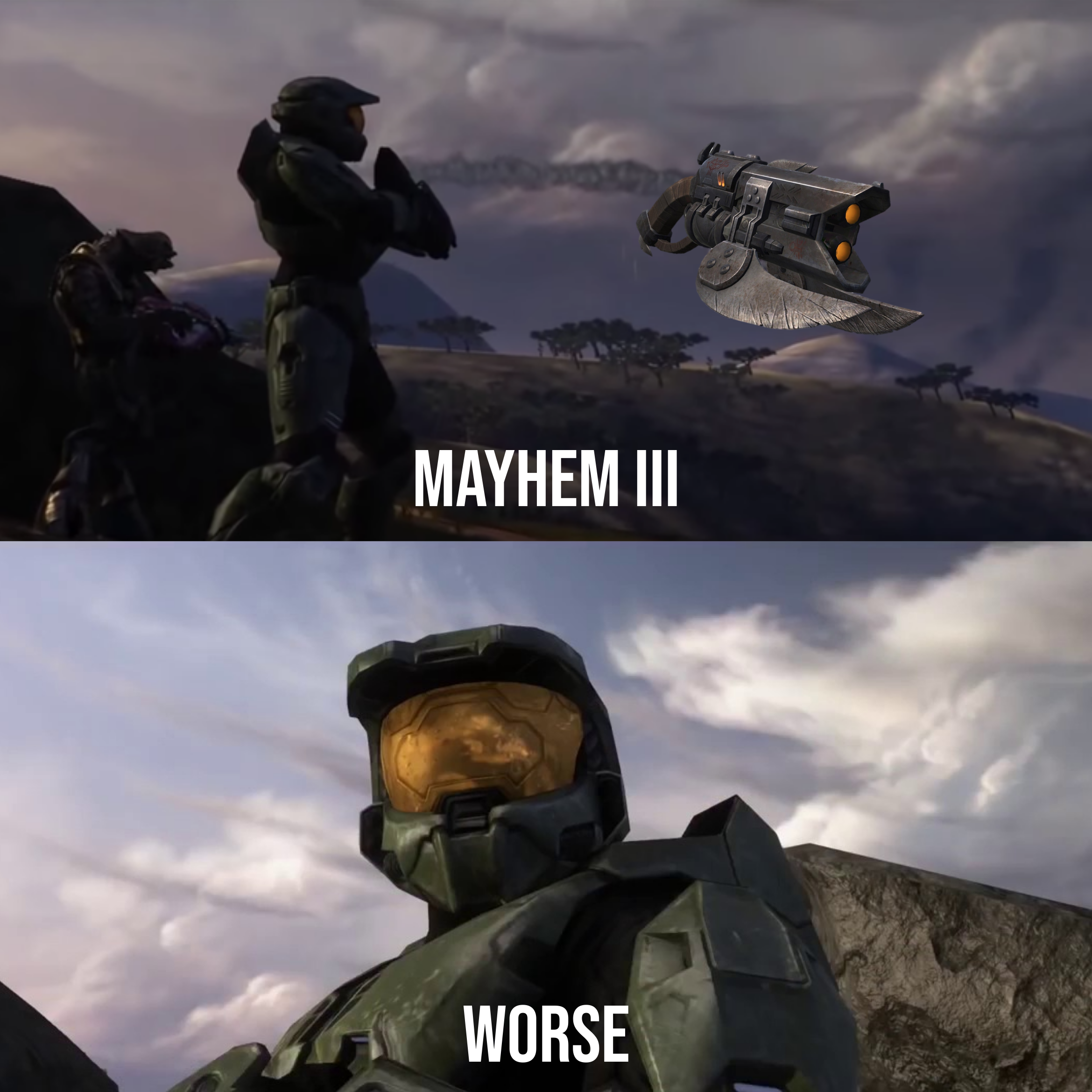 The rules are simple​
Everyone must attempt to build a Brute Spiker.
No builder may start before the timer on stream does.
No pre-preparation or building in advance is allowed other than collecting tools and materials into your workspace.
No "Toss a Coin to Your Witcher"
The Winner shall receive 10 (Ten) standardized American Hotdogs
You may have several questions and as is tradition the builders have prepared an FAQ to help shed some light on why they're going through this challenging and chaotic process.​
​
Why the Brute Spiker? ​
Because it's worse. Like the name. We've only ever seen like two people killed by the thing. (RIP Miranda)​
​
Can I join the Build Stream?​
We will be having several people joining in throughout the day to take part in the conversation, share stories and help with some crafting expertise. This will follow the same rules as always for streams, only Full Type C Members with 50 posts/90 days will be allowed to join in on the "On Air" conversation but everyone is welcome in chat to cheer the crafters on!​
​
I don't have anything to build with and I don't have any practice making things.​
First off, that's a statement. One of the best parts of building with the 405th is that you can build anything using anything. If you like building with LEGO or MegaConstrux, that'd be awesome. If you have some spare cardboard laying around and a roll of duct tape, let's see what you can do! The more props the merrier! Don't forget to share your finished builds with #405thMayhem3 on your social media outlet of choice!​
Last edited: