Yep. This time I just got back from the world premiere of Pirates of the Caribbean 3: At World's End.
Guess where it was
btw, land not world.
It was amazing. I flew out to Cali early on friday and spent the whole day at the park. At around midnight I left the park and passed about 10 people in sleeping bags right outside the main gate. The next they they would get up at 5am, wait at the main gate until 6.30am, buy a $63 ticket to get into Disneyland, and then sit at a fence all day until around 7pm just to get a glimpse of Johnny Depp or Orlando Bloom. Wow. Anyway...
So, Sat I woke up at around 10 so I could get a few more rides in.
Thats Mom infront of me. heehee
After getting out of Splash Mountain I passed Geoffrey Rush (Barbossa) making his way out of the Pieces of Eight gift shop. I got to talk to him and he even posed for a pic but mother was having technical difficulties with the camera and he has to leave before said difficulties were rectified.
At around 4pm I went back to my room to change for the big event. When I arrived back at the park, I picked up my ticket and then got in line to walk down the red carpet. By this time, the park was closed to anyone who didn't have a ticket to the premiere or who wasn't staying to watch the celebs walk down the red carpet.
I then proceeded to walk down the red carpet next to Teri Hatcher. Sadly, no pics of that.
Walking down the red carpet was amazing. I was being asked for pics and autographs, everyone was complimenting the costume, and I got to meet many celebs. Here are a few: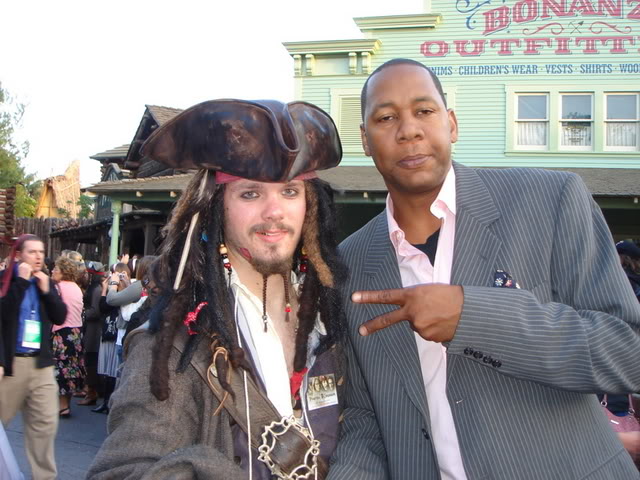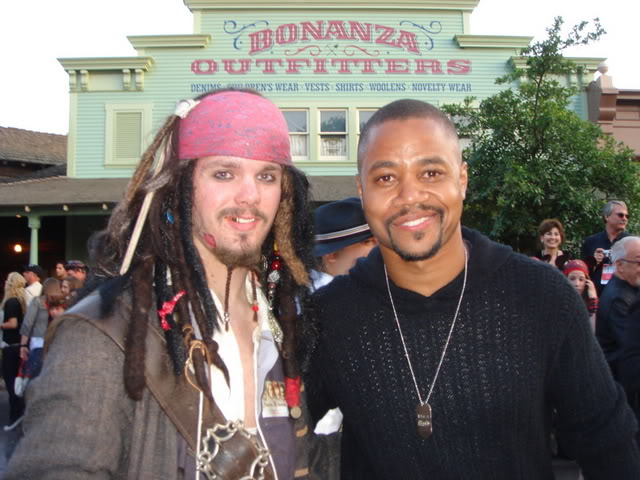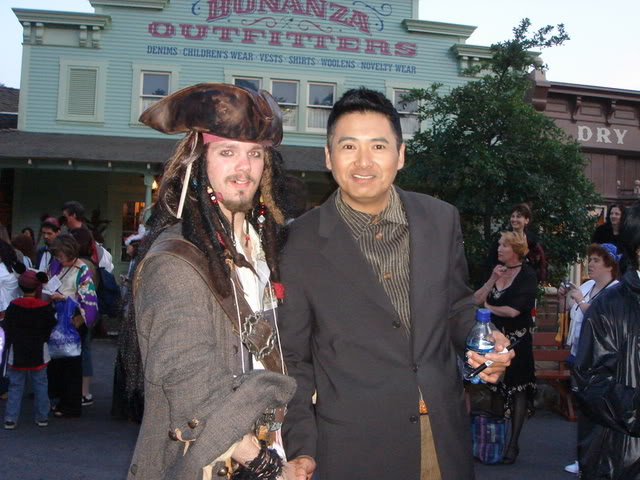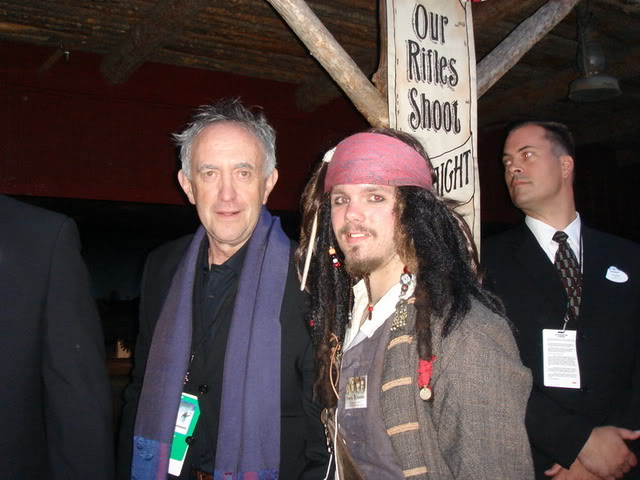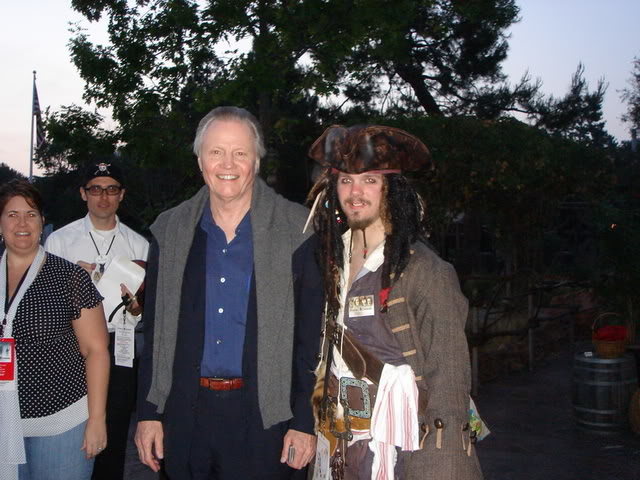 When it started to get dark, we took our seats in a huge outdoor stadium set up facing a projector screen on Tom Sawyer island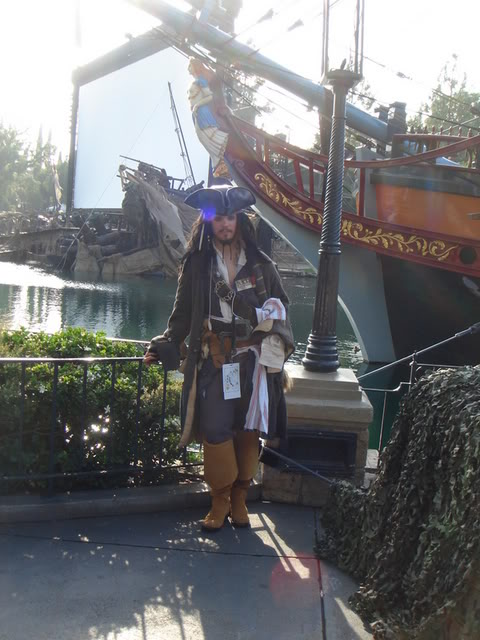 This is when they security checked our cameras. Finally the show began with Hans Zimmer(composer) rocking out on a bass guitar and conducting an prchestra to play a song from the new movie. Definitely a highlight.
Next, one by one the talent came to the stage and bowed. All of the main actors and actresses were there except for Keira.
Then the movie played and everyone cheered. I'm not going to spoil anything, but it was very good.
After the movie, we all had exclusive access to a few of the rides until 1am. I walked out of the park next to Martin Klebba, the dwarf from Pirates. He was very nice and complimented me on my costume.
On the way out, I grabbed my camera and was given a pretty kick-arse goodie bag.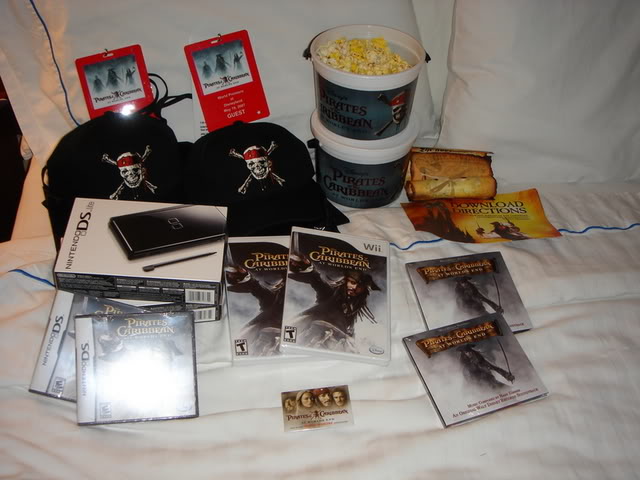 The DS even had a custom sticker for the event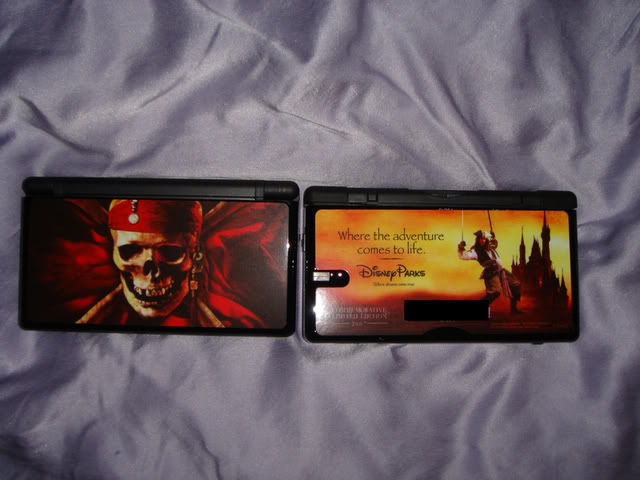 Of course those are all over ebay now. Anyway, I was very tired when I got back to the room so this is actually how I almost fell asleep
I had so much fun on this trip and just thought i'd share some of the highlights with you guys. Hope you enjoyed them and don't forget to go see Pirates at 8pm this Thursday at your local cinema.
-Red
Last edited by a moderator: