Hello, Since I have been MIA on building props or being active on here, I figure it was time to slowly crawl out of the hole and build something. That something is another Flamethrower from Halo 3. First thing is I built a new frame for the flamethrower.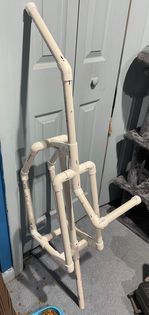 I used 3/4 inch PVC pipe for the frame.
Then I made this part for the fuel canister and used a bowl as a go to for lining it up.
This will be the inner part of the canister. It is 5.5 inches wide.
Once I made the inner part I made the outer parts with 1 inch tall on both sides.
Once again I used a bowl to trace it out. You can get a cheap bowl from Walmart.
I cut it at a 45 degree angle
.
Glued it on to both sides.
I kinda eyed it up from the toy and measured some of this part.
Made a couple then glued it together.
One of my friends mentioned I should use quarters as spacing but I figure I use the Rockstar tabs.
Cut 28 of these parts out to put it in.
This is what its at currently above.
This is version 1.
Last edited: