Executive Officer & RCO
Division Staff
Midwest Regiment
405th Regiment Officer
For a while, I have been pondering what to do for the fatigue/camo/BDU pants for the Halo 3 Marines, and I think I may have found an option.
Lots of people have suggested, and used, the current US Army ACU Digi-cam in either woodland or desert varieties. However, I don't feel that ACUs match the in game look of the Marines very well. The forthcoming McFarlane Marine figure gives a good look at the camo pattern on the Marine's legs:
Here is another in game shot: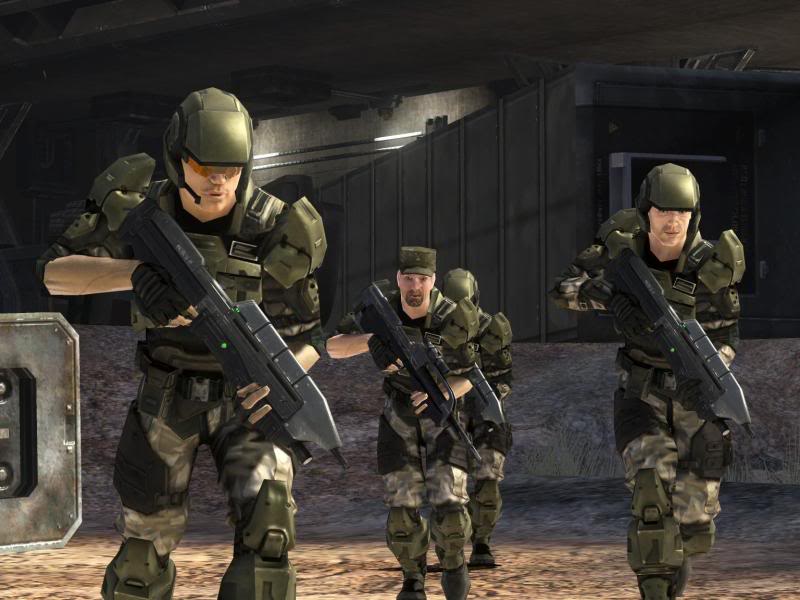 In contrast, here is the desert ACU pattern:
http://www.captaindaves.com/shop/media/ACU-Desert.jpg
As you can see the camo pattern seems to be a two or three tone tan color scheme with more angular blotches for the pattern that just doesn't seem to match the ACUs. I also did not think it really matched too well with the previous Army desert camo either. So, I was in a pickle, I wasn't sure where to get a good corresponding camo pattern.
Then, I saw Transformers: Revenge of the Fallen. One of the members of NEST was a British SAS soldier, and had on a pair of desert fatigues that featured a sort of angular, two tone camo pattern, so I searched for the current generation British Desert camo, and this is what I came up with:
http://www.armynnavy.com/catalog/catalog/images/british_army_surplus_desert_camo_t_shirt_300.gif
http://i.dailymail.co.uk/i/pix/2008/09/19/article-1057767-02B6101800000578-464_468x430.jpg
(Guy on the left especially)
http://media.photobucket.com/image/british army camo/jeffsaylor22/10-British-Army_Lieutenant.jpg
What do you guys think, is the British Desert Camo a good fit for the Halo 3 Marine camo pattern?
*Random side note that was interesting to me*
The Halo Marines, at least in Halo: Combat Evolved where based super heavily on the Marines of Aliens, Sergeant Johnson is almost an exact copy of Sergeant Apone in how he loves to quip about his Marines Being Badass, smokes a Cigar, has a Moustache, and sounds similar. The Halo 1 Marines also had a similar "Cobbled together" look about their armor that the Aliens Marines did. Anyway, I digress, the Marines in Aliens used, if I remember this correctly, a variant of British camo from the time. As such, if this new British Camo pattern fits the Halo 3 Marines, it would be a another very interesting little connection…