So I started with one of these: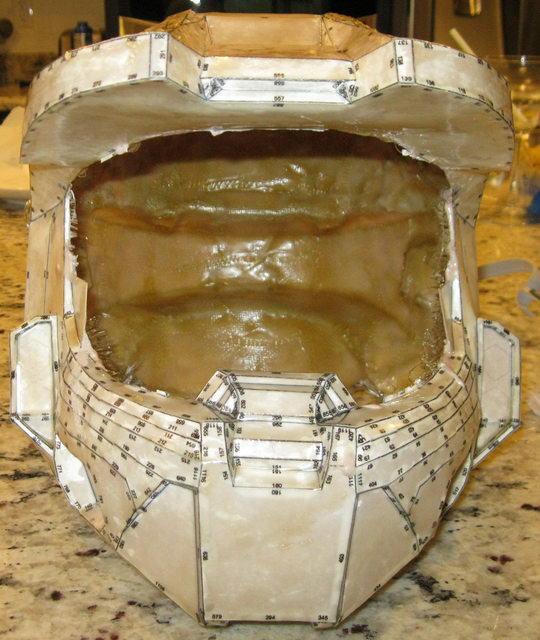 Everyone has one, nothing terribly special about mine (except that I made it to fit me I guess). But what do you do once you have a fully fiberglassed helmet? Even though I had sized the helmet correctly I knew I wouldn't be able to fit my head through the neck hole. Most people cut off the back trim to be able to get their head in, but I wanted to make something better.
Ever since I started building my armor I wanted it to look functional. I'm not trying to make it bulletproof or even use it for paintball, but I want it to look like something military made for military use. Being an engineer that works for a large defense contractor, I have a pretty good idea of what that takes. So I started researching it, I looked into current armored things (planes, tanks, ships, etc) and at current infantry things (ACUs, IOTVs, interceptor armor, etc) to get a better idea of what is currently being used. But I'm also working on a budget, so it had to look good while not breaking the bank.
Finally, I decided on what I was going to do. My entire suit is going to be hinged or separated depending on the piece. I ordered a bunch of different types of draw latches (the little latches you see on military weapon cases) and started working on where things would be separated, where flat planes would be to attach hardware, and how it would all go back together.
Finally, I took the plunge:
Too late to turn back now, I realized that my original hinge idea wouldn't work (the surfaces weren't quite flush and square enough), so I fell back on option #2: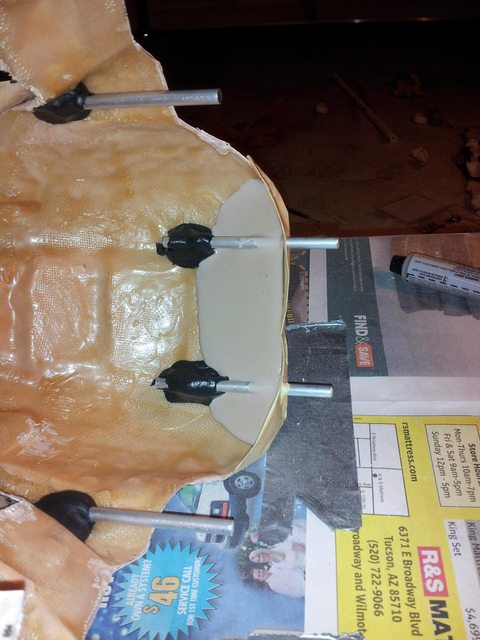 Parallel pegs. For this to work, all 4 aluminum rods would need to be perfectly parallel in 3 dimensions. A ruler and several strips of paper later, I had them all gently aligned and resting in clay. I built some quick dams around the rods and poured in some Rondo:
After a few hours of rotating the helmet around and making little masking tape dams all over the place, I finally had them all sealed up. The moment of truth, if I was off by more than a millimeter in the wrong direction the two halves would never slide apart. I carefully peeled away the tape holding the shell together, and gently started prying:
Pop! I removed the last of the tape and checked how well it would go back together:
It slides together so easily that gravity alone will pull it together if I don't hold it apart:
Next step will be to trim away the ridiculous amount of bondo that I added due to my fairly terrible dams, and then I'll be attaching some neodymium magnets to really make it snap together. Once the magnets are holding it in place I'll do the bondo work to it to smooth out the rough exterior, and finally I'll be adding on the latches that will ensure it stays together.