Hey all this is my first thread post.
So here's the cheese. I want to make Marcus Lehto's MK V remaster a reality.
I need your help!! Specifically with unfolding the armor files.
I've already made posts looking for someone to unfold them for me (
willing to pay for your skill)
in a couple of the halo discord channels and in the model unfold request thread here.
I don't post a lot on the internet but I'm going to try to update this build as much as I can. Things will be very sparse at first because don't have my new workshop set up yet because I've recently moved and still have stuff to unpack and set up.
Anyways I'll start off by rattling off some ideas of how I want to make this but I'll try to organize it best I can
"I need a weapon"
The MA5B from combat evolved has always held a special place in my heart for the pure insanity of its existence. Full auto, 60 round magazine, 7.62x51mm!?!?! I mean come on who wouldn't love that.
I've already made my pattern from it using inkscape and have it to scale. If anyone would like to use it please just ask and I'll clean it up and post the file.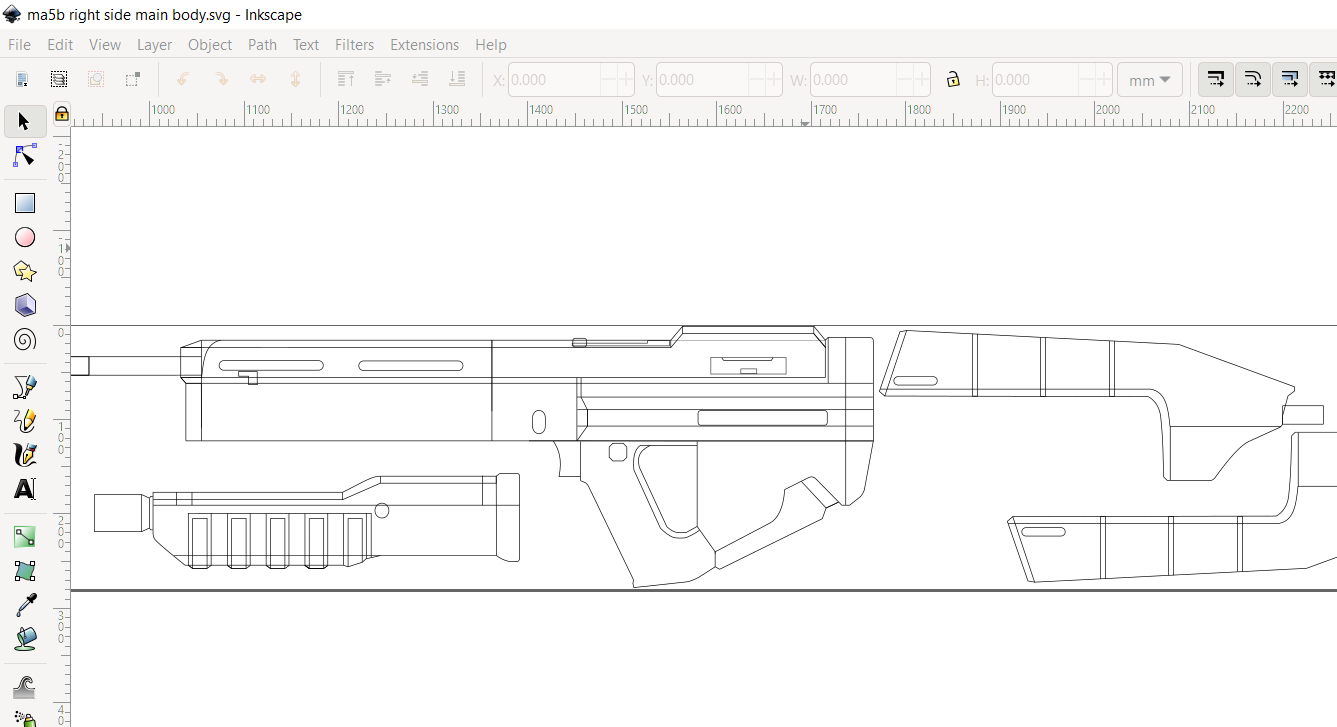 Here are the feature I plan to include
1: Main Body
The main body is cut out of four layers of 10mm eva foam and will serve as the center for the rest of the build
2: A full length aluminum barrel
A friend of mine has a lathe that we are going to use to mil an aluminum barrel and we are also going to use that barrel to core out the main body. I'll then cut out the heat shrinks for the barrel so that you actually see the barrel
3:A removeable "Electronics Suite" with light up ammo counter
The "electronics suite" is probably the most iconic part of the halo assault rifle, however some may not know that it is in fact just an attachment to the rifle with a rail hiding underneath. I don't know yet if I'm going to make it out of foam or worbla or both, that's something I'm going to have to figure out in the moment. I also plan on having the ammo counter be a piece of acrylic with a decal backlit by a blue LED which will be activated by a push button on the for grip
4: A removeable foregrip with working flashlights and power buttons
Some may also not know the foregrip is an attachment too! I plan on having it attach with magnets. I found these awesome light up green power buttons on amazon that I'm going to use. The one on the left side will activate the flashlight and the one on the right will be used to activate the ammo counter light
5: A removeable magazine and working bolt
These are harder to explain in words without pictures so you'll just have to wait.
"Bringing low level systems online! Cracking the case in thirty seconds!"
The armor.
This section will be much shorter until I have more to show but here are some of the features I want to include.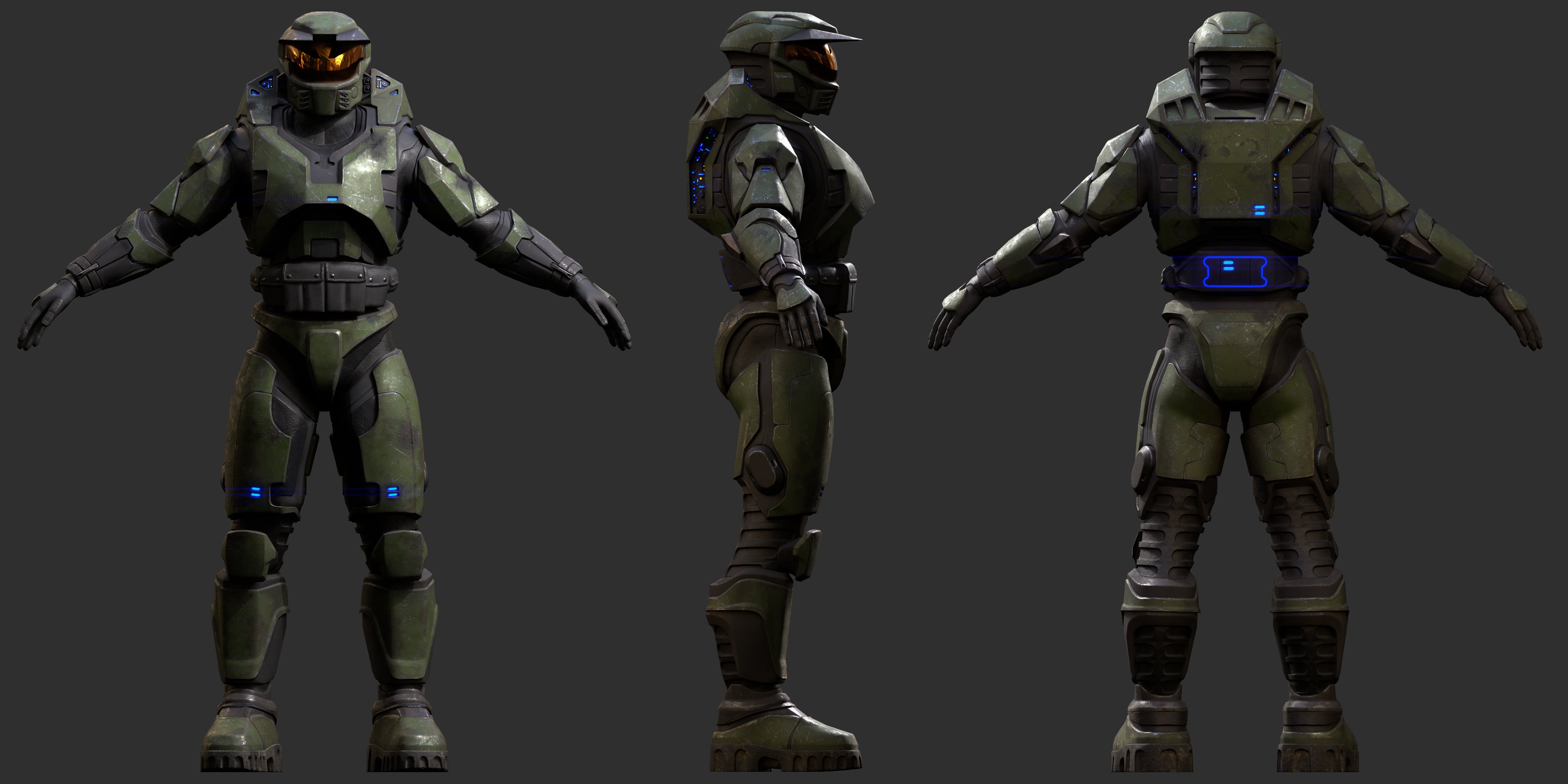 1: A custom under suit
So the under suit is interesting specifically around the knee joints. That ribbing is very unique to the mk v design. How I've decided to tackle this is with a custom undersuit made from a spandex with a texture I believe fits the design. The ribbing will done in style of how children's costume padding is sewn to allow for mobility while still getting the unique design across
2: Shield emitters and other lights
LEDs is a whole new world for me but my job has helped me learn some basic wiring. All of the shield emitters will light up appropriately. How exactly I'll do this I won't know until I actually get to work on the armor
3: Invisible strapping and rigging
I don't want to have any visible straps so I plan to wear the rigging underneath the undersuit and to have any necessary buckle come out from slits in the undersuit to hold any pieces on , most likely waist ouches/ armor, biceps, and thighs
4: Back and thigh weapon attachments point
A crap ton of magnets... 'nuf said
That's it for now until I have more work done. If you've read this far thank you very much and as stated previously any help with unfolding the armor would be awesome. That's the first hurdle to defeat for making the armor