Active Member
European Regiment
Hi there fellas! i am back again with new stuff!
Neglecting old things as always...
This thread is all about halo related props i come up with. Be it weapons, normal (bt overlooked) objects from the halo universe, halo themed accesoires, gimmicks, etc.
I am going to start this of with an alltime favorite of everybody: Energy Swords! Mainly H5-Versions, but i`ll probably get to all the other ones too.
I used files
CPO mendez
so kindly provided for the Grip, the Blades i draw over some Concept art for the H5 Beta.
That`show tha looks like in CAD:
I already did some minor mistakes on the regular sword blades and i simplifed prophets bane by exactly mirroring one side but meh, less work
I used my programm to splice the model up and prepare templates for lasercutting. The method i`ll use is one Volvin Props used on his excellent Needler Prop, i might refresh your memories a bit
Tested
With such a rip structure i get a lightweight prototype, being able to check if the proportions are right and good. The overall advantage: For me it costs just a few bucks, opposed to starting a 3dprint. and it`s fun at least doing a little bit by hand.
Later on there are endless possibilities like cnc machinery on thick acryl plates to cut out the blades in almost one piece wit internal canals for wiring and lights!
Here the finished product as it is now: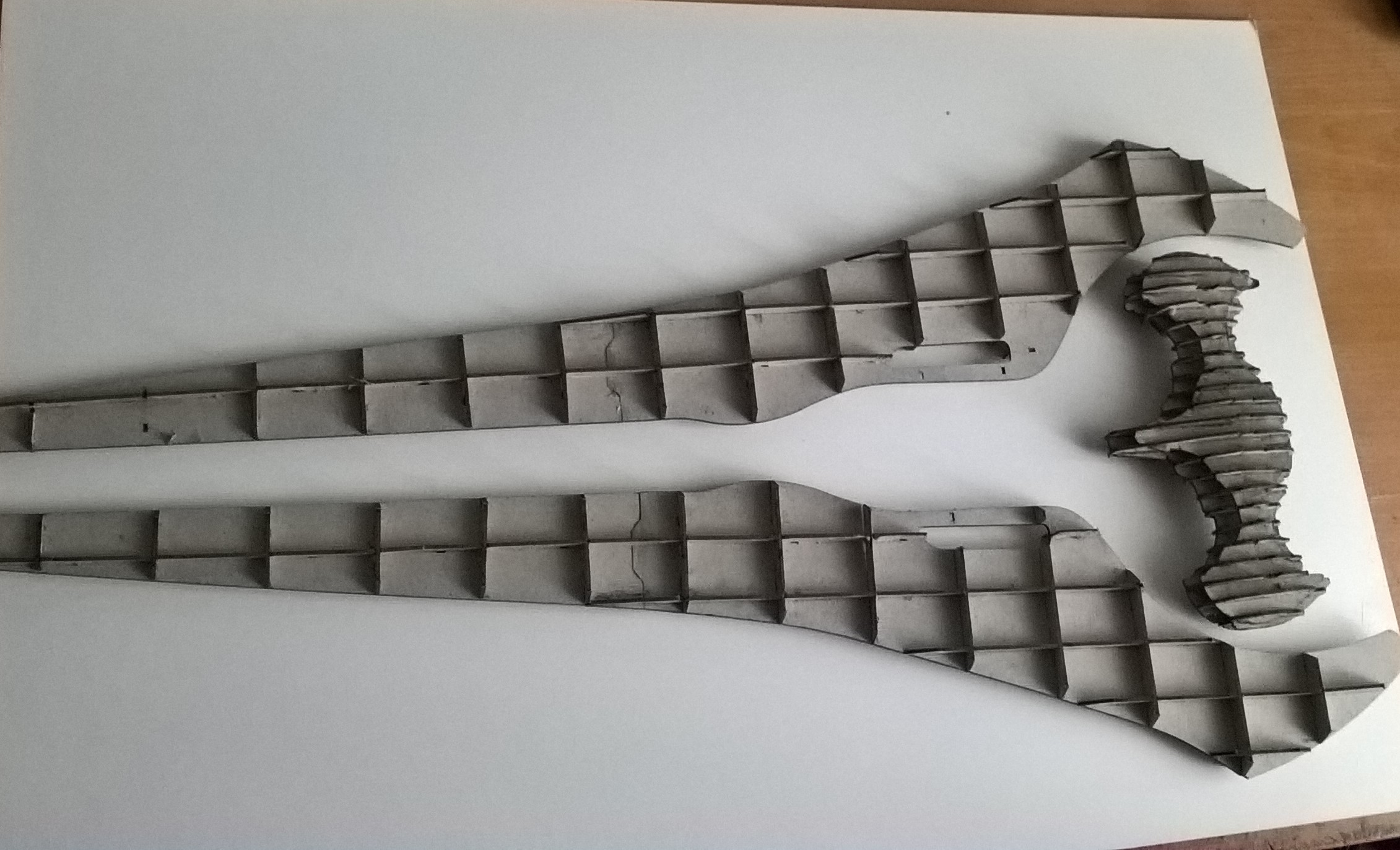 Between the interspaces i`ll put styrofoam which hast to be sanded into shape and afterwards the whole thing will get a special primer for that material so i can add a layer of paint (most likely shock white to higlight the form). I will ingrave details as i see fit. Gotta put a dremel engraving set to use i got as apresent just recently
My references are as follows:
I love these Clay skulpts. This was done in maya or zbrush, i guess?
Hope to see this build turning out well and i`ll post other stuff on here too. Probably not in order, lol...
See ya