Active Member
Pacific Regiment
The chest piece is coming along nicely. Bondo really changes the look of pepped armour, brings it from polygons to believable. It might be the most boring stage, but it is really important to getting the look right. Keep up the good work!

I was just watching Cereal Killers Video Tutorials yesterday and I got to the one about applying bondo. I don't know if you have seen them or not (

thread here

, episode 4 is bondo) but he uses a razor blade to trim his bondo before it hardens. Basically he trims little bumps off to reduce his sanding time. I noticed a few small bumps in the first layer of bondo, maybe that could be a small timesaver for you. Hope that helps!

Also, Happy Birthday in advance! Turns out our birthdays are fairly close together, mine is on Thursday. Gotta love July birthday parties, stays light out late, warm weather, summer vacation, great time of year.
I agree that the bondo stage is the most boring, but it is also the most important. I would be getting this done a lot faster if the battery to my hand sander didn't run out so quickly. It takes 30-40 minutes to charge and I only get to use it for 10-15.
I have watched Cereal's vids. I use my blade all of the time to trim down bondo. But in that pic that you mentioned, I knew that I would be adding more bondo on top after I sanded it down a little so I didn't trim off as much as I have on the rest of the piece.
And thanks! It's funny that you mentioned that. My Aunt's birthday was earlier this week and my grandmother's birthday is today. haha Gotta love the summer pool parties and BBQs!
And for anyone who is wondering, my grandmother is doing okay so far. She's anxiously waiting for a phone call from the doctor with the date that she is going to have her surgery. The nerves are definitely getting to her. When she has the surgery, she'll be wearing a halo for many months while her neck heals from the surgery.
UPDATE TIME:
Smoothing out more of the front of the chest piece.
I'm gradually getting the kinks and warps fixed. On the front half, the portion that crossed the collar bone on the right side was pointing down a little. So I made a relief cut and I will fiberglass the inside tomorrow to keep it in place. Then I will bondo over the top of it to smooth it out.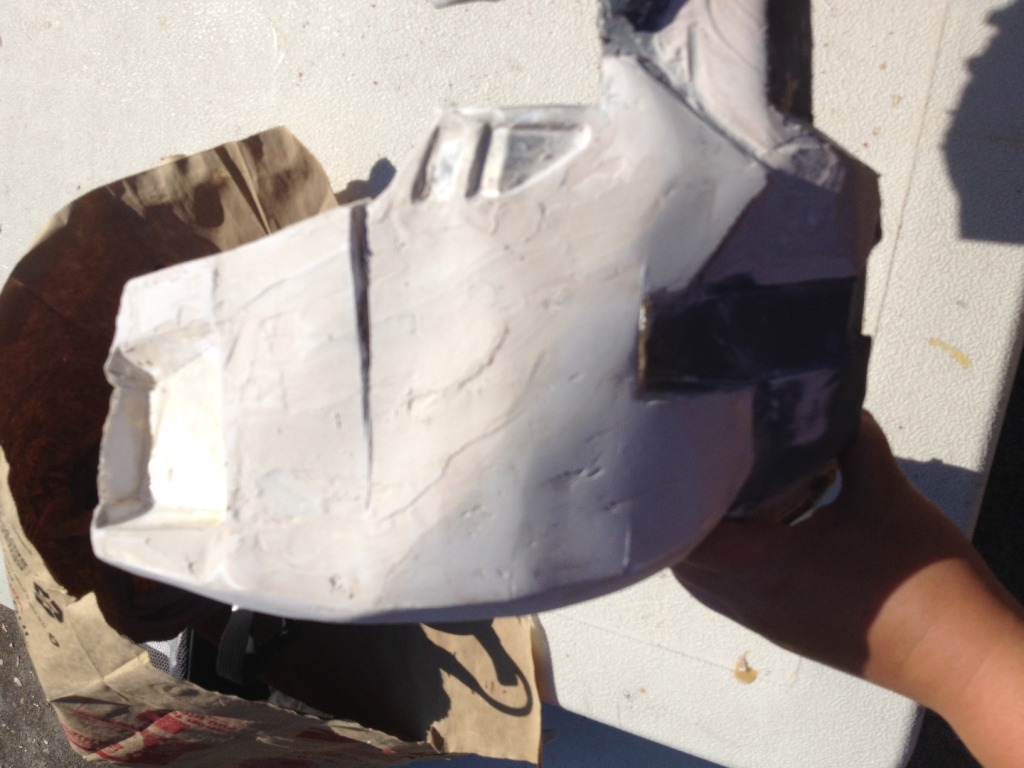 Next, I cut out that square on the back half of the chest piece.
I won't be making any major progress on the back half until the front half is done so I make sure that the two halves will fit together exactly.
I have a lot to do and I have set my timeline to September 1st, which is when Kumoricon is in Vancouver, WA. Only 39 days to finish this piece and to piece everything together!!!! It seemed so far away a few days ago! I better get moving!!!
Thanks for looking!
Stay Frosty, 405thers!
-Alexis