Well-Known Member
Southwest Regiment
LET THERE BE HELMETS ALL OVER MY HOUSE!!!
This one has the panel lines accented with black so they stand out... not always done...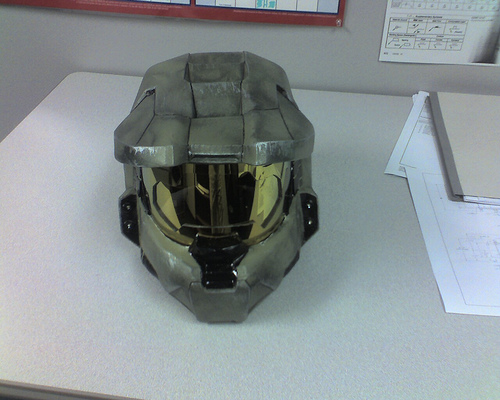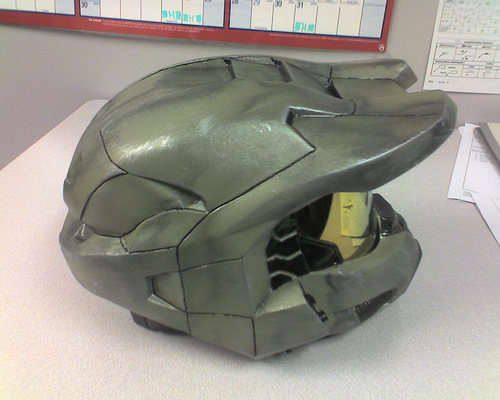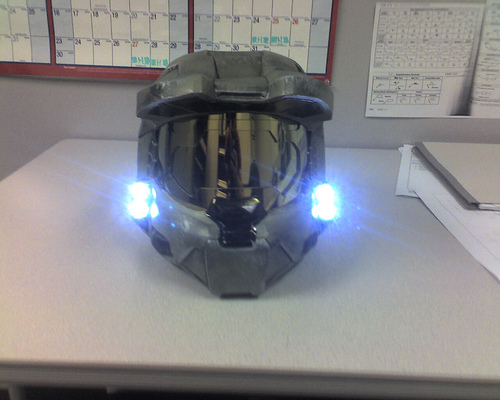 And this is a raw painted one... the painting is all the same process... just slightly different.. without the panel line grooves painted.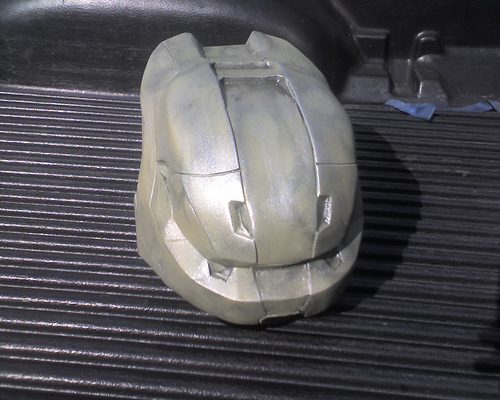 Q:
"When will "the rest of us" see a tutorial on expenses/ mats used / trouble spots to look out for / etc."
-- A:
Tutorials are online already for versions of what I have done, but specific to my process, a tutorial will be up when I have time to finish it, I don't want to post anything half finished, and I do try to answer all the questions that are asked of me... but I will be posting one soon..
Statement:
"Now, I don't doubt that i could figure all this out on my own, but before I drop 150$ for rebound, and another 75$ for some smooth cast, I'd like to hear what those of us who are "older and wiser" have to say about the process. "
-- Response:
Well I did use smooth-on products... watch Adam's video of his ODST helm, he shows you what to use when... I used a very similar process... not exactly, but similar...
-- Response:Statement: "Because I'm sure you're going to be getting 100's of messages saying "OMG HOW"D YOU DO THAT", I'll go ahead and field a couple burning questions that would be best answered in a new thread."

-- Response: I am getting alot of PMs lately... alot... lots of request for helms, some from what I fear to be recasters, some from people that think they will be able to buy a helm for $100... its worth more to me to keep than to sell one for $100, as I would rather have 10 sitting around my house, than sell just one for $100, that wont cover just the materials to make one.... not including the time involved.

Q: "1. how long did it take (start-finish) to create a mold of your helm?"

-- A: 3 weeks of long weeknights and two weekends of all day Saturdays and Sundays (approx 80-100 hours) from start of my first original helm, to the pull of the first cast.

Q: "2. What materials did you use?"

-- A: Smooth-on materials, again, they are shown in Adam's ODST video.

Q: "3. How much of these materials did you use (is the one gal size of silicone rubber enough? etc)"

-- A: One gal of silicone will get you one helmet, just don't mess up, which can be easy to do, otherwise you will be buying more than one gallon.

Q:" 4. comments, deep thoughts, jaded opinions, etc."

-- A: Casting molds is not easy, its not cheap, and its not a lot of fun. It is rewarding to see your project finally working in the end. But I spent a lot of time and money to get to where I am now, and don't be fooled that because I did this in a short period of time that anyone can just run out and do it. I have a Licensed Engineer, I have a Mechanical Engineering degree, mold making is in my field of studies... I have worked with different auto body products from paints to fillers, from sanding to fiberglass... I think everybody here that has built something to mold has the experience necessary to apply to the project, or the money to waste.

To answer what I am doing right now... I am recovering from a long weekend.

I have a burst blood vessels in my left eye from this project, its a long story, but it is from this project.
I am stressed out and tired now... I want some rest...

The helms will be made for what it costs to create them and for any time involved, what my time is worth will be determined by how fast I can create a helm.

The 405th does not sell items, if you have any questions, PM me directly...

Statement: "Thanks Spase - your work speaks for itself."

-- Response: You are welcome... you are all welcome, thank you for the kind words.

Statement: "And just out of curiosity, if you ever were to sell casts of your helm - how much would those pups be going for (ballpark)?"

-- Response: PM ME ... I am not hurting for money and I do see being able to make money on the side of actual career making props... but I am not trying to get rich making props for a community of fans for which I love and adore... I love Halo, just like everyone else here does. Not to mention copyright infringement is always a worry... but like I said, I am not really out for profit when it comes to the helms... I have other projects going right now too, but due to the overwhelming interest here in my helmet, they have been put on hold for now...