I posted this on the THD but I thought you guys might be interested on my attempt at Skips Boba Fett Pep.
Here is the bucket and ear pieces all pep'ed and ready for the next step.
RESIN
I added fiberglass a day later. I let the fiberglass fully cure overnight and added the bondo and began sanding. I'm almost done sanding the dome completely smooth.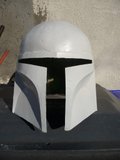 Let me know what you guys think.