Yesterday I went to target looking at christmas goodies 75% off, well me being a tech geek, I love looking at electronics too, I saw a beat up projector box, so I went to the kids toy area to find it since I knew there was probably more there, I found shelves full of these cheap 160 dollar projectors onsale for 80 dollars.
I picked one up and paid for it, came home to test it out.
heres what she looks like.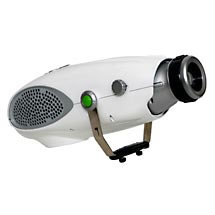 Not sure what the resolution looks like, but to me, It looks like pure crap, I dont have pictures of it, but the screen door effect (seeing every pixel) is too grave, playing ps2 and ps3 games on this thing made them look horrible, text was unreadable, even large DVD subtitles were impossible to read.
Overall, I would say the picture itself is almost as good asa standard TV, but because of the low resolution, the subtitles and any other text is impossible to read, so if you're watching something with just audio/langauge you can understand, it can be enjoyable.
My other complaint is while watching tranformers on DVD, the dark scenes were impossible to see, it was just too dark to see what was going on, this is because of the cheap light bulb they use as the light source. A simple led mod could fix this, but a led light isnt going to fix the crappy lcd resolution.
So....would I keep it? no, unlike other projectors I have used before, this one cannot be hung from the ceiling, there is no atatchment like most projectors have for ceiling mounting. without a ceiling mount, I have no space for this to go and project onto a wall, having the thing sit on the floor and aim up toward the wall makes the image distorted, the bottom of the screen is too small, and the top is stretched, the only way to make this work right is to have it aim straight and at the same level as where on the wall you want it to aim, and then I say again, there is no space for this. So to have a big screen, you must aim at the ceiling.
Watching on the ceiling wasnt too bad, it was kinda fun laying down, but after a while, it becomes annoying and uncomfortable.
My final word is.....I am returning this thing right now. I'm glad I only paid 80 dollars, If I had paid 160 at normal price, I would be even angrier that such a piece of junk cost that much.