Division PR, RXO and BCO
Division Staff
Canadian Regiment
405th Regiment Officer
Delta
You know the music, it's Extra Life Game Day and we at the 405th are getting ready to play Halo, live it and share our love of all things Halo to raise money to support children's hospitals.
Last year through the combined efforts of the community we managed to raise over $3000 USD to support the Renown Children's Hospital of Nevada and this year we're going to do our best to beat that number! Like last year our chosen hospital for the 405th Infantry Division is the Renown Children's Hospital in Nevada as a thank you to Art for hosting and managing the 405th forums that we call home. As well we've opened the floor to all Regiment and Battalion staff to suggest hospitals local in each of their regions to also support while joining the "405th Infantry Division" Extra Life Team. If you'd like to donate to the cause or help spread the word that we're raising money create an Extra Life account and join our Team with the link below.
Excited to see what all we have in store for Game Day? Here's a preview at all the fun events we have in store for you! From classic Halo shooter action, to crafting, story telling and even slinging dice, we are celebrating the Halo Universe the best way we know how!
All type B, C and D 405th Members are welcome to join in the live broadcast and participate in the games, storytelling and crafting of the 25 hours (yes it's on North American Daylight Savings Time so we get a bonus hour) of Halo goodness on November 6th.
How to Watch
Everything will be live streamed on the 405th Twitch channel on November 6th! Set alerts on the schedule tab linked below!
Want to Participate But Can't Find Time?
We understand that November can be a busy time and that matching schedules is a difficult task. Luckily there are multiple ways that you can still support the 405th effort during Extra Life!
Share the news far and wide, every little bit helps! The following image can be shared publicly with the hashtags #405thinfantry #buildyourcharacter #honorarmorunity #extralife2021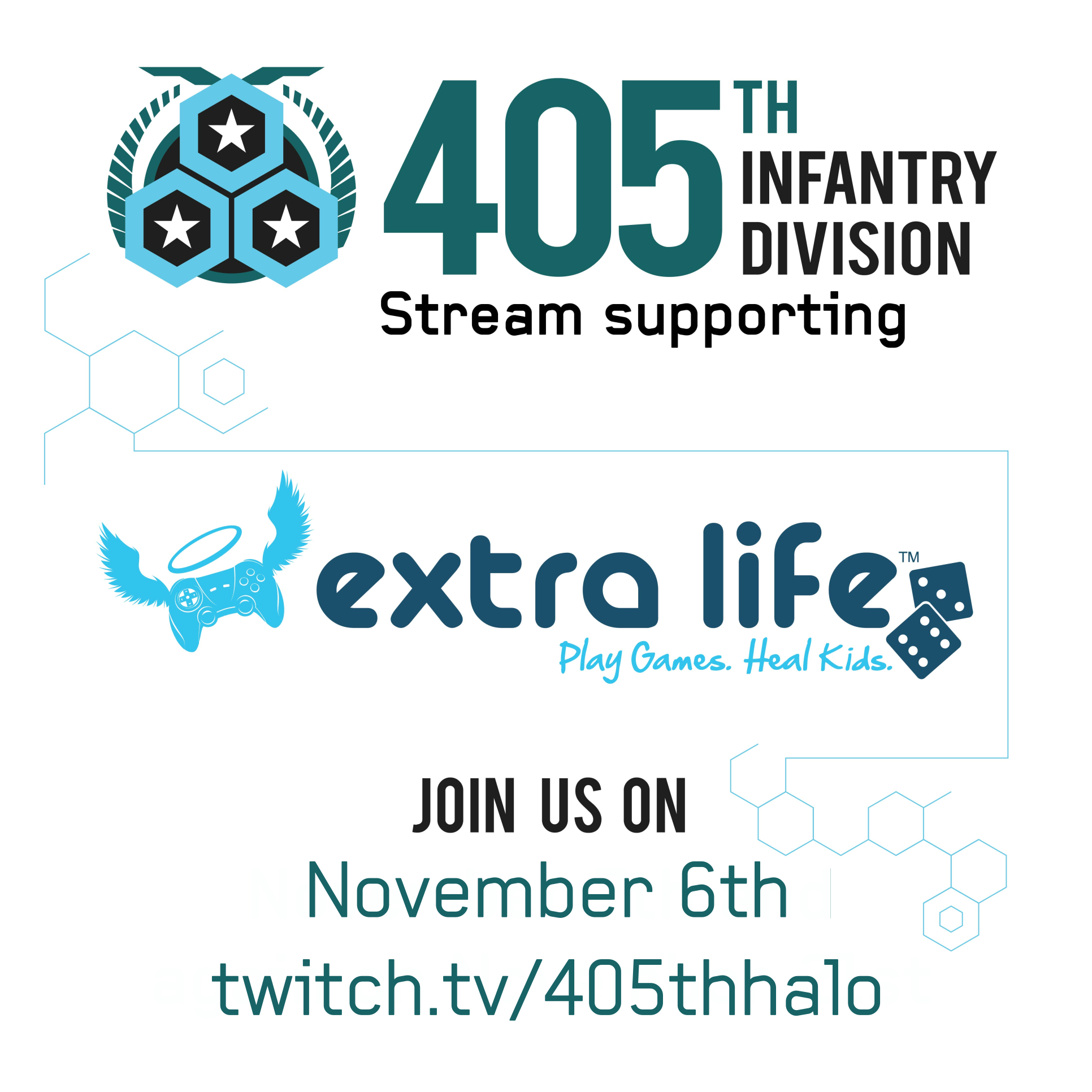 Make a donation to support the hospital in your Regiment or Battalion area! Every little bit helps!
I've signed up for #EXTRALIFE this year to raise money for kids receiving care from my local children's hospital. I need YOUR help to reach my fundraising goal!
www.extra-life.org
Donate a prop, kit or other cool piece of Halo memorabilia to the prize pool of the event! Viewers love to have the chance to be rewarded for their time and donations with the chance to win exclusive prizes. Last year dozens of print kits and foam props were made by our members and mailed out to lucky winners.
Prize Donation Form
405th Extra Life Stream Prize Donation
How to Join the Live Stream and Expectations
Only Type B, C and D Members are available to register for live stream events, this rule is in place so that full members that are familiar with the 405th have priority in joining in on timeslots that they prefer. If you are close to meeting these requirements please reach out to your RMO so that we can create a plan to make sure you meet the prerequisites by game day.
As always 405th members are more than welcome to join in the fun for this stream we'll be controlling video and game chatter and cameras through Discord. For those unfamiliar with the Discord everything is sorted into convenient channels, the important ones for this event are #405th-gaming and the voice channel Stream Live Chat. #405th-gaming will have information such as the Steam and Windows Store names of party leaders pinned and easy to see as well as a list of the current game modes being set up. Stream Live Chat will be our dedicated stream channel with players sharing their screens for sake of switching on our stream, if you'd still like to play with the group but do not want your voice or screen shared MCC Party will be available. To access this voice channel please make sure you include your name on the sign up sheet (linked Google sheet) and join the Discord with a name matching that of your forum account at least twelve hours before the Game Day stream commences so that permissions can be given to your account that grant you access to the voice channel
Session Sign Up Sheet
Extra Life Stream Session Sign Up
Discord Server Invite
The official Discord server of the 405th Infantry Division. Some fans play Halo, some fans live it! | 683 members
discord.gg
The official Discord server of the 405th Infantry Division. Some fans play Halo, some fans live it! | 656 members
discord.gg
To promote a good quality stream we require that all participants have stable internet (to limit audio cutout), a headset (no echo) and minimal background noise (nobody likes to listen to Dremels on stream). If you're participating in an event that has face cameras or your workspace please consider the lighting and background that you have in view.
Since this is a charity event for a
children's hospital
we're going to be strict on the PG-13 nature of the stream so everyone be on your best behaviour and stow the colourful language that's reserved for a higher rating. Accidents happen but cursing on stream multiple times will result in your audio being muted and your removal from stream if it persists.
Signing up on Extra Life
A helpful PDF guide has also been created to make creating an account, joining teams as well as reactivating old accounts and changing teams as straightforward as possible.
I've signed up for #EXTRALIFE this year to raise money for kids receiving care from my local children's hospital. I need YOUR help to reach my fundraising goal!
www.extra-life.org
Last edited: