Sr Member
European Regiment
So. Finally have all the pieces for the shoes and now just in the process of making details on the front plates.
I've assembled all the pieces to se how they will look like all together on the shoe.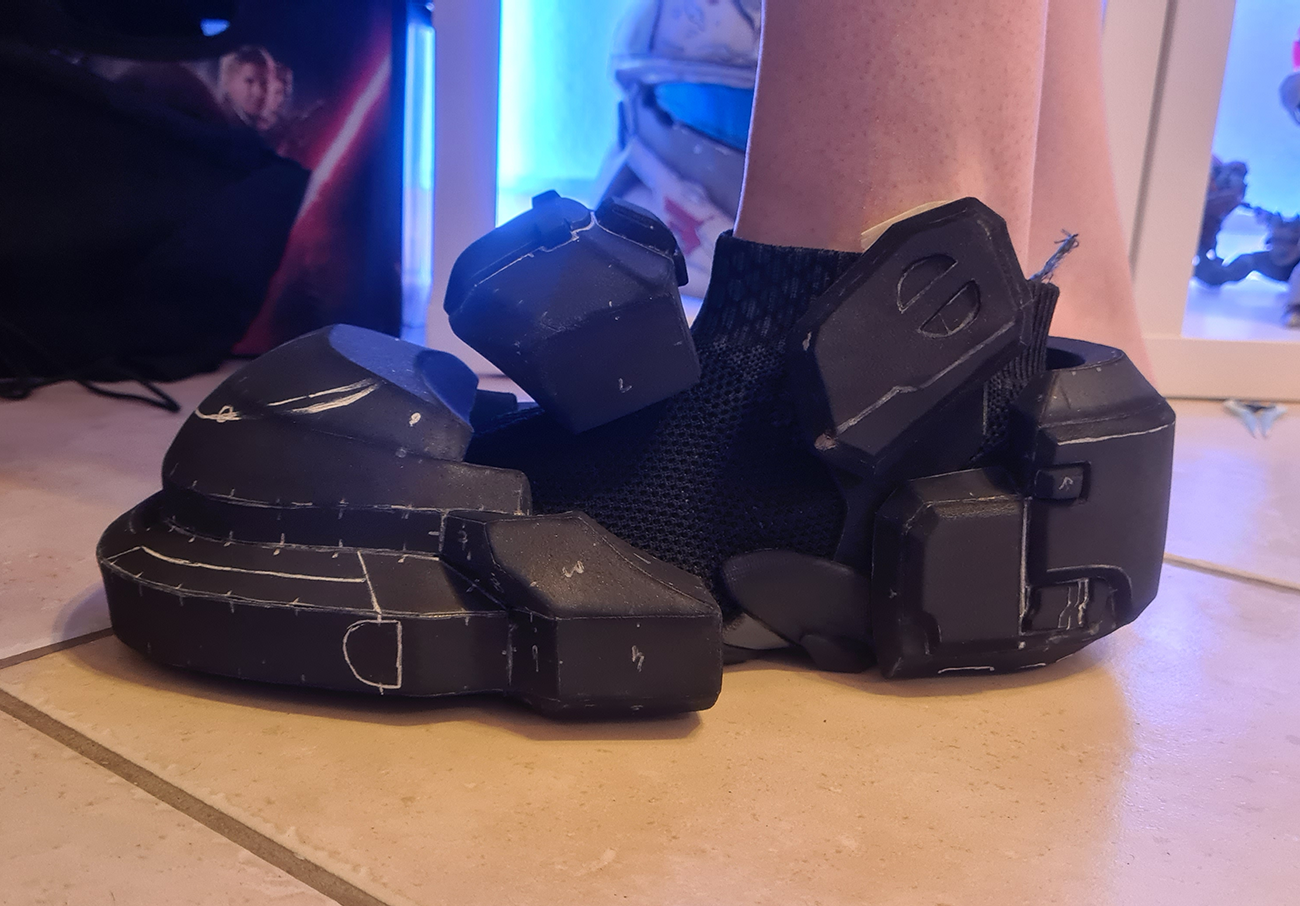 I've also started to work on the templates for the foam pieces for the shoe.
Now I have a dilemma. I had an idea to cover pretty much whole shoe with thin EVA foam. However I fear it wouldn't be practical and as the foam is insulating material it could make the shoe unbreatheable.
And seeing how little of the shoe is actually visible I could settle just for few pieces - mainly to raise the middle section and to break where the shoe ends in a straight line. And I could just paint some lines as illusion to make it more accurate to how it's in the game.
(I'll have to cut and make a nice profile for the middle section of the armor so it looks and sits nicely but that's after the shoe is complete)
Did a quick photo earlier today when it still was bright to see how the shoes will look like on the feet.
Excuse the bucket - I was cleaning the flat. It's also so hot outside again here.
So. Now is the crazy idea part.
But hear me out!
It's surely not that crazy.
Now. What if I'd cut the zentai suit at the very bottom and glue the shoe to the zentai suit on the inside?
It would make perfect transition! (whether I'll go with it or not I'll cut a hole in the feet anyway so the suit doesn't pull down and it's more comfortable to walk)
I'd just have to make cut a hole in the feet of the suit and glue it on top of the shoe. And the material on the zentai suit makes it perfect for both painting and gluing eva foam on it.
Seems like the perfect solution. Perfect seamless transition. Perfect for painting on the textures and gluing on the foam pieces on the whole suit. Plus it'd be even faster to suit up.
Gotta admit I'm very leaning forward to this option and rather trying to think of arguments against going with it.