Since late night weekends in high school, I've always dreamed of making my own Spartan armor. Now after I've made a few Mandalorian sets, I think I'm ready to fulfill that dream. I will say from the start, this project has no deadline. It will be finished when I finish it. I don't want a time crunch to ruin this experience.
I'll try to use this first post as a Progress tracker as well, and then hopefully someday, as the finished product show reel.
The Spartan
Being a lover of storytelling, I clearly have to give this Spartan a story as well as their armor.
This is Spartan A047 Eoin, Chief Warrant Officer 3rd Grade, 5th Orbital & Pararescue Battalion.

Born on Harvest April 1st 2521 just a few years before the arrival of the Covenant, Eoin Mackenzie Lojack would witness the planet's glassing then eventually receive the news his father died during the campaign to retake his home.

When ONI arrived at the orphanage, he didn't hesitate to take the chance to blast the aliens who destroyed his home. It would be during that first leap from the back of Pelican over Onyx that Eoin knew he was in the right place, doing the right thing. Falling through the skies to save all the other kids from losing their mommies, daddies, sisters, and brothers.

Early 2537, Eoin and several other Spartan (Carter, Jun, Emile, Hazel, and more) would be separated from the rest of their Spartan siblings, given orders by Commander Kurt to show the rest of the UNSC what Spartans were truly capable of. Eoin and a few others would start a pilot program that would augment the capabilities of the UNSC's Marine Corps Orbital and Pararescue special operations teams (OPR Troopers). Who better to run into the gates of Hell to retrieve the wayward souls of lost ODSTs and bring them back to the land of the living then a multi-million dollar asset that could take the punishment of plasma fire.

This is what Eoin would do. Drop, fly, sprint, or crawl he would lead his OPR squad - Gambit 2 - to rescue every soldier and civilian within reach. He would also be there to escort his siblings to their final rest after their valiant stand on Reach. When the Spartan IV program began along with the opportunity to transfer into the newly official Spartan Branch of the UNSC, Eoin would pass. He had found his way to fall through the skies to help save all the kids from the terrors that come from the stars. Eoin will keep dragging souls out of the waiting line to Hell's gate until God puts him in that slow long line as some else's replacement. Won't that be the day, standing in line with all the aliens and monsters he put there.

A047 Eoin would go through the OPR pipeline after Operation Iron Greave, becoming a proficient field surgeon as well as becoming a certified pilot for all D77 craft. Along the way Eion would be partnered with a hospital station's Smart AI, Hawkeye (who has quite the story of his own). Eoin's OPR squad, which is part of Gambit Team, is used as the forward force and reach into the deadliest gun fights to bring back the once lost casualties.

Eoin, Hawkeye, and the rest of the 5th OPR Battalion might be late to the fight at Zeta Halo, but that won't stop them from dropping from the sky and dragging their siblings out of Hell.
I'm actually working on quite the fanfic of Eoin and will probably release some stuff as I go, so let me know if you like the story.
I have always been inspired by the brave folk in the US Airforce that volunteer their lives so that others might live. OPR troopers are directly inspired by the Airforce PJ's. If you don't know who those people are, I highly suggest you look them up.
The Plan
The armor will be the Mark Vb Mjolnir armor as seen in Halo Reach with a few addons to help tell his story as a pararescue trooper. I'll primarily be using a 3D printer to create the hard armor portions, then plan to use EVA foam and fabrics to create an under suit. My goal is to create a functioning costume that gives off that imposing feeling of a Spartan, so I will be using every trick in the book to bulk up my natural lanky frame.
Hard Armor
The armor files I will be using are from
Titlewave
and
NerdforgeDesigns
, links below. The full selection is MKVb base armor with HP Halo chest plate, a gungnir left shoulder, a security right shoulder, wrist mounted TACPAD, and gungnir knees. I'll be making my two all-time favorite helmets, an ODST helmet (painted more neutral for a future ODST build) with several magnetized attachments and the Reach Pilot helmet with UA plate and HUL. Lord almighty that is going to be a lot of PLA.
Magnet, padding, webbing, and bulks will be integrated for assembly and connecting to the under-suit harness.
Here is the MKVb base armor scaled in
Armorsmith
. Totally worth the purchase, so far.
I'll be printing with a
Neptune 4 Plus
using PLA+. I'll try to include printing settings and other info with each posted piece.
I will also be trying electronics for the first time. There will be LEDs and fans in both the helmets and body armor. Details to be added later.
The current color scheme will have purple as the primary color with white and orange accents and highlights. The paint job will be fairly weathered, Eoin hasn't updated to the latest gear in over a decade. The Pilot helmet will have a gold visor.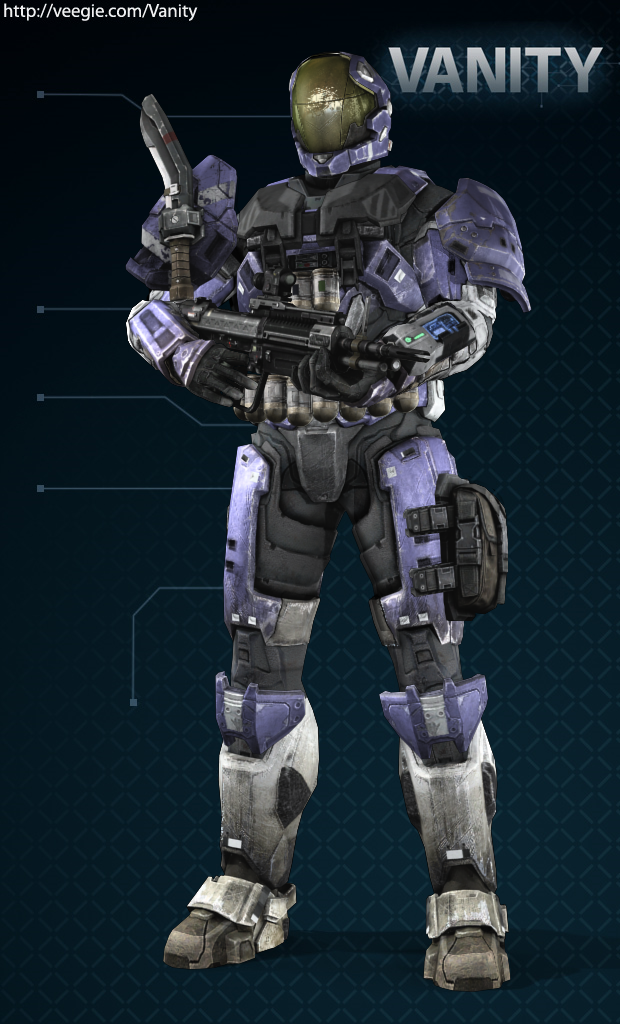 Progress Tracking for Hard Armor
| | | |
| --- | --- | --- |
| Component | Status | Link to Finished Picture |
| ODST Helmet | | |
| Main Body | Printed | |
| Visor | Materials Gathered | |
| Attachments | Printed | |
| Electronics | Materials Gathered | |
| Pilot Helmet | STL Purchased | |
| Chest | | |
| Main Body | STL Purchased | |
| Electronics | Material Gathered | |
| HP/Halo | STL Purchased | |
| Shoulders | | |
| Gungnir | STL Purchased | |
| Security | STL Purchased | |
| Arms | | |
| Biceps | 1 Printed | |
| Bicep Electronics | Materials Gathered | |
| Forearms | 1 Printed | |
| TACPAD | Printed | |
| Legs | | |
| Thighs | STL Purchased | |
| Thigh Electronics | Materials Gathered | |
| Knees | STL Purchased | |
| Shins | STL Purchased | |
| Boots | STL Purchased, need lifted shoes. | |
Soft Armor
The under suit is going to be a custom design with integrated strapping. The whole costume will be in four layers, the fourth being the armor. The
first layer
will be shorts and a high neck t-shirt with padding on the shoulder and upper thigh. This is to appear like the exposed shoulders of MKVb armor and the first layer of the soft armor on the inner thigh. Straps with bulks will be worked into the upper arms and thighs to connect to further layers and hard armor. The
second layer
will be sections of padded fabric over the knees and elbows, as well as a thick neck cover, and most importantly a suspender like webbing that will act as the main harness for the armor. This harness will connect to a waist belt like a pair of suspenders. Webbing from the first layer will connect to this harness, hopefully this will help keep leg armor from sagging. The
third layer
will be primarily EVA foam which will be formed into the abs and chest of the under suit. This portion will also feature some PLA pieces to make up the armored spine portion of the MKVb.
Each layer will be custom patterned off myself and my duct tape mannequin (totally worth making).
I'll be using some athletic wear fabrics, marine vinyl, and twill as my main fabrics. Black webbing, buckles, and velcro for attaching and connecting armor and the multilayer under suit.
I'll be sticking with shades of black and dark gray for the under suit.
My first draft sketch.
Most import design feature of the whole suit, is that the center cod piece will be velcroed on and the under suit will have a zipper fly. This will happen or the whole project will be scrapped.

Weapons
I haven't selected files yet, but I will be making a standard magnum and an M7S SMG. These will be 3D printed as well. I hope to have removable mags.
Other Gear
I will be making a large pack similar to the one Jun carries in Reach, but for medical supplies. Also, chest pouches for extra mags and equipment. And finally, a soft thigh pouch for the right leg. These will either be made of EVA foam, twill, or canvas. Either one of these or the TACPAD will serve as a phone carrier. Got to take them con pics.
Links for armor STLs.
Pilot Helmet
ODST Helmet
MKVb Mjolnir
HP Halo Chest
Reach
Security Shoulders
Reach Gungnir Shoulders
TACPAD
Well... I guess this is where I start. Wish me luck.
The OG Post:
Not only is this my first Spartan build, but also my first forum thread... ever.
I printed this ODST Helmet by
Titlewave
on my former Elegoo Neptune 3 Pro (.28 layers, through a .4 nozzle, SUNLU PLA+ filament). For the main body I printed it in 7 parts, plus the neck seal. Thanks to Prusa I was able to cut them and add indexing pegs for easier-ish assembly. I only loosely glued the top and bottom half (hints the wide gap) at the time, because I have now split the helmet back in two for more easier electronic installation. I hope to add two fans, and LEDs. All the helmet attachments will be removable (loosely glued for first assembly).
Last edited: