ODST
It's finally that time!
After a bit of a hiatus, I'm finally back to building my ODST, or rather rebuilding since I scrapped all but two small pieces from the first build.
After several of my pieces got destroyed when I moved into my first house last year, I decided to scrap most of what was done and restart. Was waiting until all of the pieces I'm certain I wanted to do pep, and then there was this to do:
Yay! I have a workshop to work in.
Now that things are back in progress, here's two ways to track my progress if you're interested. My Kanban board and progress photo. I update the board every time I do something while often forgetting to update my thread, so Trello is likely to be more up to date than here.
Progress Board: Trello



Progress: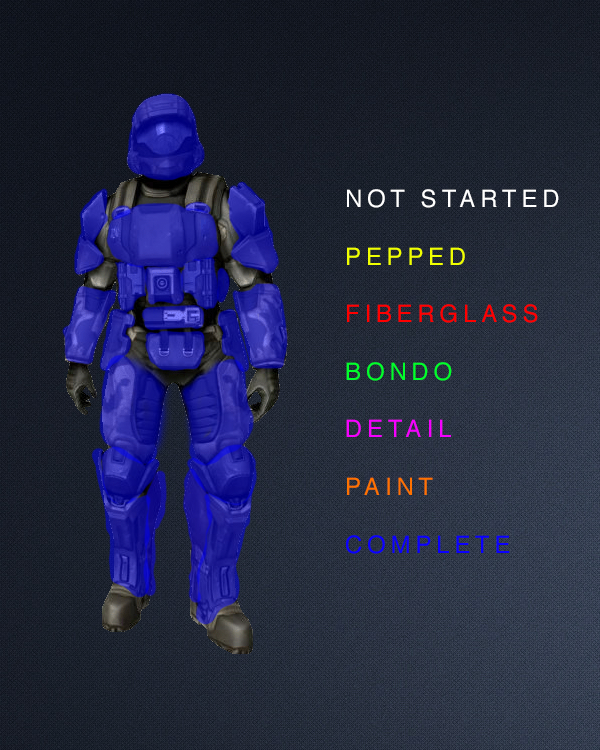 Here's a quick photo of everything lined up before I started hardening.
And for a few other projects in the works or completed:
Links:
Silhouette Cameo:
Amazon.com: Silhouette Cameo -- Starter Bundle
Brushes:
Magnolia Brush 231 Single Thickness Paint or Chip Brush, 1-1/2" Trim, 1" Width, White (Case of 36): Cleaning Brushes: Amazon.com: Industrial & Scientific
Resin:
Amazon.com: 3M 20124 All Purpose Fiberglass Resin, 1 Gallon: Home Improvement
Fiberglass Cloth:
Amazon.com: 3M 499 Fiberglass Cloth: Automotive
Bondo:
Amazon.com: Bondo 312 Autobody Filler Kit Quart Can: Garden & Outdoor
Spreaders:
Amazon.com: 3M 357 Bondo Spreader, 3 Pack: Garden & Outdoor
3D Printer:
FlashForge 3D Printer Creator Pro, Metal Frame Structure, Acrylic Covers, Optimized Build Platform, Dual Extruder W/2 Spools, Works with ABS and PLA: Amazon.com: Industrial & Scientific
Pants:
Amazon.com : TACVASEN Men's Tactical Airsoft Paintball Shooting Cargo Ripstop Combat Unifrom Camo Pants : Clothing
(color scheme I bought is no longer listed)
Shirt:
http://a.co/10tEfUI
(color scheme I bought is no longer listed)
Boots:
Amazon.com: Maelstrom Men's Tac Force Military Tactical Work Boots: Shoes
Last edited: