Hey 405th! It's been several years since I've been an active member, but I've got something I've been working on.
I'd like to present the progress on my Commando Helmet!
Warning: This is likely to be a long post, mostly text with a few sprinkled images, about my experience and thoughts so far.
I used the
Commando Concept
pep file by
Satchmo III
. The Commando UA/FC-I[2] is my all-time favorite and I was super excited to build one. There are so many great pep files out there but I settled on the concept variation because it was relatively simple and has (in my opinion) the perfect aesthetic.
Quick shoutout to
Ruze789
,
BLACKULA727
, and
PerniciousDuke
for their amazing work on Commando helmets and inspiring me to finally make my own!
I apologize for not having many or the best quality pictures but I hope you enjoy what I have so far!
This is after the pep stage. I sized the file appx. 10% smaller than default. Standard process for pepping (print -> cut -> assemble). I spent an afternoon cutting, and by the end of it I had rubbed enough skin off of the outside of my thumb to cause temporary nerve damage and leave a scar. My thumb felt numb for
weeks
. I spent the next morning scoring the lines for folds. I want to say I used a sharp corner of plastic to indent the paper but this has been a work in progress for almost a year so I can't quite remember. I pulled an all-nighter to assemble. I was staying up preparing myself for working night shift so it worked out. Aleene's Tacky Glue works pretty well for holding the pieces together.
Side Note:
I
DO NOT
recommend using 65 lb cardstock for pepping. I used it because it's what was available at the store. This stuff feels slightly more firm than regular printer paper and warps slightly while pepping. I had to use hot glue and tongue depressors to hold a few areas in the right position for the resin process.
No pictures really from the resin process but I'm sure most of you can imagine the above images in an aged yellow color
Next was lining the inside with fiberglass mat. My first attempt was to spray the mat pieces with adhesive spray, line the inside of the helmet, then coat with resin. Didn't work for me. The mat pieces bubbled up and wouldn't adhere to the helmet so I tore it out. On the second attempt, I cut pieces of the mat, mixed about a cup of resin, then dipped the pieces in and lined the inside of the helmet. Rinse and repeat until fully coated. This was much more successful, although a few areas slightly bubbled. No big deal. This was a great learning experience for me.
After the fiberglass cured, I slushed a coat of rondo on top for added strength and to make a smoother inside surface. In case the fiberglass splintered or came apart for some reason, I didn't want to breathe it in.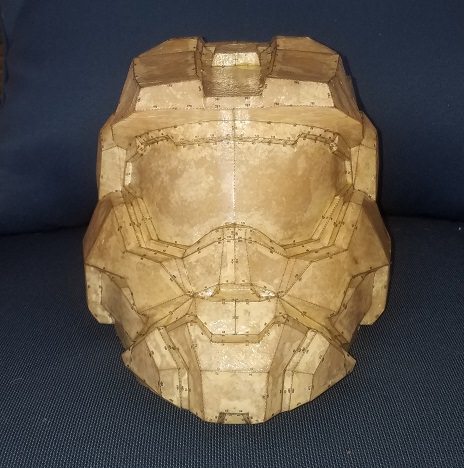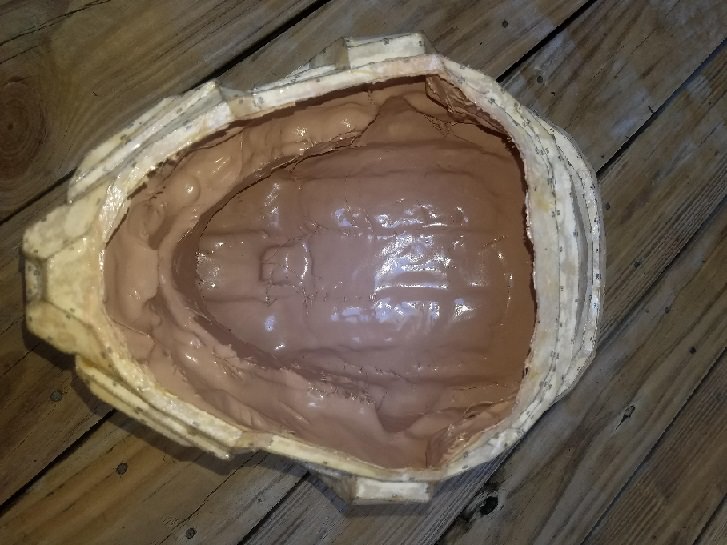 The outside of the helmet didn't change much during this stage as all of the work was inside. Pictured is only one coat of rondo; I added a second coat to the bottom third of the inside. I ran out of resin at this point and I didn't want to go buy more because I'd be left with a mostly full can probably for
years
. That stuff is pungent. There are still a few strands of fiberglass sticking out to trim.
Finally, a fit test!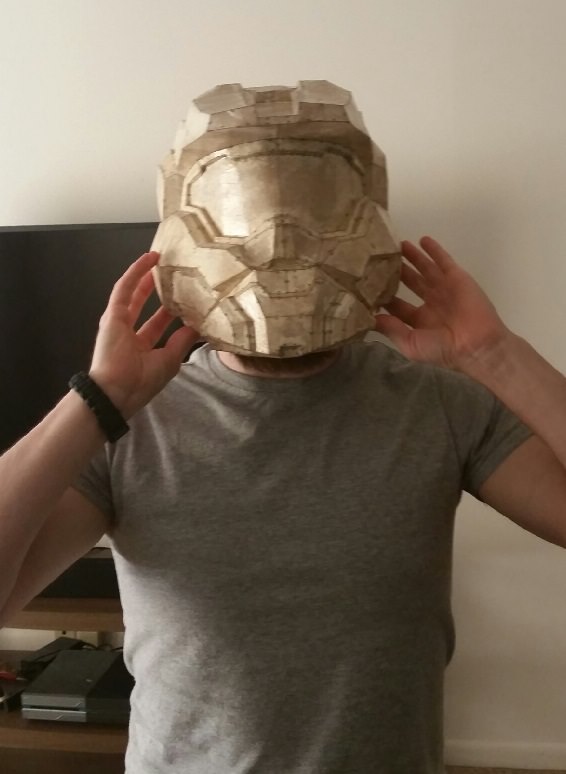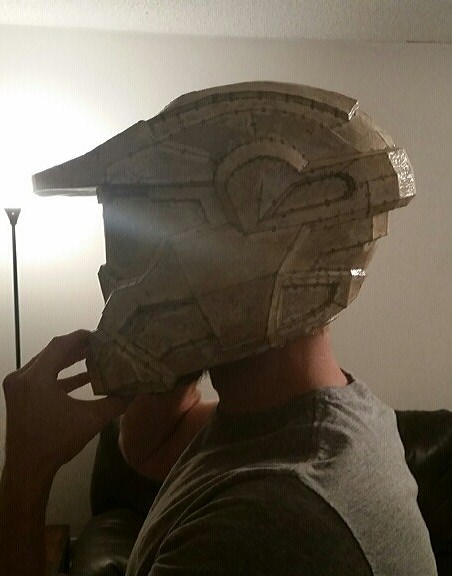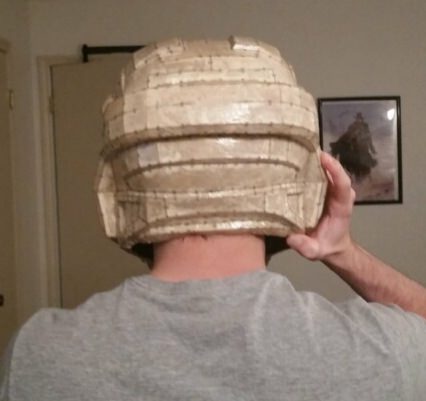 I feel like it fits pretty well for the most part. It may be slightly small, what do you guys think??
I didn't have it positioned quite right in the front picture. My beard sticks out of the bottom a little too much, but less so when the helmet is "properly angled". I'll have to find some scrap foam for padding the inside to make it sit on my head just right.
Well, that's the end for now! Within the next few days, I will probably cut out the visor before applying bondo to the outside, similar to what
PerniciousDuke
did with his. I hope to update soon with more progress!
Thanks for looking,
Baron