BMO
Canadian Regiment
405th Regiment Officer
Delta
**Spoiler Alert: A large amount of this thread boils down to "ask
TurboCharizard
for specifics"
Halo Reach was my first full experience with Halo. I was loosely introduced to Halo 3 a year or so after it came out, but with Reach I got to play in the beta, play online and level up with my friends. So it was the natural choice for my first Halo armour build~!
If you haven't heard of the game mode Super Saiyans-- low grav, SpLasers and melee only, forced yellow colour, much shouting
. So of course I needed to be yellow.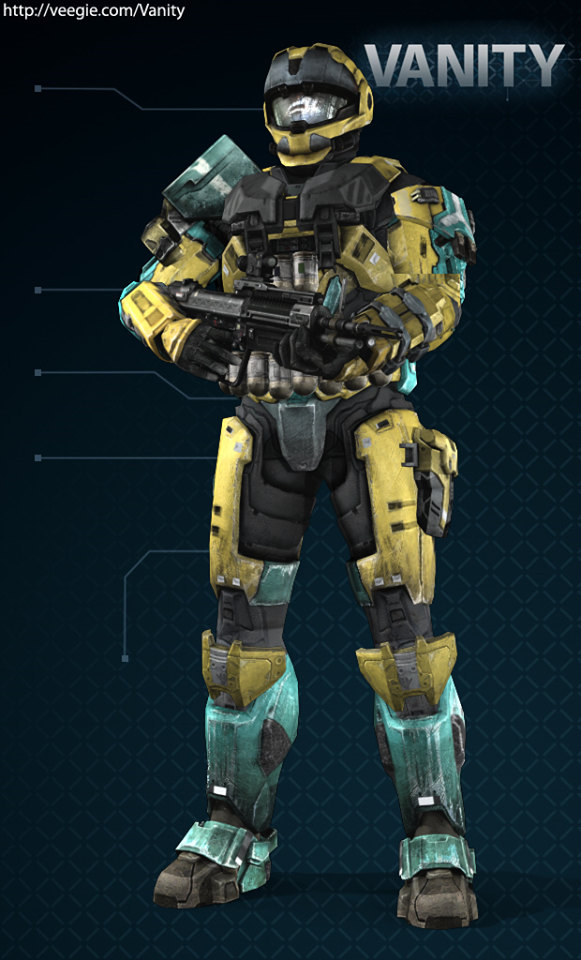 Initially I was looking at doing my spartan with sintra. We're friends with a fair number of Mando Mercs who swear by the durability of sintra, and I was worried about doing a foam build because I tend to bump into things, drop things, etc-- and I didn't want to accidentally destroy my own costume. We decided to go for it and mix in some other methods based on the complexity of pieces. This was around September of 2018. I promptly did no work on the costume until Feb/March since I was hoping to wear it for
a convention in April
. If you know why I'm like this, by all means help me out.
The one upside of my procrastination is that
TurboCharizard
was nearly done his
Daisy 023 build
(which you should go check out). It showed me that 3D printed armour would be sturdy enough for my concerns about clumsiness. If you're curious about the process of printing my suit, those are questions for
TurboCharizard
. He printed as many pieces as he could before the original convention I was hoping to debut at-- but it was physically impossible for the little robots to spit it out in time. So we had a box of bits, and we tabled it for
Otafest
in May.
I'm also an absolute genius, and decided to go away and visit family the weekend before the convention. To the same city the convention was in. So I flew home, to drive 14 hours and get back to where I just was. Again, if you know why I'm like this, be all means help me out.
About a month out from the con, with about 6 days lost to visiting family. Bring it on. Time to get sanding while the last pieces were printing. We picked up a second sander so my friend could help me out while she waited for her own project's foam clay to set.
Time for a mini game: Where have I sanded on this beige piece?
Cool. Where did I sand on this grey piece?
Yeah. Maybe this is really obvious to people who work with 3D printed objects all the time, but holy crow was I amazed at just how night and day the difference was with the grey pieces. I made my way through the beige pieces but the grey pieces were just such a treat of simplicity.
I sanded everything down with 80 grit, and because of the aforementioned clumsiness-- I dropped my chest piece, and just my luck (or foolishness) I dropped it on the epoxied seam and it popped into two pieces (it started as 4 pieces, so, at the very least, it could have been worse).
Once it was put back together and everything was sanded
TurboCharizard
was a peach and coated everything in XTC-3D for me.
Which I then sanded with 220 grit. Leary about having broken my chest piece,
TurboCharizard
also did the good ol "Slush n Brush" on the chest, back, biceps, thighs and the many pieces for the feet. It's a... resin? lining on the inside of the armour pieces for extra strength/durability. (He used it in Daisy and I imagine its mentioned in his thread~!)
I was cleaning up drips after it had cured, but lost track of time and realized I had to go to work. I was really excited to really see the fruits of my sanding labours though so I did the first layer of primer to help me get through a long shift of serving tourists.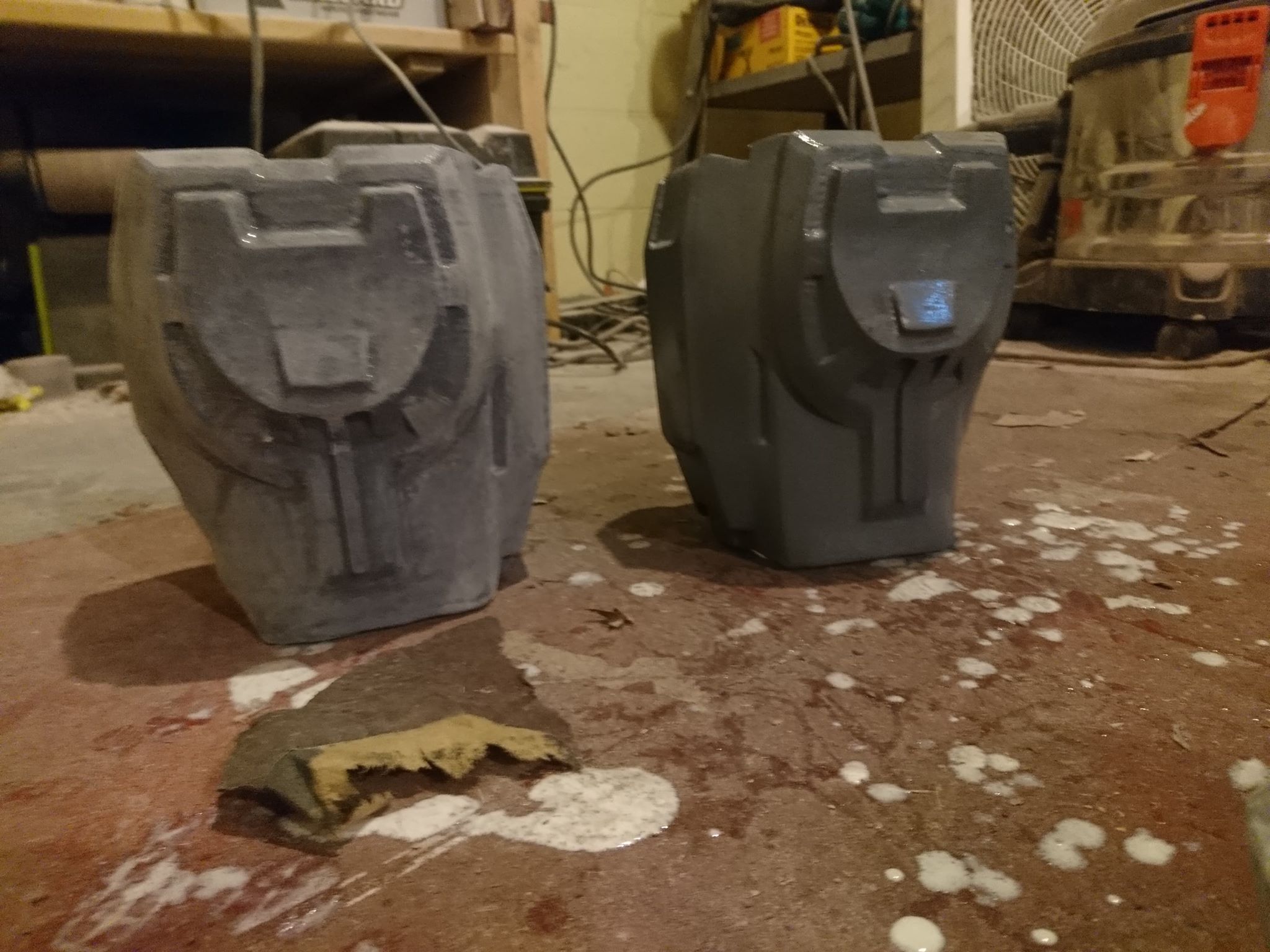 Fantastic. So we primed it white, and
TurboCharizard
worked on the pieces we opted to do in foam.
And that was basically the last time I touched my armour until I got back just before the con. But while I was gone,
TurboCharizard
carried the whole thing to the finish line. Ask him if his back hurts. (it does)
He also threw together a foam Recon helmet for me, even when I had accepted I wouldn't have a helmet for
Otafest
wellllll before we had even started printing pieces. It made me realize how excited he also was for my Spartan debut.
I got home Tuesday night and we left Thursday stupid-early to be on the first ferry off the island. So I spent Wednesday doing the last pieces, mashing hot glue and foot pieces to my boots and packing up. We picked up our other nerds and drove approximately 11% of the way across Canada.
I actually finished attaching pieces to the boots in our Air BnB the night before wearing it. And even as I was finishing the second boot I was looking at the first one I did wondering what I was thinking with the flimsy attachment points. Somehow, even though I had tried the first boot I did on after I had attached all the pieces-- we weren't able to do the boot up once I had the thigh and shin pieces on. Could be because of Turbo's large fingers vs the teeny tiny zipper pull. Could be shifting of pieces in transit. but since they were relatively snug fit boots we said heck it and I just wore them unzipped.
Our Air BnB had carpet we weren't allowed to wear shoes onto, so it meant we had to get ready standing in the front hallway. We gave ourselves a little bit more room by laying the lids of our armour tubs on the floor. We had to do a bit of puzzle solving to figure out buckling each of us into our chest pieces and getting Turbo's biceps buckled to his undersuit-- bit of a fox, rabbit and lettuce situation since I needed to bring my elbows close together to maneuver the tiny buckles inside of his arms. But we got it sorted out and as he grabbed the last pieces we needed I took some shaky, shuffle-y steps around the front hall. I was fairly stressed out, worrying I wouldn't be able to walk very quickly but I was determined to make it to the convention even if it took me an hour to walk the six blocks (in the rain. Yayy Calgary)
I ended up holding the tops of the thigh armour and doing a weird penguin shuffle. I thought maybe the shins might be too long (or just sitting incorrectly because we didn't have the time to figure out foam padding to help the pressure fit). So after about two blocks we stopped under a breeze way to remove the thighs and carry them with us instead. As soon as I took the shins off though I thought maybe that would be enough range of motion to make it the last of the way there and we picked up our helmets and the shins and carried on---
I made it three steps from the breezeway when I understood the real problem I was having. My "under suit" was a cheap pair of leggings and a turtleneck, which in fact
TurboCharizard
used for his initial test fit of his own Reach Spartan--which is why it had straps already affixed for the armour pieces. His
foam
pieces. And while my 3D printed pieces might not have the weight of some of the other methods they were
absolutely
heavier than foam. So within those few steps, the thigh pieces had realized their new found freedom of no longer being held up by the shins-- and were making a bee line for the ground and taking my pants with them.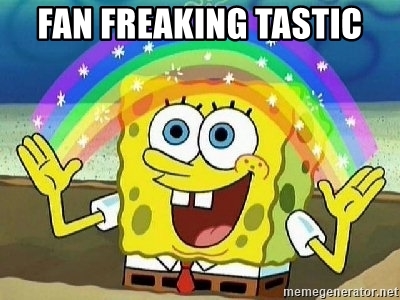 So I resumed holding the armour in place and we made it a few more blocks before my shoddy hot glue job on my boots began to come apart. We were just around the corner from the convention when a passerby ran up to me to hand me a piece of Turbo's boot, colour me surprised after picking up I think 3 of my own pieces at this point. So we got to the doors of the con and I put my stuff down and Turbo ran off to find some glue for his own boot problem.
I texted some of our friends and tried to get situated. I found that the cheap-o leggings that were fighting with the thigh pieces had truly done their best since a hole about the size of my palm had ripped open above each of the straps. God speed straps, you really fought for me.
We did take a couple pictures with local peeps before I waddled back to the Air BnB. If you look closely you can see the troubles in my boots. But just take the Jojo at face value.
But if anything I've learned from years of photography is applicable to modeling, its how to hide **** so I also got a pose hiding most of the mishaps. Though if you look closely you can see the hole on the thigh
I collected some friends to hold various pieces of my armour so we could head back to the AirBnB in about quarter the time it took us to get to the convention center. I put on my non-torn black leggings I had worn with my Nana Shimura costume the day before and was a waist up Spartan for the rest of the day.
My mom took my picture. It was a pretty big deal guys.
Also my make up was on point. My friend didn't notice my eyeshadow matched my armour until after I changed, and she likes make up-- so I figured I'd point out for anyone where make up isn't really their thing
We got changed and brought our helmets out to the 405th panel there, and I realized I was 5000% about to succumb to con plague. Sunday was great.
Despite nearly all the things going wrong that could have gone wrong, I had a lot of fun and I'm excited to wear it again. I'm going to rig up a heavy duty garter belt of sorts to try and sort out these unruly Spartan Thighs.
Similar to this, but with webbing and velcro and hopefully hidden under my space belt. I'll also attach the knee pieces and take the belt in a bit since it like to drift down my hips significantly after the thigh pieces were removed. I'm going to work on this over the next couple days so I can perhaps wear it to a local one day con next weekend-- if not then, then hopefully to the
Summer Con
down in Washington.
Most important thing is to always say yes to getting ice cream, and keep on goin' ~~