Well-Known Member
Southwest Regiment
Well...I did finally get a couple screenshots of the wetwork chest from the side...and just realized I forgot to upload them to the fileshare. Hopefully if I'm not so scatterbrained tomorrow I'll have those up for you, Crimmson.
thank you once again Zaff. is the link still the same and active. I just got home and haven't looked back through the thread
Crimmson, just so you know, Rosenda's helmet is actually a CQC helmet. Or at least the model of the Reach CQC helmet is called player_rosenda in the game assets . Just thought I'd mention it.
aaahh. well I think I stop working on it.
I am really digging these fan stories, I never realized how many there are, and well thought out.
Well I guess the background questions are fairly well handled. As for interest in them as pep models, I'm fairly certain the SPI would get quite a bit of interest from fans of the books. Have certainly seen enough people on various forums around the net complaining about Bungie/343 not including the SPI in their games yet. And I'm certainly interested in seeing "Lost Spartan," at least as far as wanting to be able to give it a turn and check it out. Not sure I'd ever get around to building it with the half dozen or so full-body builds I've had floating around in my head that I'm not sure I'll ever get to, either.
the spi I would have to add poly's to round out the armor to make it look closer to the book cover.
small update to the wet work armor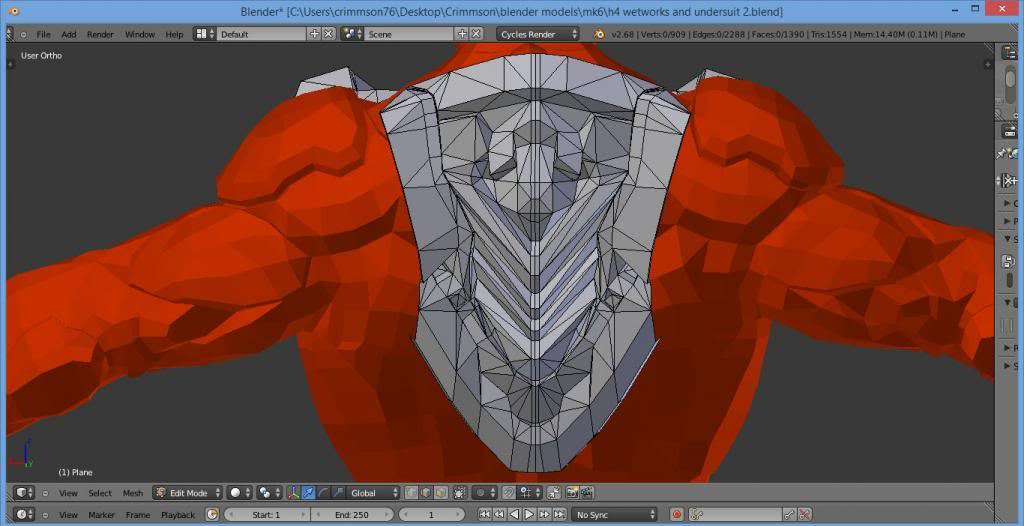 I still got quite a bit of work left, but I am enjoying it. I still got to align the verts with the high res pic.