Hey! My name is Mortimush and so far this is my second build, but my first thread of my own to document the progress... so first build post! My first build was based on the Halo 3 ODST thanks to my friends purchasing me a Halo 3 ODST helmet cast in resin. Now I want to do a Spartan build!
I am going to be doing some heavy research and I'll putting lots of time into this Fred 104 build. I should probably list all my plans out so that it's easier to read.
WARNING: long first post with pictures!
-----------------------------------------------------
What I intend to build and what I assume will be needed for each project:
Techsuit
Zentai suit for the base

May need to be altered if not sized correctly.

EVA foam or fabric for simulated muscles/textureson all major exposed body parts:

Template out a Halo 5 Techsuit for following body parts:

Neck
Shoulders/Arms/Biceps
Torso
Spine Cover
Back
Posterior
Legs

**Mainly, I want to be able to move, not sweat to death, and achieve the appearance of a Spartan techsuit. Thin foam or fabrics may be applied depending on my interpretation and execution of the techsuit, I do NOT expect this to be perfect (I would need military funding and some scientists to make a real tech suit so cut me some slack as I build this).

Shoes with added foam on the bottom to give me more height
Attachment methodfor armor using Fidlocks (to be added once armor is built or planned out)

I intend on using this magnet locking mechanism embed into the foam for ease of putting on/taking off/securing armor pieces to my arm, this may be adjusted later once I figure it all out. It looks really cool and sounds promising!
Weapons


Note:

I fully intend to build every piece of armor on this project, but I WILL be getting assistance with the weapons for this project. If I am to put myself into any costuming competitions I will only rely on my craftsmanship for the armor, as the weapons will be 3D printed and not designed by me. That said, I will be finishing and painting them!
Halo 5 DMR with Longshot Scope

3D file from misterchiefcostuming on Thingiverse

Halo 5 M6H Handgun

Files Art Andrews in The Armory!
Armor
Note: For this build I am using the Pepakura unfold files provided by Smelms. Scaling them and adjusting them for foam with the help of ArmorSmith and Pepakura. Again this will be built MOSTLY out of different thicknesses of EVA foam. There may be reason to include plastics or other materials, but that's to be determined.
Top Half:​
Pepakura unfolds to determine scale for all armor pieces.​
Helmet

EVA foam for ~90% of helmet
Support pads to stabilize helmet on my head
TBD: I may search for or create my own plastic visor

Torso

EVA foam for Chest, Back, and Ab plate.

**TBD but depending on how thicc I am at the time of building this I may be able to split this over my head. Alternatively, I may use the FidLock magnet system to attach and detach where the spartan armor separates naturally (i.e. the chest plate and back plate) if it is easier that way.

Shoulders

EVA foam
FidLock magnets to attach to techsuit

Forearms

EVA foam
FidLock magnets to attach OR simple snaps

Snaps worked well on my ODST with keeping orientation when I moved my arm. I will have to see/test which I like better.

Gloves

EVA foam/Fabric
I will have dedicated gloves from the zentai suit that I will be gluing EVA foam or securing fabric to.

These are detachable but the zipper should be easily hidden by armor. I know how life goes when wanting to grab your wallet, phone, or convention badge and you just don't have the hand articulation or a handler nearby to grab things easily so I went with detachable gloves!
Bottom Half​
Pepakura unfolds to determine scale for all armor pieces.​
Posterior

EVA foam

**Butt plate may be directly adhered to the tech suit. There really isn't a reason that I see to have this come off, even if I am sitting.

Thigh

EVA foam
FidLock magnets to attach to techsuit

**The techsuit should create enough of a platform to be able to secure these pretty well!

Knee

EVA foam
FidLock magnets to attach OR simple snaps (?)

**My ODST secured most things with simple heavy duty snaps. It worked well but I would like to look into other means of securing them.

Shin/Calf

EVA foam
Fidlock magnets to attach to tech suit.

**Shins are by far the easiest thing to get away with in my opinion when it comes to securing them. If you scaled them well enough they should be snug around your leg and the boot does a good job of keep it in place. That said, I will most likely have at least 2 points of securing it in place.

Boot

EVA foam with shoe inside

Eva foam will do well to cover shoe strings

Barge cement or adhere shoe in place permanently into the boot
Add ~2inches of foam to bottom to create more height

**Doing this will actually fill in the bottom part of the boot for Fred. In Armorsmith it looks scaled proportionally!
-----------------------------------------------------
I will try to update this regularly so that I keep myself on schedule with building this, but I want to take my time and do things right! Feel free to ask questions or if you have any experience with tech suit building please let me know!
Finally, a few images just for myself to keep track of things and to show what Fidlocks are if you aren't aware of them or if you have tried them let me know how it went!
Fred 104 XPS model V2.0. What I intend do use for a lot of my inspiration for scaling and design!
**Credit to: navie9888ch on DeviantArt
These are the Fidlock magnets I mention frequently in this build thread! They go straight into the "U" and can only be released in one direction. Orientated correctly, I plan to make sure my armor can only come off if I pull on it a certain direction!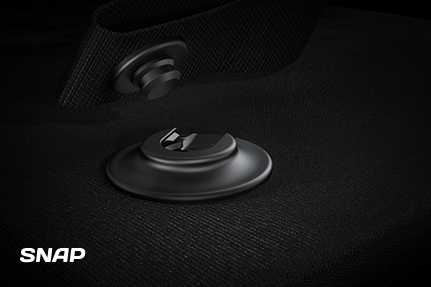 **Credit to: Fidlock