I'm at a little standby on my ODST progress since I decided I was going to go with the Weta Landfall odst. I want to know if anyone has seen the actual armor and can tell me what fabrics was used on the outer covers and inner body. So far, this is just my analysis off screen shots, interviews etc.There's many like this thread. But none actually discuss the fabrics. Sorry about quality of pics. Ipad doesn't like to save the in original resolution.
Alot of the goods are likely fabricated by them. (vests, shoulder pads and such) The underclothes may be bought.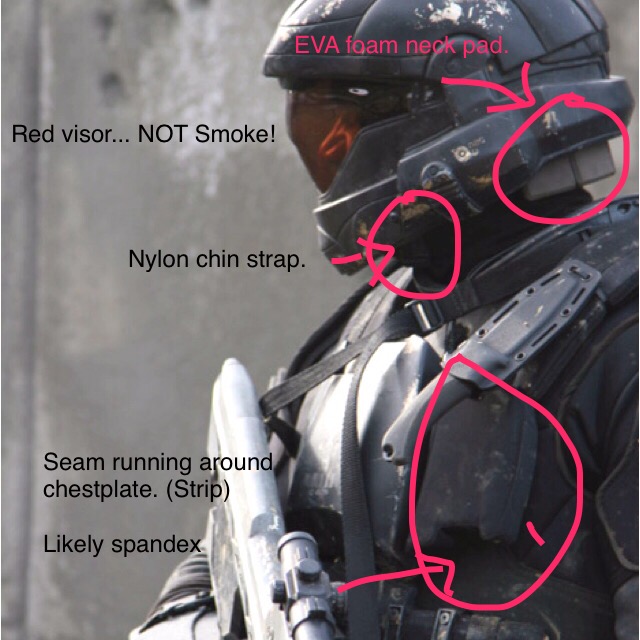 As far as I can tell about the visor is that it's an extremely deeply died red amber and gives off a brown effect like the darth vader lense in ANH. Probably crimson red and orange from Ritz or Idye Poly red and orange. One of the photos of the bungie studios shows it, but it's very poor quality. Uhhh 2009.
Shoulder straps are three layered in my analysis. Likely Polyethylene with two solid layer and one with a channel for the nylon strap, wrapped in spandex or polyester or nylon.
Chin strap caught me by surprise. Barely noticed it.
This actor should've been atleast 6' 4". Just a weird analysis.
No fancy neck seal like the 5-ribbed legacy effects one. Just a turtle neck shirt.
Neck brace thing looks like a baseball shinguard. Just my opinion, but this can be redone by slicing into eva foam and spreading it with a heat gun. Althought there is a slight step on each edge of the rectangle.
This was a little bit hard to answer. I would assume inner layer is Polyester and spandex lining and outer may be nylon. It's extremly hard to tell.
Also note if you want the knife, It's held on by a single zip-tie/cable tie at the top. The knife is a OOP ( out of production) kershaw responder. One Aus site is selling it for $90 last in stock. Thankfully I'm not interested in this specific ODST, mainly his partner, with the tracker.
Does anyone feel sorry for the guy? He's wearing cooling shirt, a cooling vest, a tactical vest (One where all the hard armor is clipped onto) and the hard armor itself? Even Chewbacca wouldn't have been that hot...
At first I thought it was just a stichting mistake, but the. I realised it matches exactly the edges of the clip.
One thing i should point out that I didn't mark is that the plastic neck seal that connects to the front and back works very similar to Sean bradleys one. It stops just atop the front chest, but makes it's way further down on the back.
$10 Chinese tactical gloves may do, but I saw one for $60 that looks accurate to it on ebay. (Grey fabric around knuckle before going back to black)
The armour pieces beneath fabric are either a really compact flexible foam or hard plastic. I'm making the judgement based on the sharp edges it has if you closely examine it. My money is on plastic. It only makes sense knowing weta. The fabric seems to be more of a visual appear than an aesthetic decision.
I plan on trying to recreate the armor as closely as possible (Except for the helmet)
Fun fact, that's a 1x real rifle scope. Brand unknown at this point.
I originally thought it was on one odst, but realised the squad leader had one too.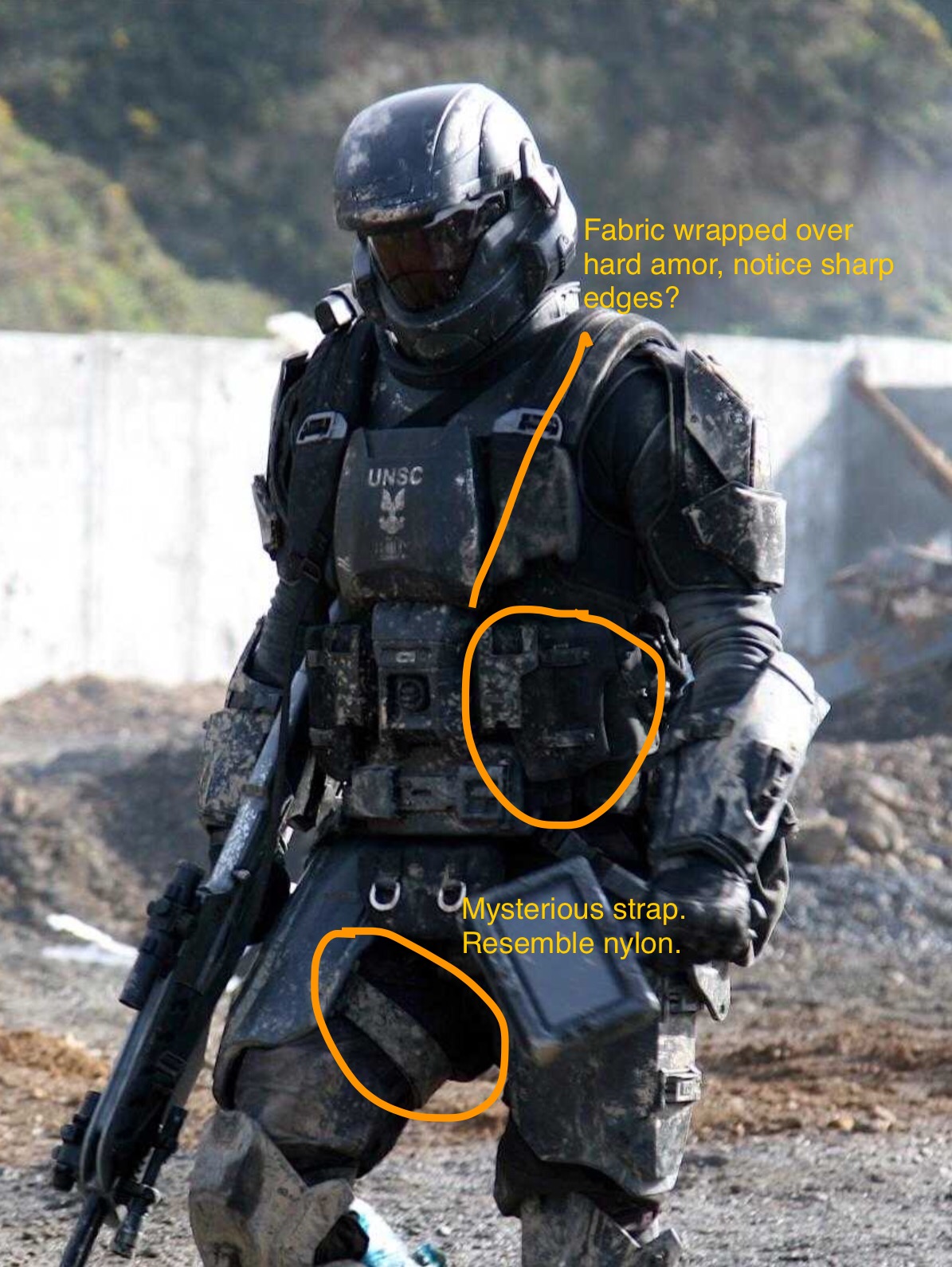 More to come when I examine it more. Heh.
But please give me some feedback on what you think they are.
I'm doing sewing until the rest of the hard armor prints. (Weta basically modified 2007's halo odst models and made it more maneuverable.)
Last edited: