SUBROUTINE IKELOS = COMPLETE AS OF MAY/ 11/ 2018/ STOP STOP STOP
After over two and half years since I started this project, it's finally complete. It began just before the launch of The Taken King, and was only finally completed as the Warmind DLC revolving around the very creator of the Sleeper Simulant, Rasputin, was released. Over the course of creating the Sleeper Simulant, in many of the materials it would be made from if it were a real weapon, it underwent numerous design changes and periods of stagnation as I scrutinized every part of it's construction and contemplated every course of action available to me to build it as a convincing, highly realistic, durable, and weighty prop much like those made by movie studios... The end result is a nearly 8 pound replica of the Sleeper, built mostly from carbon fiber and fiberglass composites, aluminum stock, steel stock, composite plastic decking material, and numerous pieces of electronic components and scrap. It also includes a number of LED's built into the weapon for added realism. I will go over some of the finer details of the build below, but for the moment, here is the final completed Sleeper Simulant, a nearly 3 year long project made whole...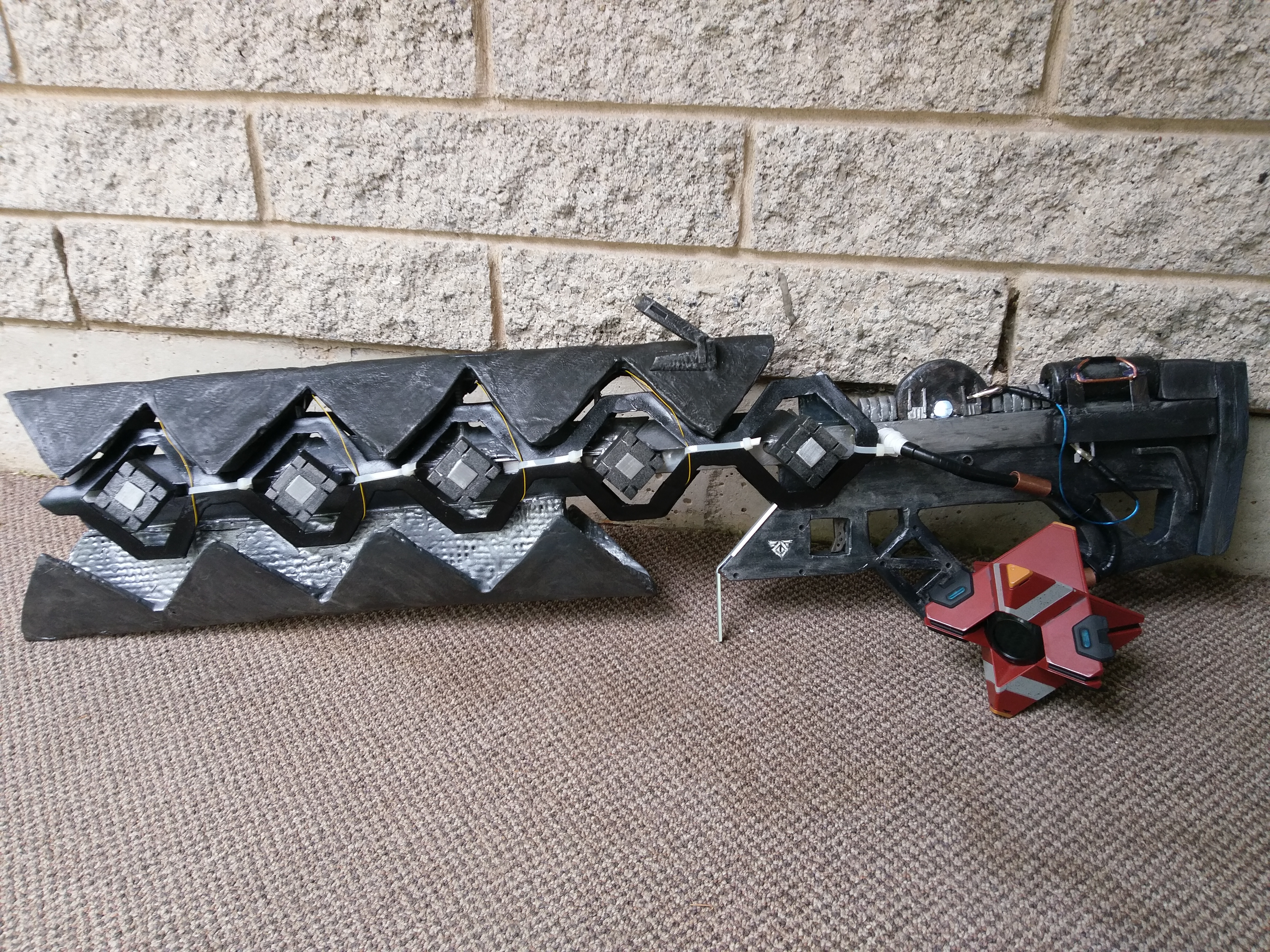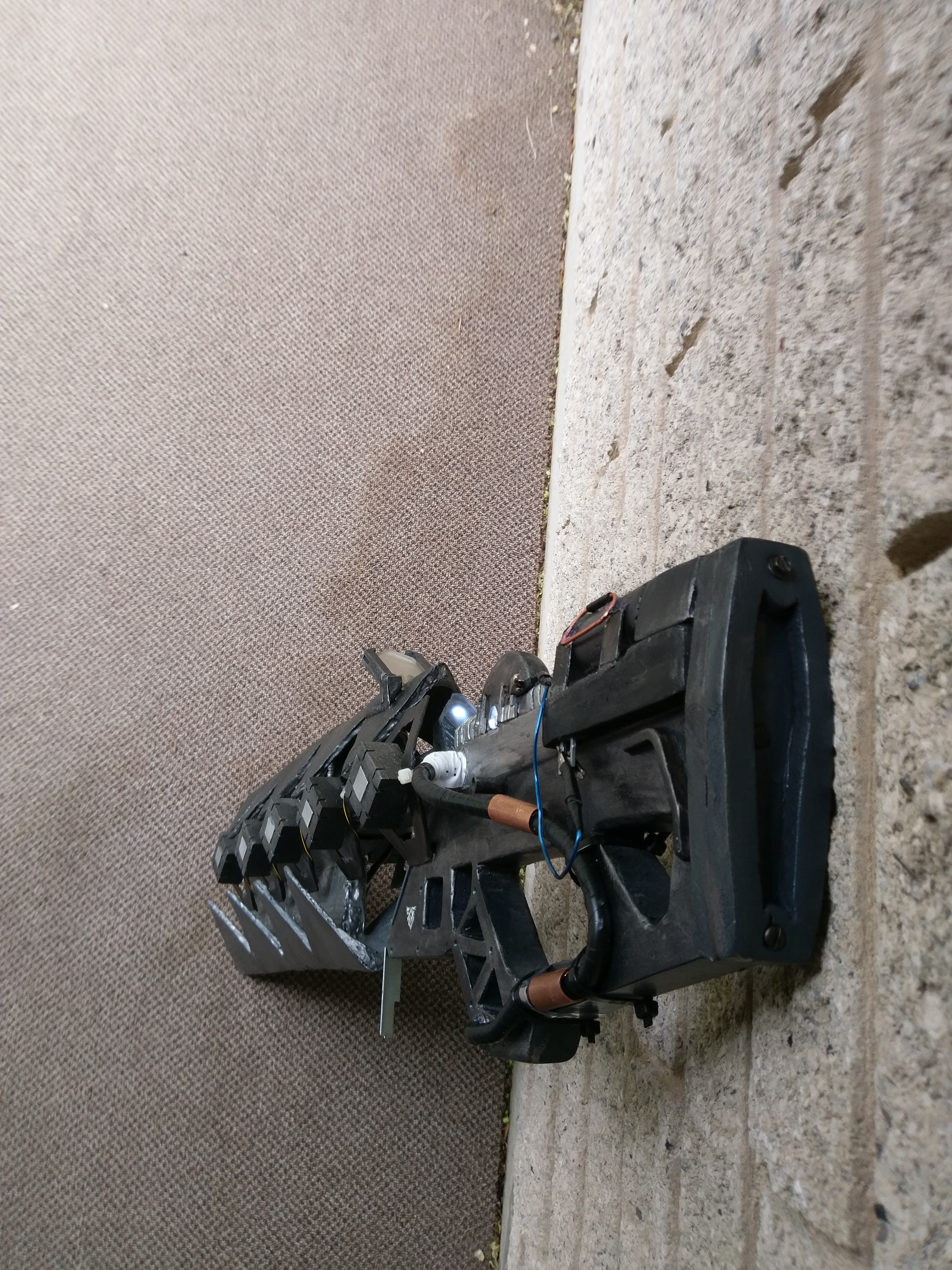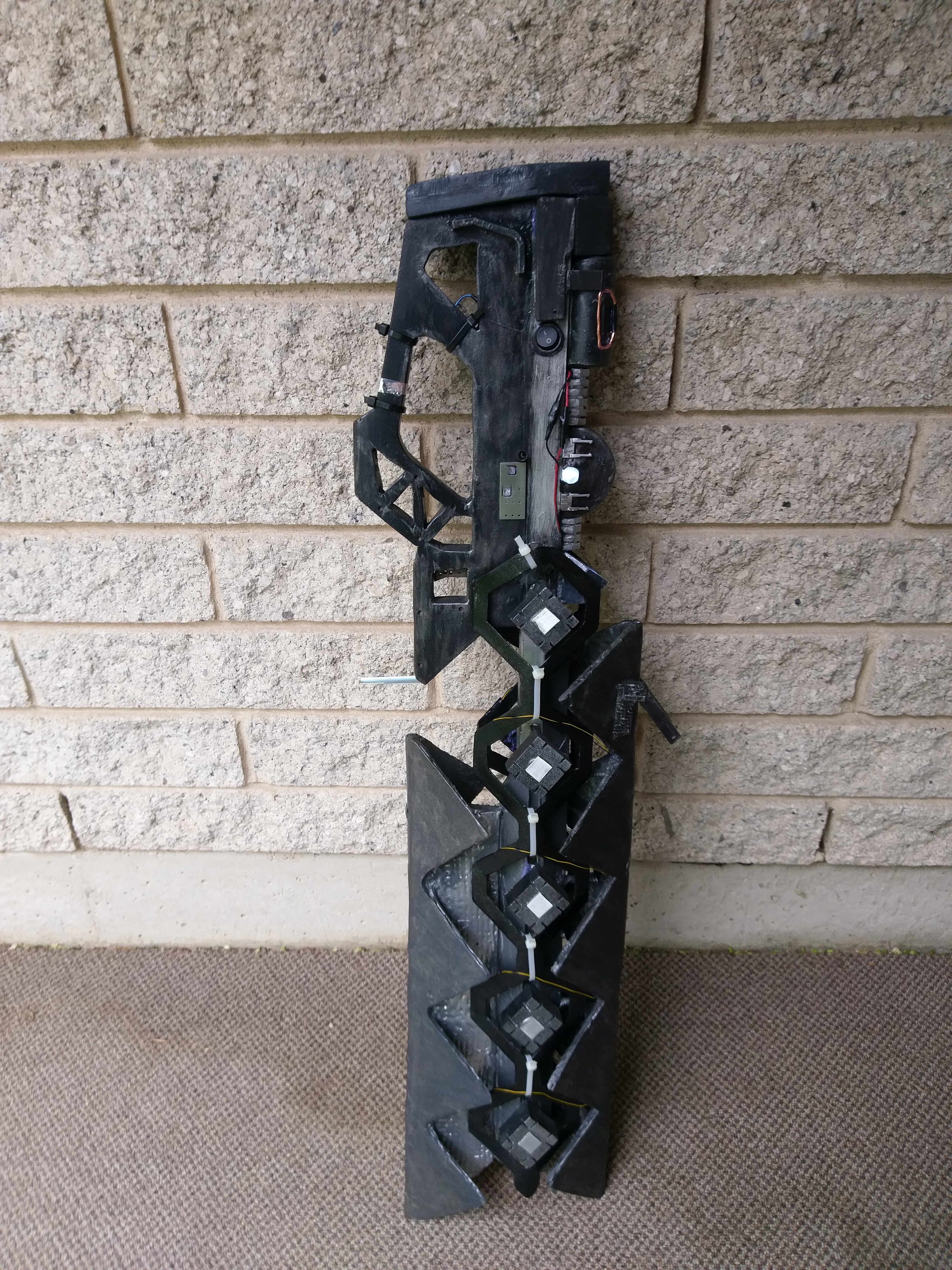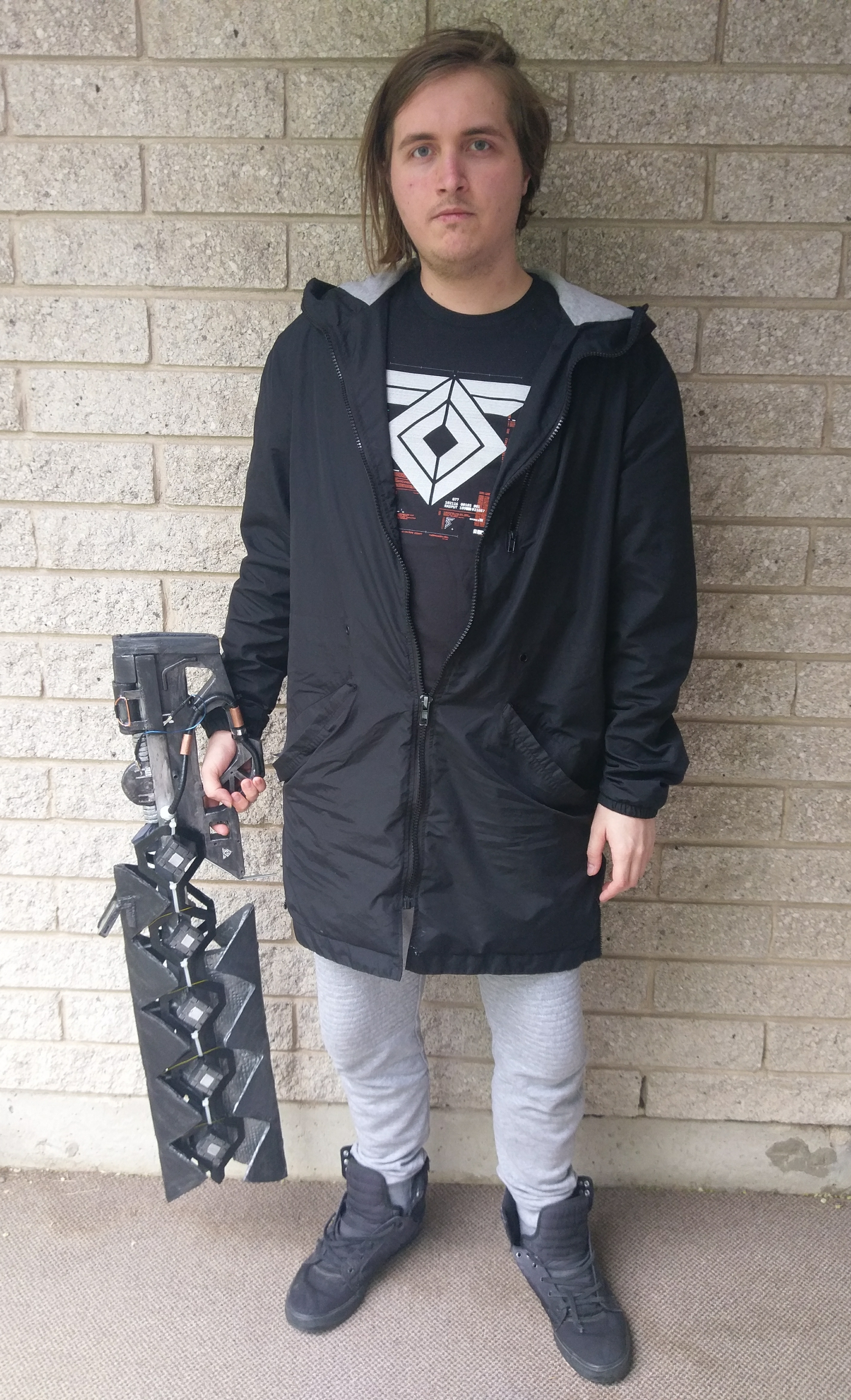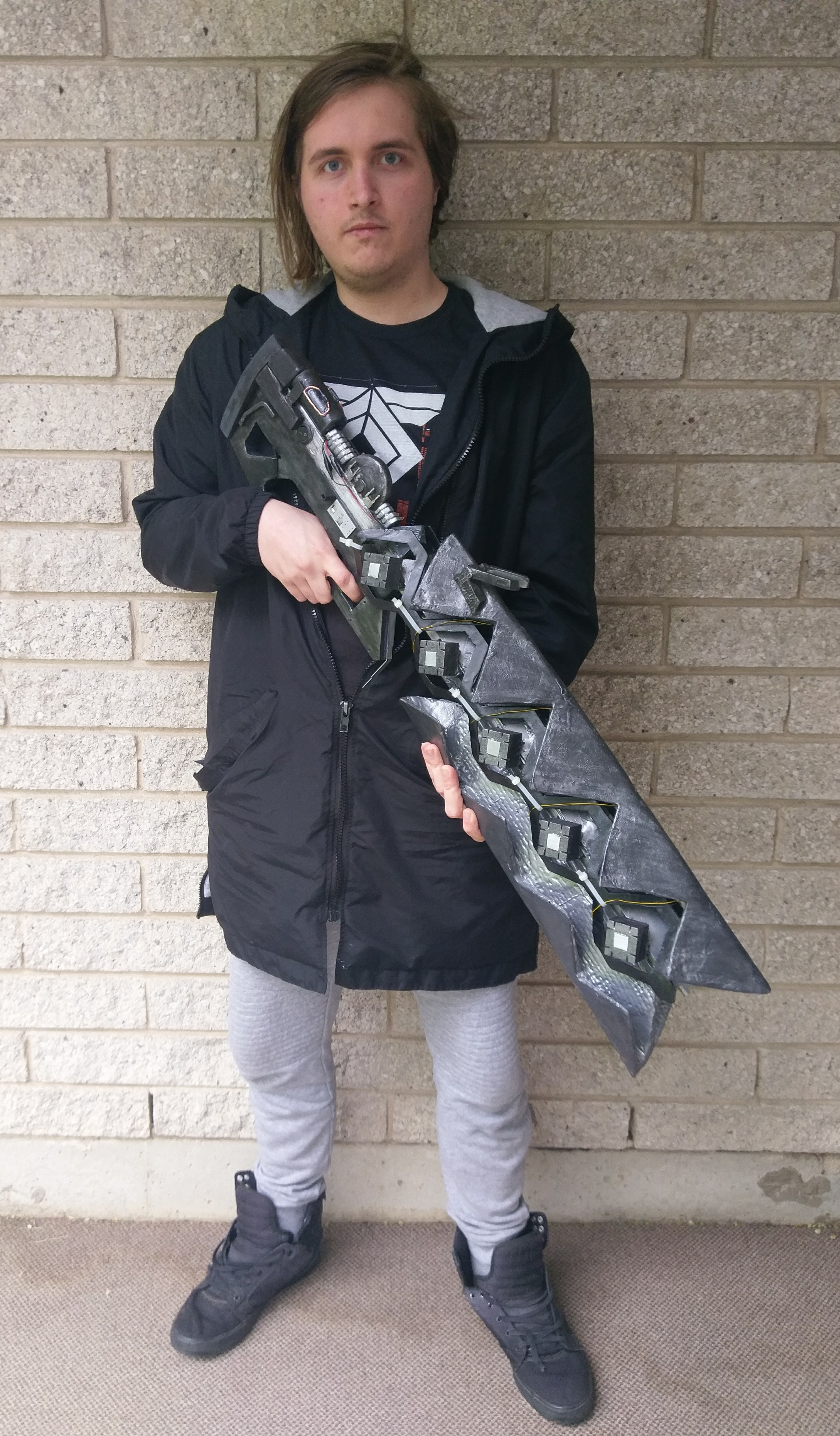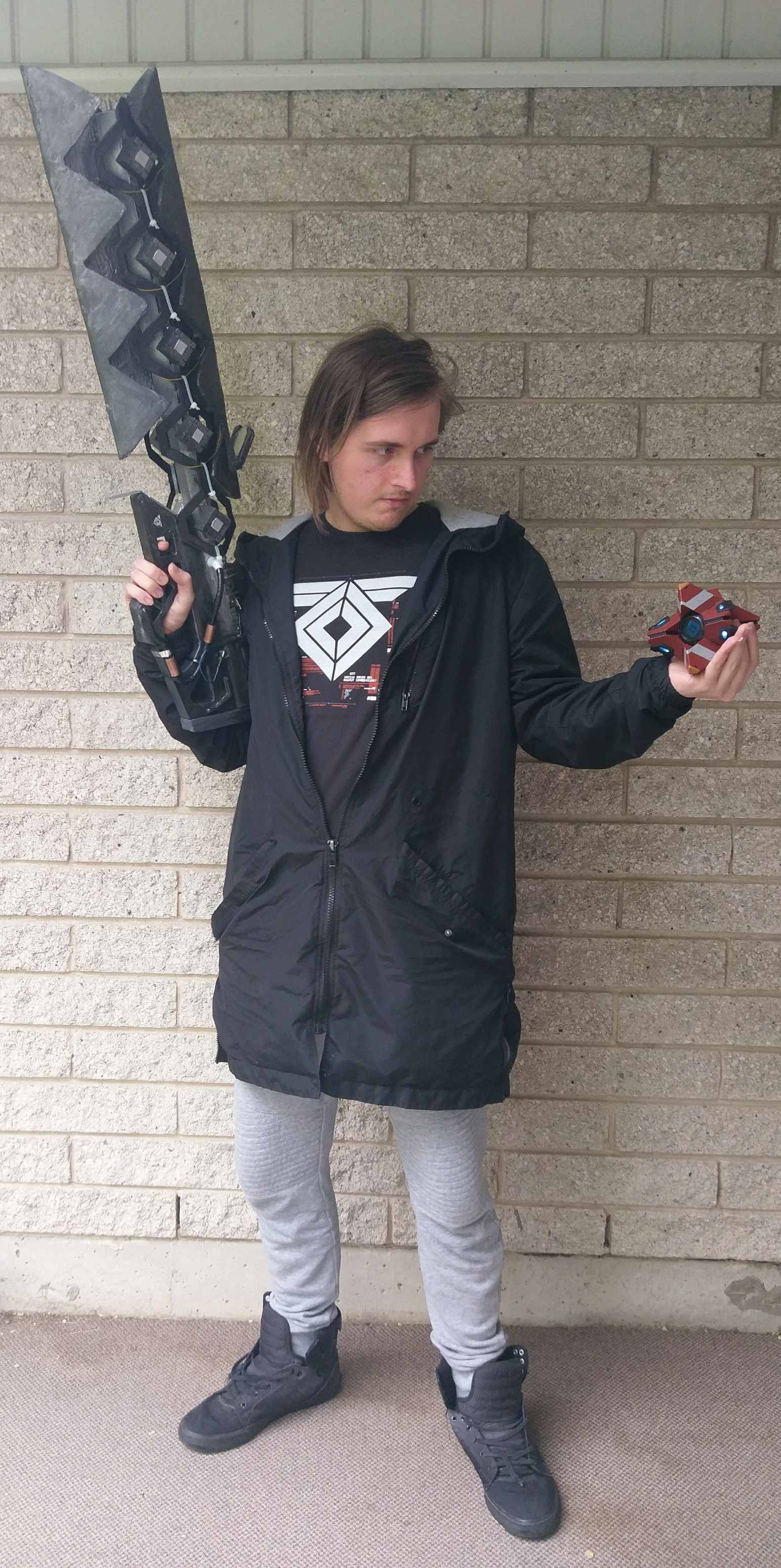 In these 3 photo's I documented some of the final stages of the build. The LED's are standard 9 volt wired in parallel, the battery is housed in the cylinder at the rear of the weapon, and the stock can be removed with three screws to access and replace the battery when necessary.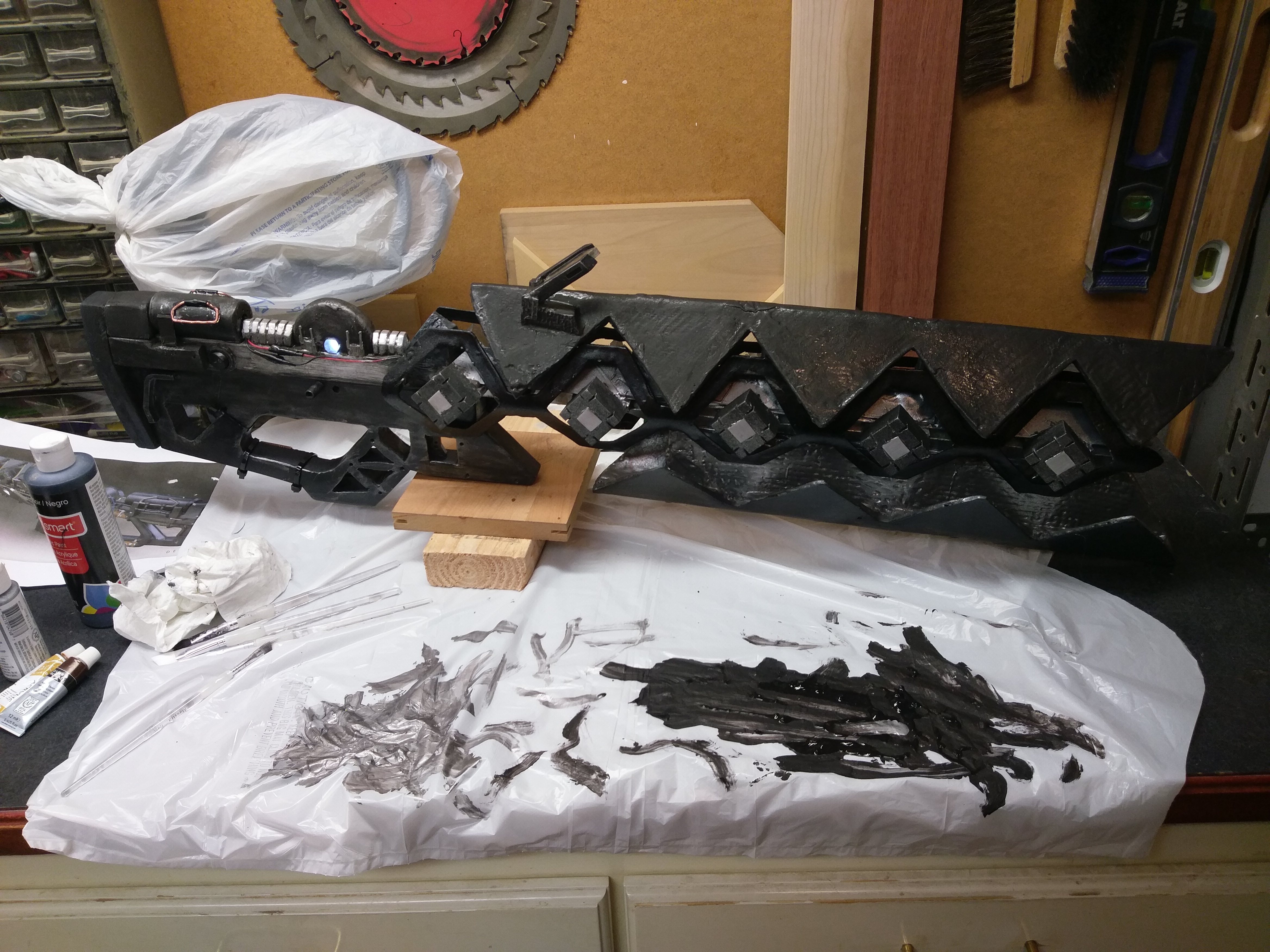 All in all the Sleeper is as stated above, made from a great deal of materials that appear on the weapon in game, the carbon fiber upper and lower shrouds being chief among them. These were made initially from simple cardboard with a steel support along the spine of the top of each shroud respectively, then were skinned in a layer of fiberglass followed by 2 layers of 2x2 twill carbon on the inside and outside of each shroud. The lower shroud/grip is slightly different as it has an extra layer of fiberglass on the exterior, this was a last minute decision to add extra strength and weight as I had run out of carbon cloth at the time. The center core of the weapon is primarily hollow aluminum square stock and various other pieces of aluminum stock added to form the diamond profile of the core, there is secondarily a length of steel stock inside of the square center core for added support and weight. The lower grip was attached to the core with 4 bolts going directly into the spine of the grip and additionally epoxied in place. The upper shroud is similar but only consists of 3 bolts and lacks the large solid spine of the grip. The only major piece that is not either metal or cloth composite is the main pistol grip/rear section of the Sleeper which is made from a single piece of composite decking. I choose this material as it lacks any grain and is both very heavy and durable. it is attached to the core similarly to the lower shroud with 4 large bolts and a layer of epoxy. The 10 square pieces on both sides of the core are also made of this material with extra aluminum on the face of each for detail. Finally most of the other details are made from various pieces of electronic scrap, airsoft gun parts, etc... The stock is made from good old EVA foam and simply attached with three removable screws for access to the battery compartment as stated above. It is the only removable part of the entire build, everything else is either glued or bolted in place, or both. All in all that pretty much wraps up the major details of this build, it was a pretty interesting one to say the least, and I seriously could not be happier with it. It's something that from it's very inception was designed not only to look amazing, but FEEL like you might expect something like it to feel, heavy and bulky, solid, somewhat menacing even to hold, and it truly does need to be held to understand just how fantastic of a weapon design it is. My hat goes off to Mark Van Haitsma, the original designer of the Sleeper Simulant in Destiny, it is by far my favorite fantasy weapon of all time, and I'm proud to finally have a replica in my possession. I will leave the past updates of the progress of this weapon up for archival/nostalgia purposes and for those who want to see how the Sleeper came together over time...
UPDATE Aug, 12, 2017
So I finally got around to trying to finish this replica, and a good portion of it is already done. I tackled what I thought would easily be the hardest parts to build first, the strange triangular carbon fiber upper shroud and lower grip. These did indeed take some effort and quite a lot of time to get to an acceptable state. Even now I'm not super happy with how they look, but both parts are incredibly strong and light, which was a clear requirement for this weapon, being that the rest will be considerably more heavy metal and MDF components, and frontheavy weapons are extremely uncomfortable to hold in the hands. I'm confident at the end of the day, that the weight of this prop will be convincing, but not uncomfortably heavy either, so with that aspect I'm pleased.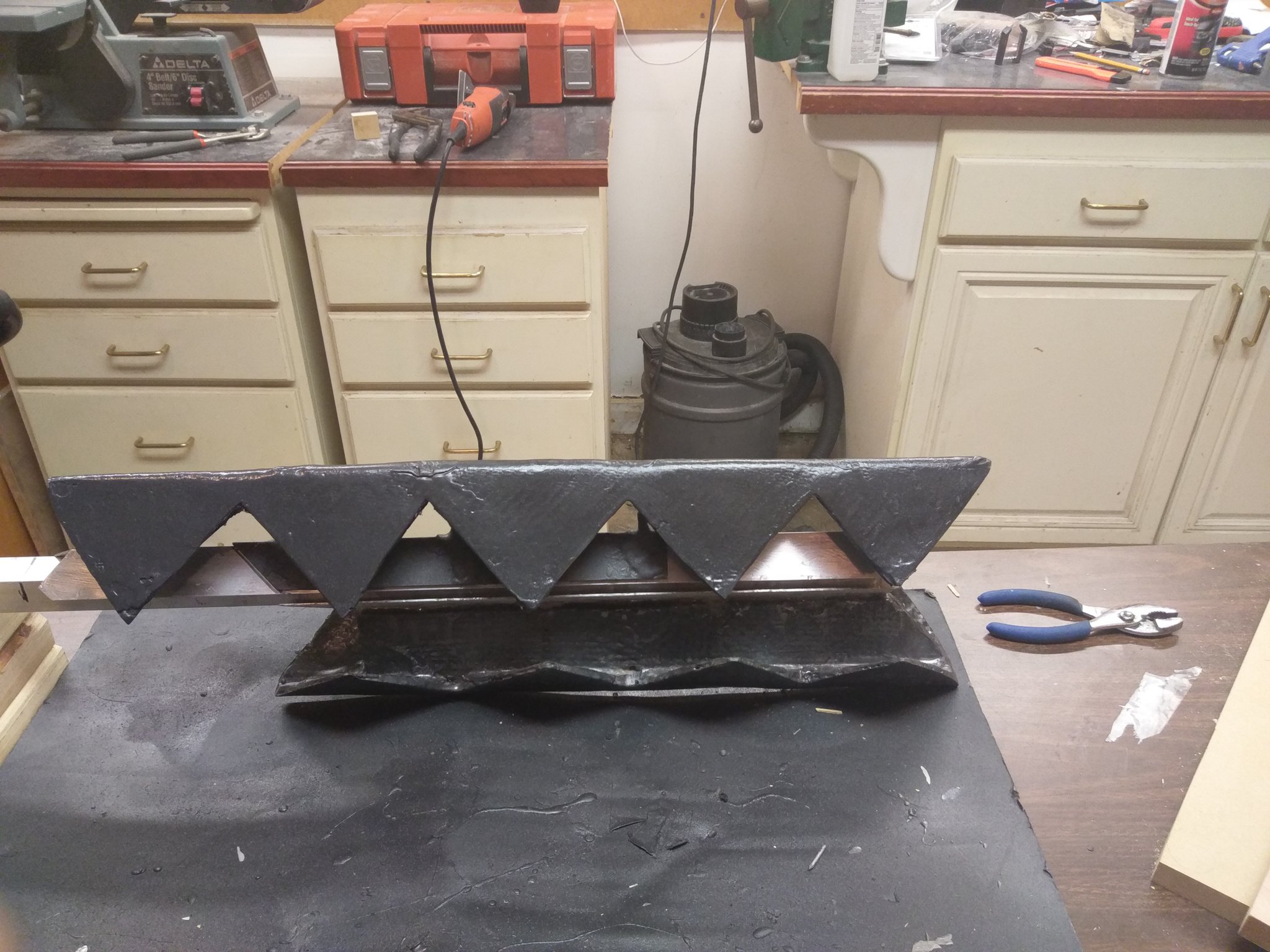 UPDATE Jan, 8, 2016
I just got two different types of carbon fiber for the Sleeper. One is a 2x2 twill, the other a plain weave. I got the two different types because I wasn't quite sure what pattern I wanted to use on the majority of the weapon. I bought this carbon fiber from Composite Envisions, and now that I have actually looked at both these fabrics, I'm definitely going to use the 2x2 twill as my outer layer of fabric, its absolutely gorgeous in person, I can't wait to see what I looks like when it has resin on it. I'm going to start building the upper and lower weapon "shrouds" of the Sleeper very soon with both of these materials very soon, as soon as anything of note gets done, I'll throw some pictures up here.

ALL BELOW IMAGES ARE AN ARCHIVE OF PREVIOUS RENDERS, MODELS, IMAGES, ECT....
Sleeper Simulant Render 003

Sleeper Simulant Render 002
Sleeper Simulant Model 002

Sleeper Simulant Render 001 (Grip and Barrel)
Sleeper Simulant Render 001
Sleeper Simulant Model 001 (Grip and Barrel)
Sleeper Simulant Model 001
Sleeper Simulant Grip Render
Sleeper Simulant Grip
Sleeper Simulant Grip Model
Sleeper Simulant Grip Model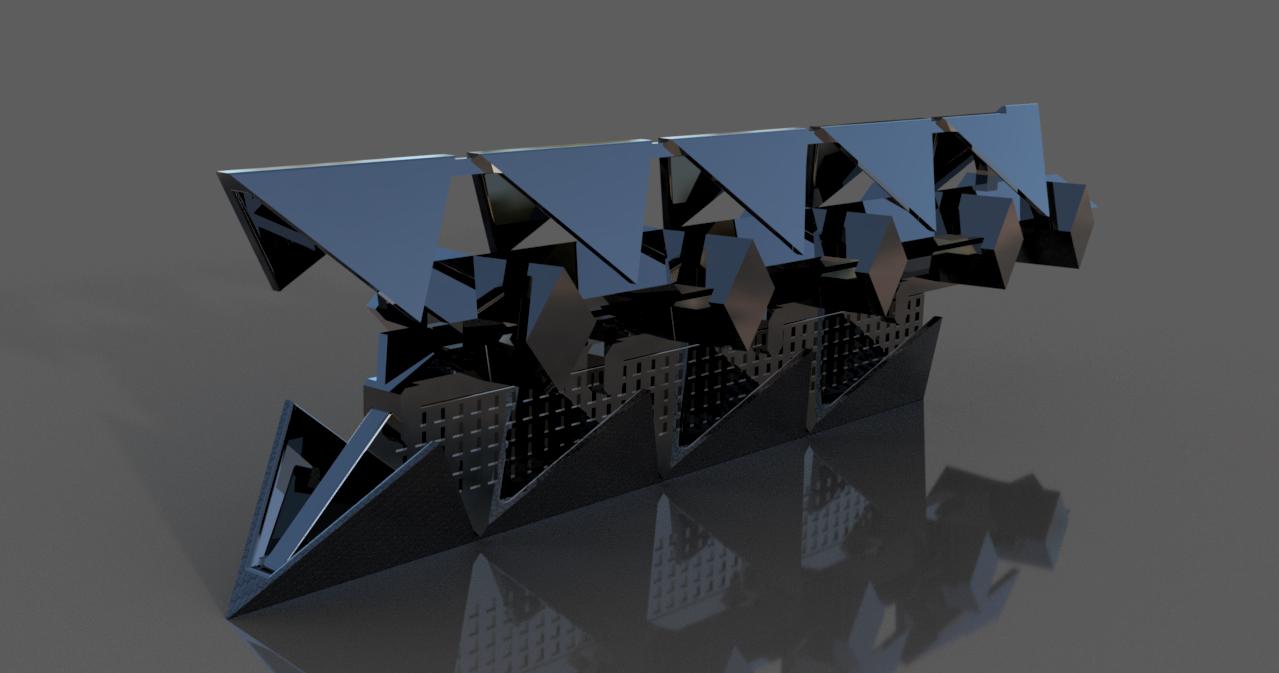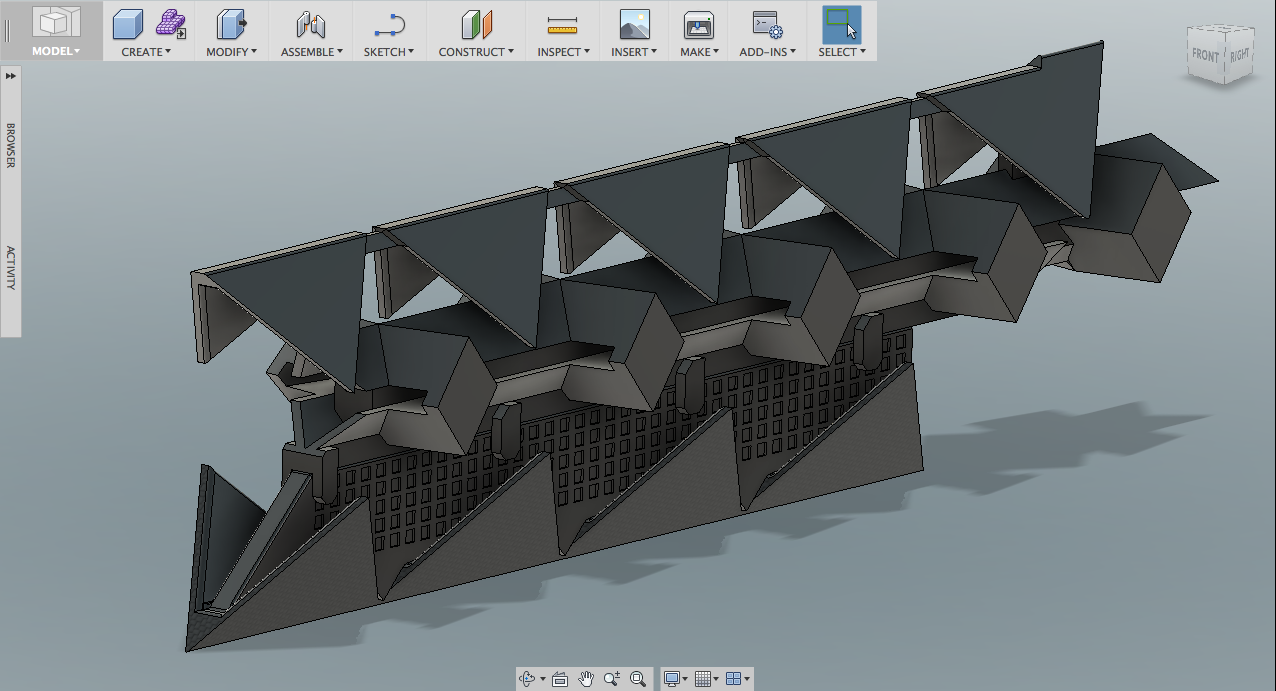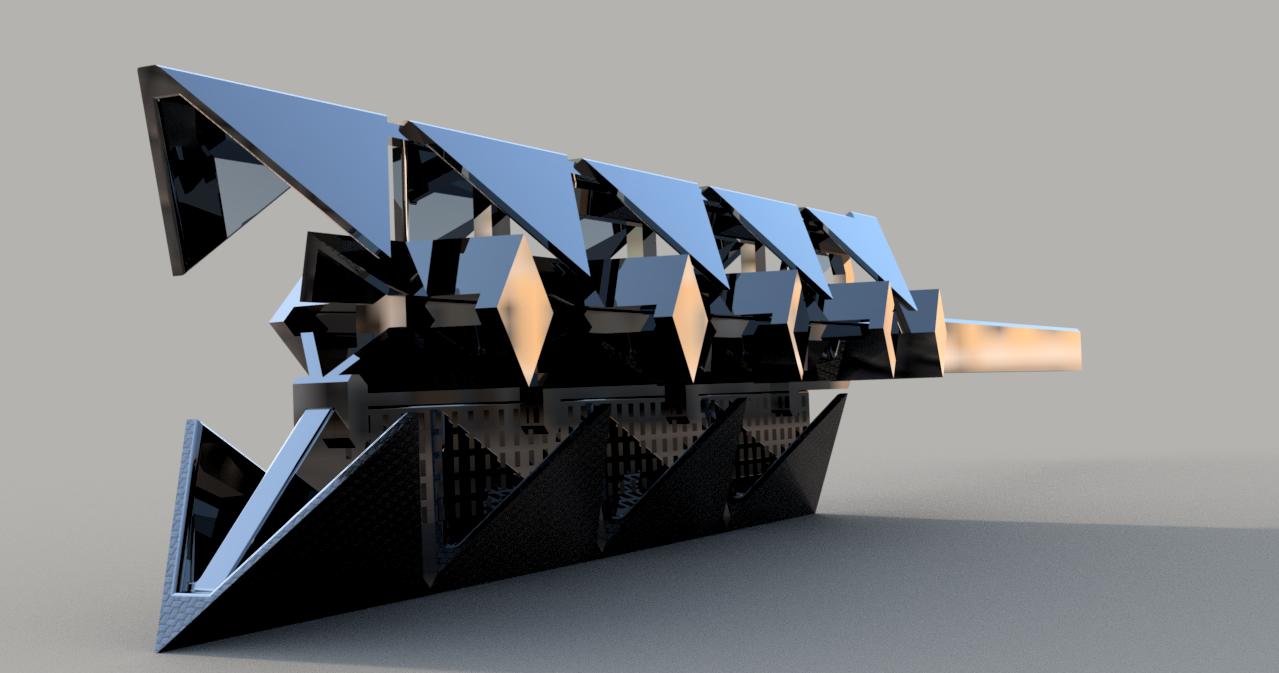 Last edited: