Hey yall!
I've been lurking the forums for the past few years now, but now I'm finally making my official first build/update post.
I have actually started building the armor like a year and a half ago, so this will just be for sharing updates with you guys.
I post story updates often on my Instagram account, so if you want to see how it's going, feel free to check me out: @spencharmander
I have been building the armor using parts from across the multiverse of the Internet.
Most of the parts came from Jace1969's Halo Master Chief Full Body Armour on Thingiverse (
Halo Master Chief Full Boddy Armour by Jace1969
),
Some parts from
CarterBuilder12
's Halo 4/5 parts which he posted on the forums a few years ago (
Halo 4/5 master chief armor high poly 3d printeble for you!
) (very nice parts btw)
The Helmet was big_red_frog's Halo 4 Helmet Full Size A on Thingiverse (
Halo 4 Helmet Full Size A by big_red_frog
), printed with the high detail perforated visor which is also on Thingiverse.
(which I might actually reprint because I didn't do a great job with bondo-ing, sanding, painting etc. Future Project? maybe.)
I use a Creality CR-10S and a Lulzbot Taz 6.
Resolution: depends on the part, but mostly 0.3-0.38mm for producing parts faster.
SO here's the current WIP:
I finished the top half of the Armor. I'm not going to discuss it very much, but I will be redoing some of it, like the overall finishing and painting part.
These are old photos, from an old phone, sorry for the bad photo quality.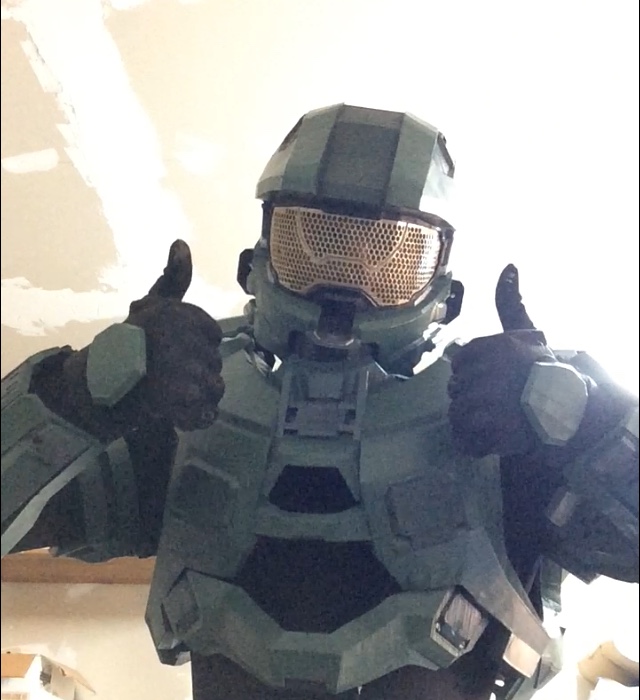 Moving Forward:
I am currently printing the left thigh armor. The shins and right thigh parts are ready to be glued together. I'll post more pictures when more progress has been made.
A question I just thought of!:
How do you guys attach your knee armor? I printed the knee parts recently and that was a question that I had. Do you somehow attach it to the shin armor?
Sorry for the long awkward post, I'm just excited to finally post an update here on the 405th forums. Thank you, and Happy building!