So first, No this isn't in the game. It is my creation although it is highly influenced by one of Bungie's early ODST concept art.
I decided to make a new ODST helmet permutation because the dutch helmet seemed to be the only real variant. Plus I see that a lot of members are making it. So I wanted to make a little something different. I sketched out some ideas modeled them in 3d Max and unfolded them in Pepakura.
Oh and a little background I am an artist, and graphic design student. I am very comfortable modeling in 3D and also sculpting and painting with real mediums. Anywho on to the good stuff.
I call it the "K1 ODST" variant, might change the name in the future.
Here are my rough blue prints.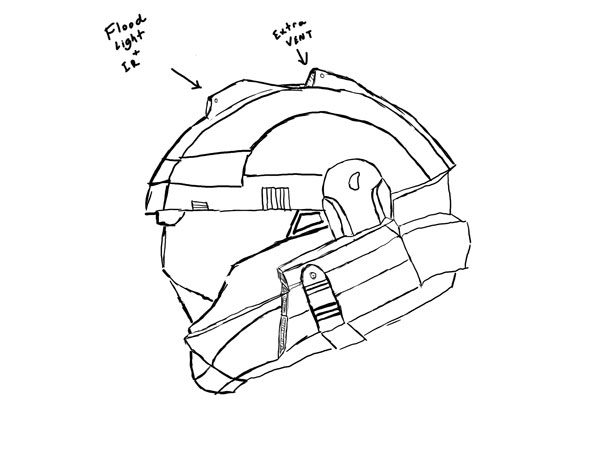 I am going to put alot of tech into this bucket. I plan on doing fans on most if not all the vents( I hear these get really hot), voice amplifier and mics(ear spys) so i can hear the outside.
Oh and yes I am going to put lights up top and possibly Infrared Lights too( in order to see in the dark). Saw some very do-able "how to" youtube videos for IR that I can mod to work with this helmet.
I used the Rookie helmet as a base.
It seemed to be the "Original" ODST helmet, and I had just about finished pepping the Rookie helmet made by Rundown when I decided to make this permutation. So I made my variant easy to add the original Rookie pep.
Quick note for those starting to pep. I originally used rubber cement to glue this but after a couple of days this stuff starts to loose its stickyness. I ended up buying a cheap low heat glue gun ($3 at Michaels arts&crafts) and re-gluing a lot of the pieces again. (down side to hot glue is that it can be messy and there is very little set time so both pieces have to be exactly in the right spot or your SOL although, I did find that if you run the tip of the hot glue gun back and forth over the spot where you messed up, the glue will re-melt, so you can readjust,
careful with this you could hurt yourself badly
)
I am going to be adding resin and fiberglass tomorrow. And adding a massive amount of detail to this with bondo soon there after. The back of the bucket is modified a bit too but I'll show you guys that when I get there. Any questions, critics, comments, or advice are welcomed.
Edit: Removed pep files from here and now have a ODST PEP file thread. Its in my sign if you need it.