Hello there, been a while since I've poked my head in here.
For the longest while I've wanted a Halo airsoft gun. It's unusually rare to see them online, though they do crop up here and there. Often they're not full replicas, but more "themed" weapons due to it often being awkward to bend real life to Halo.
I figured since I was embarking on such a project, that people would appreciate a work in progress update as I go along. I hope it might help inspire someone else to do their own. I'll post any progress updates on here, any issues run into etc.
The current progress is a lot of hours put into Fusion 360 and some hours printing prototype parts in PLA (the finished product will be PETG). When I started the project a month or so back I had very little experience in CAD and have kinda learned as I go along. I started with a mesh I found online (unknown author unfortunately) and as I got better with the program slowly replaced the parts with my own. I wouldn't recommend using mesh to anyone trying to do similar. They often have too many polys, aren't as accurate as you'd like, are a pain to work with, and reducing the poly count causes uneven faces and edges.
The airsoft internals I'm using came from a Vz.61 Skorpion, namely the AEP gearbox and hop unit / barrel. I'd like to make this a fully serviceable airsoft gun, rather than a gimmick. I may add options for rails and attachments later on, but for now the only attachments I have planned are the M7S additions (scope and suppressor, should be able to fit an Olight E3T). The biggest issues I've run into are tolerances (3D printing being the imperfect method that it is), support placement, imperfections in parts due to printing orientation and configuration (can be fixed to a certain extent with sanding, filler and paint), and the ease of assembly and disassembly. I also have to think of possible breakages or updated parts, and the ease of installing replacement parts. Mechanically, the only real issue I've run into is the magazine. I've had to upscale it a bit to make it functional, but even then I'm having serious issues with getting it to feed.
For now I'll just add some images of the CAD model, and will leave pictures of the prototype parts for later on. Delta Halo suite intensified while making this.
The only part of the model I haven't replaced from mesh is the grip. Mainly because a lot of hours went into modifying it which would go to waste for little gain. I would say it's different enough to not trouble my consciousness if I ever decide to market these.

A shot showing the removal of the upper reciever from the lower, showing the gearbox and hop-up.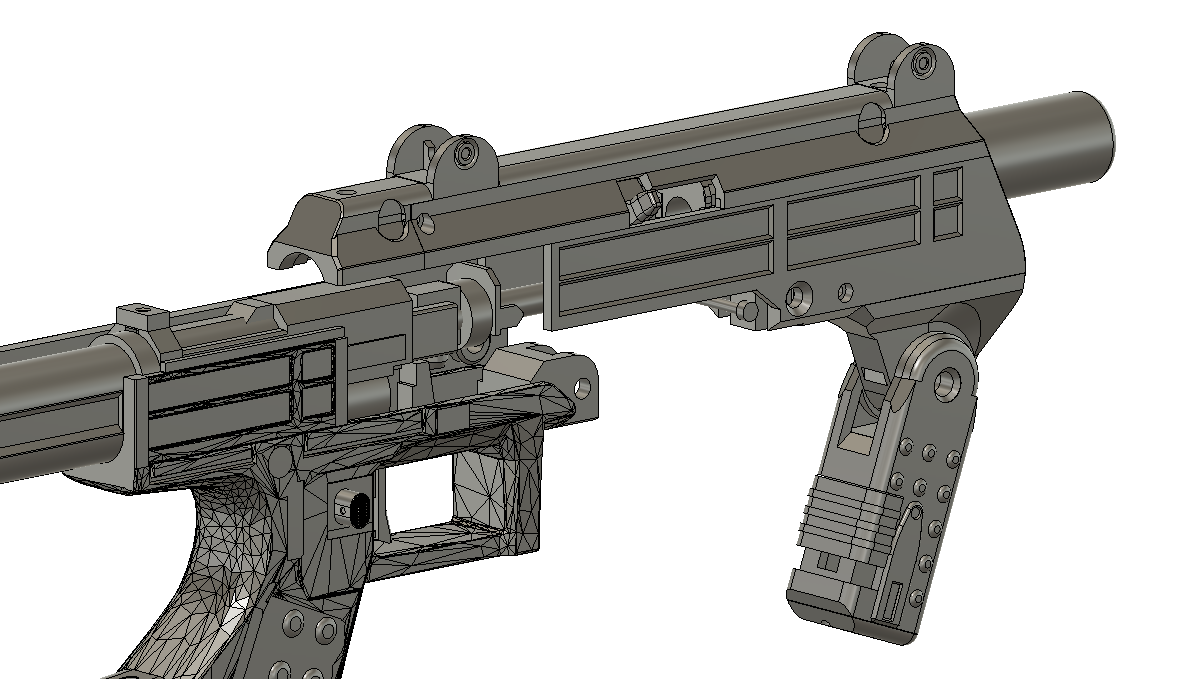 The barrel attachment is a QD system. push it on, twist, and a spring will push the lugs into some slots on the inside of the attachment. I hope that it's enough to support the full weight / stress of the suppressor. It certainly won't be as strong as a metal part. This may be revised in the future.
This shows the mechanism / concept that the grip and stock both work on. A tension spring pulling an arm into a detent.
The trigger will work on a microswitch, alongside a mosfet to allow the usage of more powerful batteries (limited by what the gearbox can actually take). This shows the somewhat complicated assemblage that it'll work on. It will be a straight pull trigger, with the safety being a physical one as opposed to electrical. It simply slides in place to impede the movement of the trigger onto the switch. This will likely take the most fine tuning for tolerances due to the "feel" of the weapon being largely down to the trigger. The next part which I have yet to even attempt is the fire selector due to the odd way it works on AEP gearboxes. On the plus side the default position is fully automatic, so if it's too much hassle it can be left out altogether.
Here's the stock mechanism. Pretty simple. Quick note on the stock, When I printed out a prototype in PLA, the fit of the end piece was so tight that removing it also removed a large piece of the main stock. Turned out some extra grooves I'd made for alignment (overkill really) were locking it in place.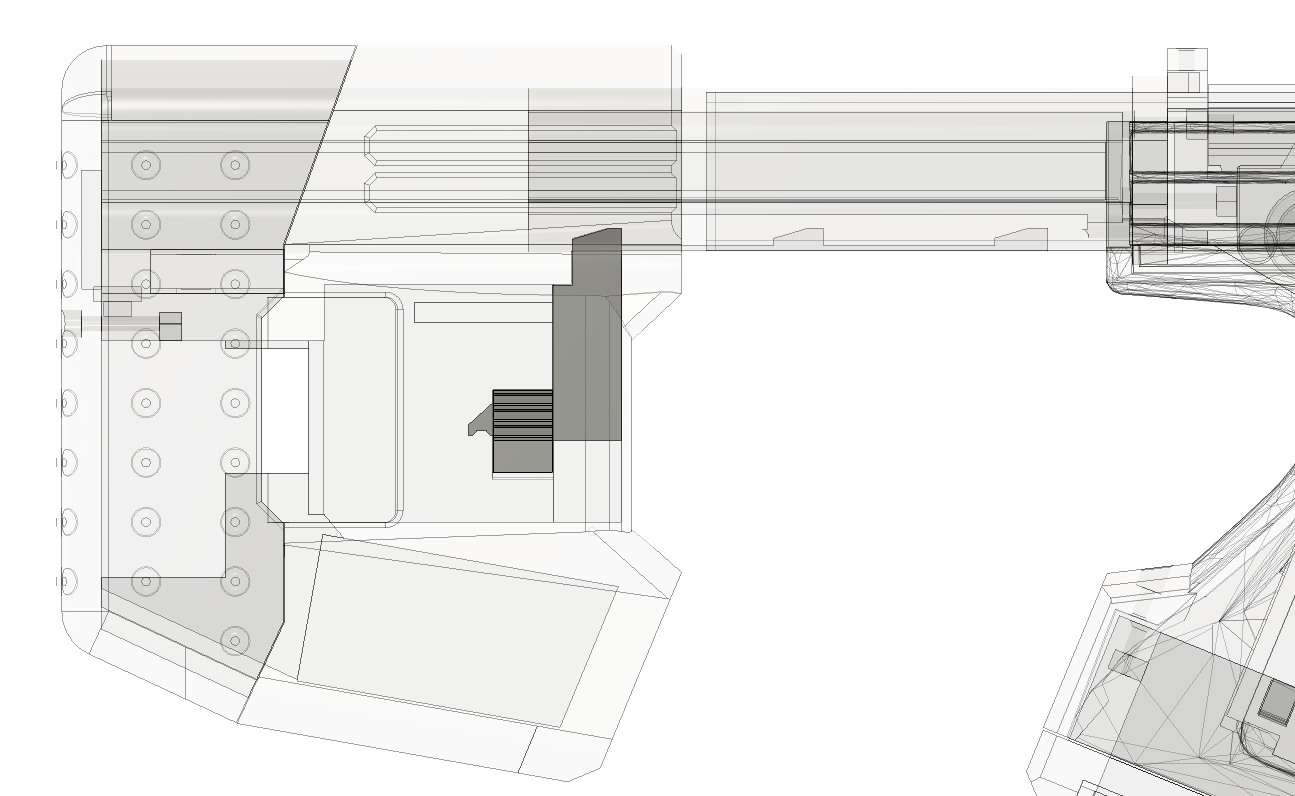 Any questions I'll be happy to answer, and suggestions welcome. Hope you enjoy. More updates in the future. I may need some help from you all on painting it after it's done
Debating what to paint it with and in what colours. I also hope to do a BR55 and at least a Halo 3 Marine helmet to go with. I'll probably go for a weathered look on the helmet, though likely not on this one.
Cheers!
(Oh and here's a picture of a couple of magazines I made. Annoying they don't work so well, were it so easy. )
P.S. I was wondering if anyone had any experience with using plastidip for this kind of thing? I was thinking of using it for the stock / grips, but I wasn't sure if it's worth it or if it would be durable enough. Ain't cheap stuff.
Last edited: