Sr Member
Colonial Regiment
MOLDAPALOOZA! (Lots of pics!)
One thing thats been notably missing in the 'Molded Armor Discussion" is discussion of molds. There have been a few threads here and there to help aquaint people to making molds, and using them. Adam wrote a great little tutorial here:
http://www.mjolnirarmor.com/forums/viewtopic.php?t=1498
And there are some very useful tutorials listed in the TUTORIAL LINKS thread here:
http://www.mjolnirarmor.com/forums/viewtopic.php?t=296
I've just recently completed LOTS of new molds, and thought I'd kick off an open discussion of Moldmaking for Halo armor and props by showing off my hard work and inviting questions about the materials and mold design.
This is a sampling of some of the molds that I have recently made. I typically make brushed on rubber molds, using polyurethane rubber with a thickening agent mixed in. After building up the molds, I make a heavy duty 'mother mold" or shell that is formed over the rubber that keeps the shape of the part. Some parts require making multiple pieces that fit together, while others are 'Open Faced' molds intended for brushing the resin in layers.
So, without getting all textbook on you... heres the pics.
Some molds in my shop.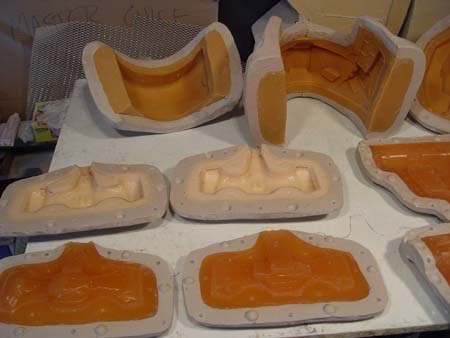 A 2 piece sword handle mold for poured resin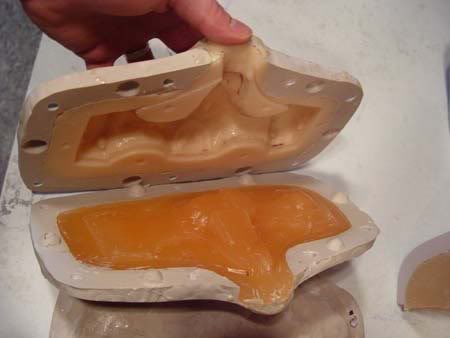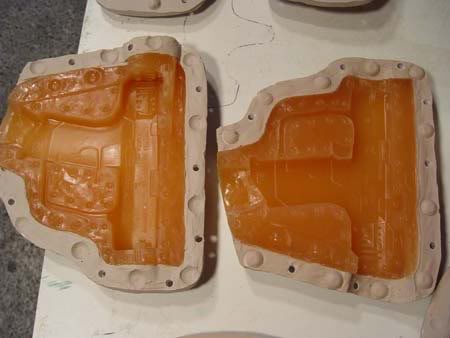 Two piece Pistol mold for poured resin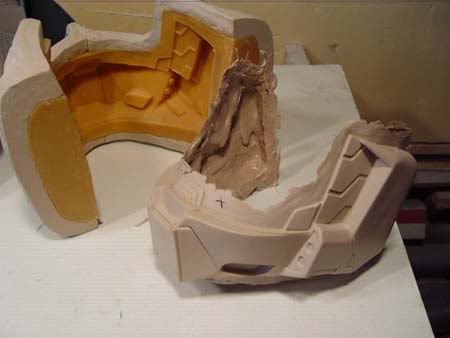 The 'Jaw' section of my helmet. 1 piece mold w/ 2 piece shell