Division PR, RMO and BCO
Division Staff
Canadian Regiment
405th Regiment Officer
Delta
Community Staff
Awesome idea, I wasn't sure how much vacuum force is applied to the heated petg but I can't image it's much... hmm mm I'm might have to give this a whirl for fun!
The force is as strong as your vacuum can pull. I'm using an el cheapo shop vac so it doesn't have too much power. Some people use compressors to pull on larger surfaces so don't take my word as gospel.
My clay buck was awful. I do not recommend that

ExCeLLuR8

unless you are familiar with using clays. I tried Air Dry clay and it just crumbled apart on me during the form and it was very hard to get a smooth enough surface to look through. Maybe an oven bake clay would have worked better.

My first attempt was much better. I used the pepakura cut out from pepping my helmet and used bondo to smooth it like normal. I did use Air Dry clay to provide the support underneath that during forming. That's probably what Turbo was thinking of.
I thought that you made a clay shape for the Young Jorge suit. Apologies, I must have been mistaken.
For the undersuit pattern I again went the route of becoming a duct tape mummy and to get the closest possible fit I went with as few clothes as possible (because I know
Dirtdives
is following this thread). Dance belt and cling wrap is definitely a look for a Monday night. I'm not sure what the forum rules are on partial male nudity so I'm only uploading this censored photo that covers my nipple effectively.
I've split the foam half into flat panels and cleaned up the lines for easy sewing. Some of you eagle eyed viewers may notice that the shapes here are for the Halo Legends variant of the undersuit.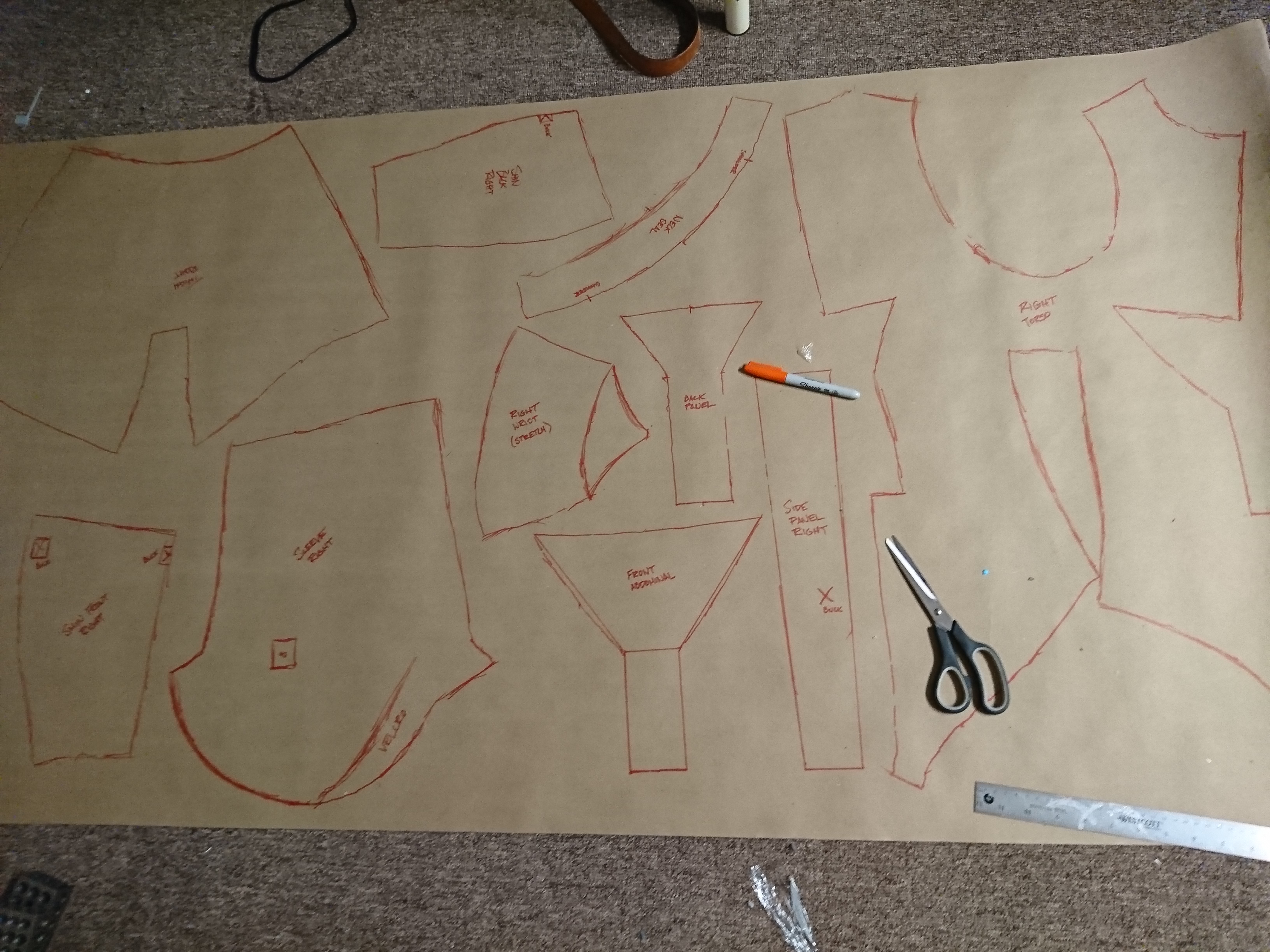 Yes, I will be doing a Halo 3 Multiplayer variant as well at a later point, I just need to save up for the materials to cast the proper panels and gaskets. Yes, this means I will be making two Daisys. I want to make an anime screen accurate version out of foam to go along with my 3D printed version that I'm finishing up now. Sure you can call me a madlad for planning another SPARTAN, another red CQB one at that, but I'm just a sucker for this aesthetic.