RCO
Australian Regiment
405th Regiment Officer
Hey all! Been a while since I last posted anything costuming related. I was happy with where I had left off with my Poncho Chief costume, however I have decided to move onto something that I am more enthusiastic about.
I am currently working on a project, the details of which I can't exactly say I want to discuss yet. However, it is a bit of a big deal, and is what prompted me to begin work on this MJOLNIR suit. Currently, it has no name, other than its designation of being a custom variant of MJOLNIR, stylised around MKIV armor. The general appearance and aesthetic follows a strict set of guidelines posed by the key art/concept art provided from Halo Wars 2's appearances for Red Team and Team Omega (as they wear MKIV+VI hybrid suits).
HELMET
The custom MKIV helmet is based around multiple iterations of MJOLNIR over several generations. The most notable, being MKV and MKVIGEN1 variants. The base helmet is the Operator GEN1 helmet from Halo: Reach.The sunvisor attached, is from MKVI GEN1 from Halo 5: Guardians. The faceplate and light mounts are both custom - the faceplate coming from a Halo 3: Anniversary model mockup from Facepunch user AbiSV, and the light mounts come from a MKV custom model that was created by Vince5754. It also features the UA/FC-I[2] module from Halo: Reach.
CHEST
The custom MKIV chest is based on the most recent and available MKIV GEN1 model from Halo 5: Guardians. It has been modified using the abdomen piece of the MKVI GEN2 Vigilant, as well as being equipped with MKVI GEN2 Cypher thruster jets, and a hardened EVA module at the rear of the spine.
SHOULDERS
These shoulders feature different parts, mainly from Halo: Reach's MJOLNIR Mk.V shoulder pauldron, MKIV GEN1's shoulder plate, and the MKVI GEN2 Decimator biceps from Halo 5: Guardians.
GAUNTLETS
The gauntlets are comprised of MKVI GEN2 Intruder gauntlets, and MKVI GEN2 Centurion finger protection. The handplate and elbow plates belong to the MKVI Halo 3: Anniversary mockup mentioned earlier, created by AbiSV.
GREAVES
The least modified parts - these pieces belong exclusively to the Halo 3: Anniversary mockup model by AbiSV, and have been rescaled to match the appearance and bulk of the rest of the suit.
I currently have no ETA as to when I will begin importing the models to unfold, test fit and begin building the suit. However, my main priority as of this moment is to visualise what the suit would look like, finished. This does not include weathering, and unfortunately, I'm no expert with texturing models - so I have spent many hours using Adobe Photoshop to work up what the base colour of the suit would be, the additional detailing needed, and other cosmetic additions to make the suit feel like a true MJOLNIR Mark IV hybrid.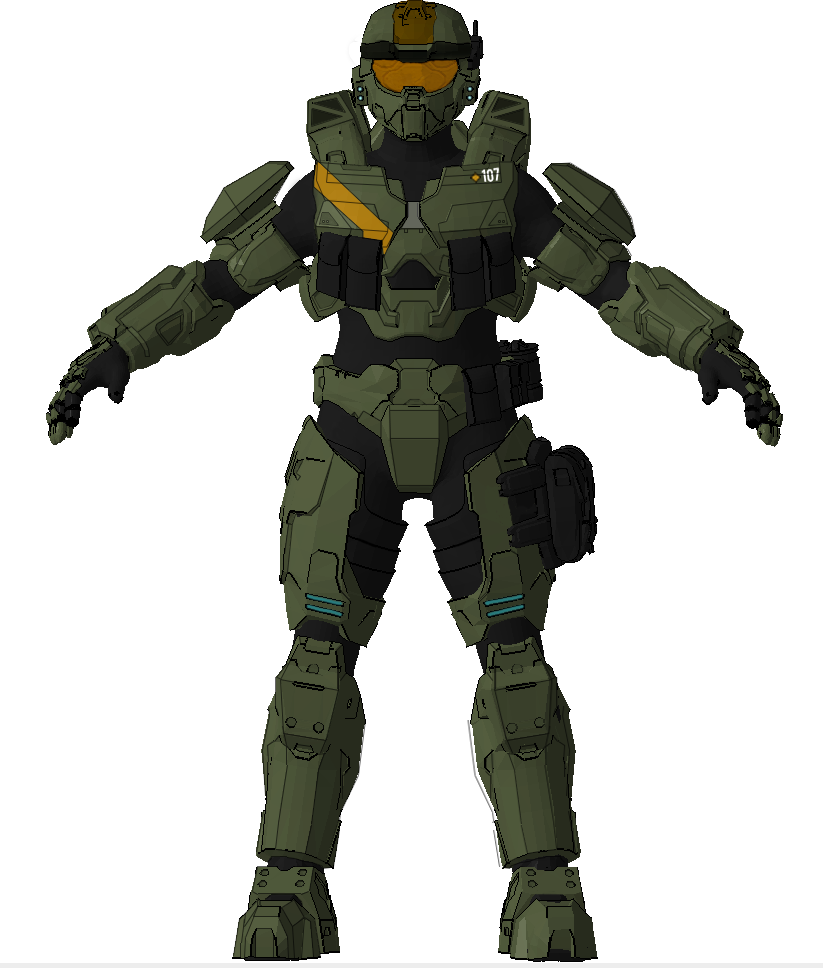 I will post progress as I go. For now, please feel free to add any suggestions and/or ideas to help me on this great journey!
Last edited: