Crunch time is panic time for me nowadays.
Totally unlike me for a Saturday, I stayed up late last night to finally finish things. All major parts being done (Aside from the helmet) means its only detail time for now.
Upper legs?
Complete!
I was getting sick of how the thighs were so bowed out without the inner section being added so I had to sacrifice one of my remaining foam sheets to bring them in. That leaves me only 1 sheet left till Friday/Payday to start my helmet...
Since that inner section was added they now are formed to how I like it, and sit at a good height when wedged onto my thighs. It took so long to get the craft foam applied as I had to custom make each piece. But its done! And I'm happy with it!
To glam up my armor I hit my local Dollarama and began my long process of bedazzling the edges of each piece.
Obviously I'm kidding. Good lord could you imagine how long that would take? I just got the left package for its pearl-like pieces for: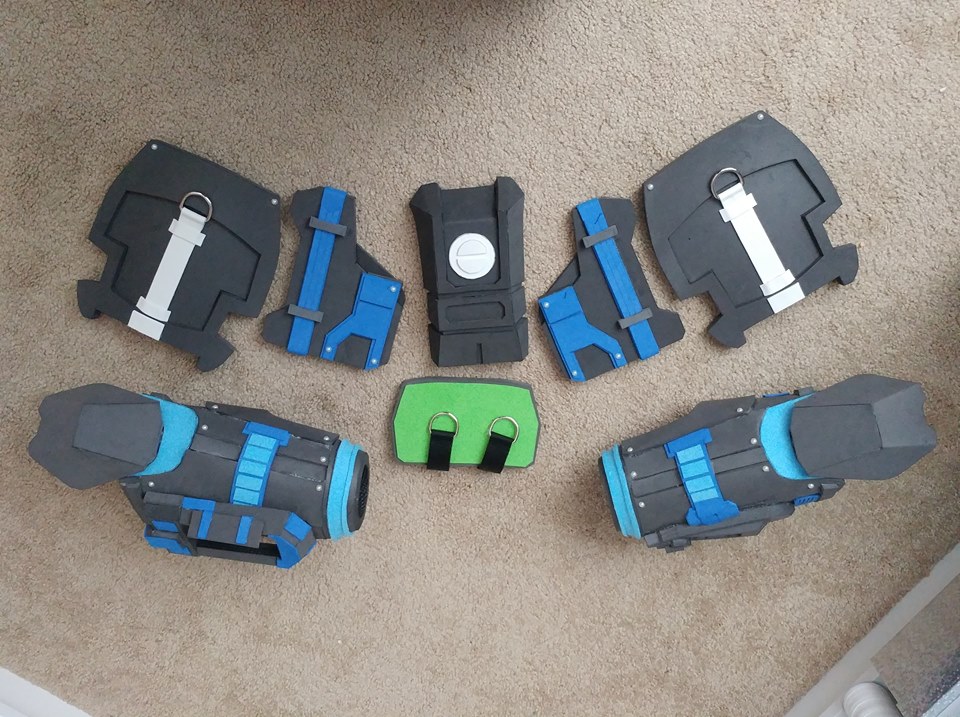 A buttload of 'rivets'! They worked exactly how I needed them to and the adhesive they came with worked better than hot glue. Sweet relief!
Thigh plate things, crotch plate, stomach sections?
Complete!

I also worked out a way to hide my stupid decision of only 1 strap per side on my chest.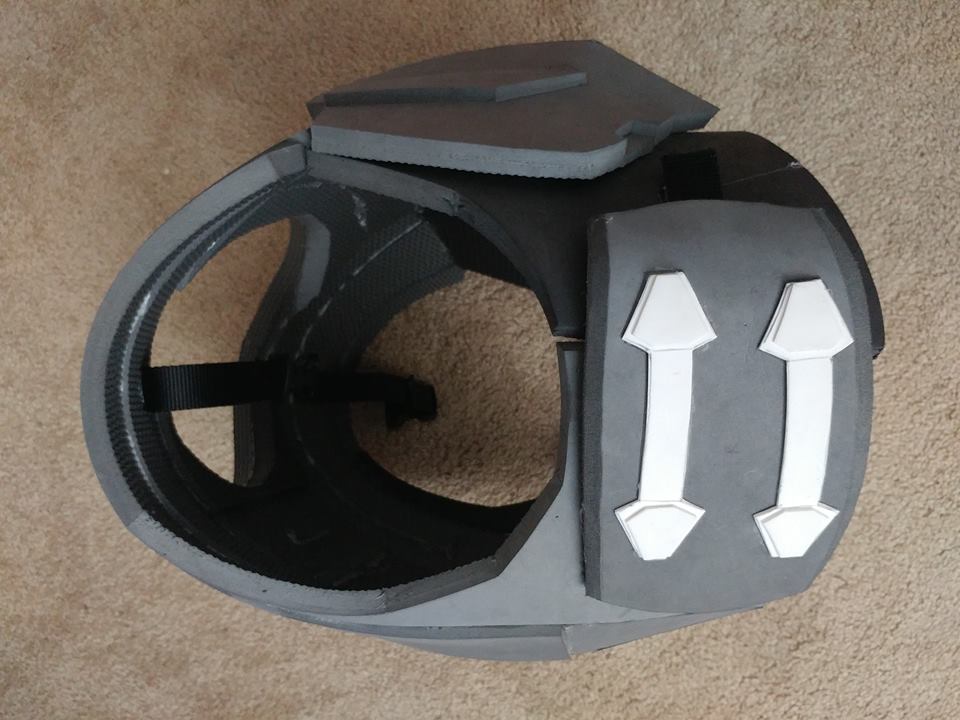 Since the old version of those side parts were two foam pieces thick I luckily peeled off the beveled parts without ripping too much out of the baseplate and glued on newer and thinner replacements. This allows me to sit my arms lower compared to how they were before due to the thickness. It still is a bit awkward but it has to be. I took
Dirtdives
advice and sat for a while planning this out. I even taped stuff up as a test!
Basically they're are glued on one end by some strapping that acts like a soft hinge. There is a magnet on the other end that draws it over the clasps and hides it well. I channeled out a section where the clasps can nestle into allowing the piece to sit even more flush. You'll notice its not glued in at the moment as....
I ran out of glue...oopsies

So I got some more and tonight I'm fastening them in place for real this time! I heat formed one end with a tigher curve to wrap nicely around the chest section.
Gotta get my plans printed for the helmet finally, I have to stop putting it off. Tomorrow is going to be attaching straps and clasps and making a belt to attach the buckle, side plates, crotch and booty plates. Then DAP'n it all. Its coming together!
My current anxiety level is still: